Ukraine Crisis: NATO Will Send Thousands Of Troops To Eastern Europe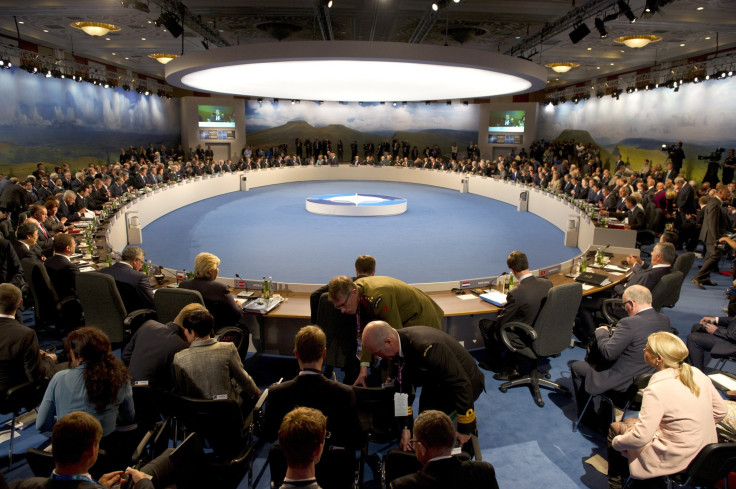 NATO approved a rapid response "spearhead" force Friday designed to "deal swiftly and firmly with threats" in Eastern Europe, a move prompted by Russian intervention in Ukraine and NATO concerns Russia could try the same in bordering NATO-member states. Russian officials said this week they consider any NATO buildup near Russia a provocation.
UPDATE 1:24 p.m. EDT: The Russian Ministry of Foreign Affairs blasted the NATO decision to ramp up defenses in Eastern Europe, calling it "hardly surprising" and that it is "bound to escalate tensions, threaten the start of progress regarding a peaceful settlement in Ukraine and contribute to the deepening of the split in Ukrainian society. Moreover, they testify to NATO's unreserved support for Kiev's neo-Nazi and extremist forces, including the Right Sector."
ORIGINAL STORY CONTINUED:
NATO will station a "continuous presence" in Eastern Europe with a force comprised of member states on a rotational basis. The plan includes "pre-positioning" supplies and arms in Eastern European NATO states so troops could quickly reinforce defenses there. The exact amount of troops and equipment to be stationed there is not clear, but NATO said earlier this week that it aims to have 4,000 troops in the spearhead force.
"If you threaten one ally, you will face the whole alliance," NATO Secretary-General Anders Fogh Rasmussen said. "NATO remains strong, ready and response for future challenges wherever they may come."
Rasmussen said that NATO wants to "work and train" more closely with partner states, like Ukraine. Polish President Bronsilaw Komorowski announced that his country will host the next NATO summit. Polish officials have been open about their concerns over Russian aggression in Ukraine.
FOLLOW MORE IBT NEWS ON THE BELOW CHANNELS