Ukraine Crisis: Russia Accused Of Sending Military Weapons To Rebels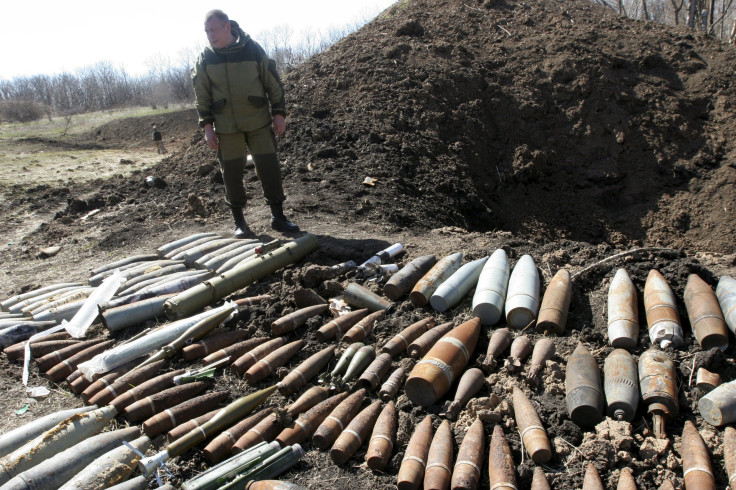 Russia was expected to send another convoy into eastern Ukraine on Wednesday that Moscow says will be packed with humanitarian aid, but Ukraine has accused its Eastern European neighbor of loading up the convoy with military equipment to supply pro-Russia rebels. The convoy would be the 24th sent into Ukraine from Russia since the conflict erupted last year, Ukrainian media outlet Ukraine Today reported.
Russia said the convoy would bring food, agricultural goods and construction materials to people living in war-torn eastern Ukraine, the Russian emergency situations ministry posted on its website, Ukraine Today reported. But Ukraine said it believed military equipment was inside the trucks and that Russian soldiers who died in battle would then be put in the vehicles and driven back to Russia.
Despite a cease-fire brokered in February between the rebels and the Ukrainian military, hostilities have continued in eastern Ukraine. On Monday and Tuesday, six Ukrainian soldiers and one rebel were killed, the BBC reported. Those were the most deaths in eastern Ukraine since Feb. 19, the Wall Street Journal reported.
The newest violence spurred Germany's foreign minister to push for a diplomatic solution to the crisis. "Even if we have sometimes not made much progress for months regarding Ukraine, talks are necessary," he said, the Journal reported. "To me, this seems the better alternative than the attempt to resolve a stalled conflict with military means."
The conflict has killed 6,000 people since violence started in eastern Ukraine in April 2014, a month after Russia annexed Crimea from Ukraine. NATO has also accused Russia of using the columns to send military equipment to the rebels -- a claim that Moscow has repeatedly denied.
"We have seen columns of Russian equipment -- primarily Russian tanks, Russian artillery, Russian air-defense systems and Russian combat troops -- entering Ukraine," U.S. Air Force Gen. Philip Breedlove, NATO's supreme allied commander for Europe, said in November, the Los Angeles Times reported. "Forces, money, support, supplies, weapons are flowing back and forth across this border completely at will and that is not a good situation."
© Copyright IBTimes 2023. All rights reserved.