Ukraine Crisis: Russia Is Staging Anti-Semitic Provocations To Justify Its Invasion, Ukraine Chief Rabbi Says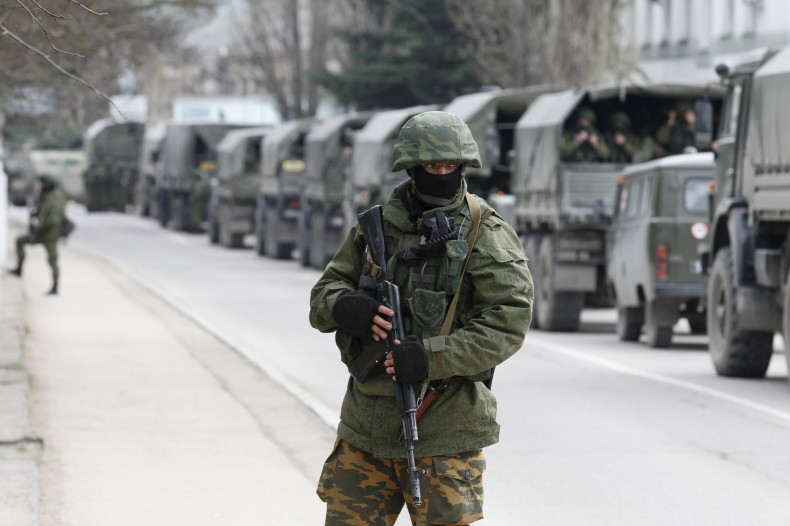 Rabbi Yaakov Dov Bleich, a chief rabbi of Ukraine, accused Russia of staging anti-Semitic "provocations" in Crimea in order to justify its invasion of the former Soviet republic, reports the Jewish Telegraphic Agency. At a press conference Monday in the Manhattan office of the United Jewish Communities of Eastern Europe, Bleich compared Russia's behavior to that of the Nazis prior to the Anschluss takeover of Austria in 1938.
"Things may be done by Russians dressing up as Ukrainian nationalists," he said, adding that it's "the same way the Nazis did when they wanted to go into Austria and created provocations."
Bleich, a vice president of the World Jewish Congress, announced the formation of an aid effort, KievRelief.org, to fund security for synagogues and mosques and to provide humanitarian relief for all Ukrainians.
The rabbi moved to Ukraine in 1989 from Brooklyn. He and other Ukrainian political and religious leaders met with Secretary of State John Kerry on Tuesday. He said he will urge Kerry to be assertive with Russian President Vladimir Putin, to move the G-8 Summit from Sochi to Kiev, as a show of solidarity with Ukrainians, and to consider sending military support to Ukraine.
While saying that Americans are "war-weary," Bleich said Ukrainians need "boots on the ground to protect democracy" and to prevent "the cold war from getting hot." When asked about anti-Semitism among Ukrainian nationalists, particularly two far-right parties that have been included in the new government, Bleich acknowledged concerns but said the Jewish community has received assurances from top government leaders that their safety will be protected.
"The Russians are blowing this way, way out of proportion," he said, referring to the issue of anti-Semitism among some Ukrainian nationalist factions. He said that Ukrainians were united in response to the Russian intervention. "There were many differences of opinion throughout the revolution, but today all that is gone," he said.