Svoboda: The Rising Spectre Of Neo-Nazism In The Ukraine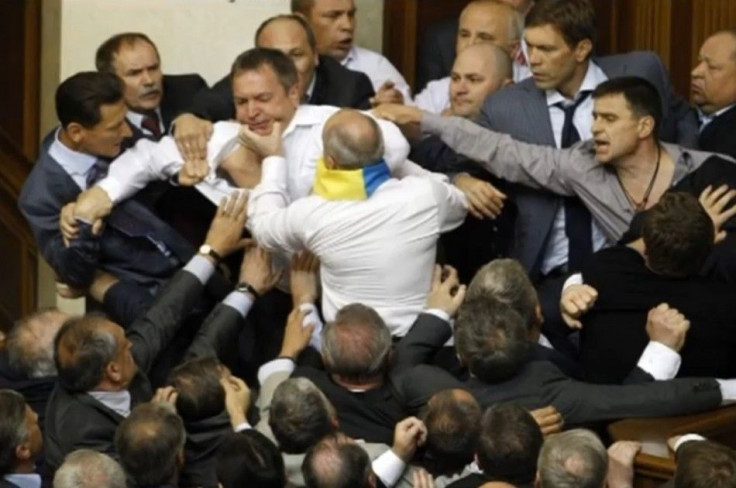 The Ukraine's far-right ultra-nationalist political party, Svoboda All-Ukrainian Union, recently received global media attention after one of its officials called Ukrainian-born American film actress Mila Kunis a "dirty Jewess," sparking outrage in Western Europe, Israel and the U.S.
Ihor Miroshnychenko, the deputy chief of Svoboda, wrote on his Facebook account: "[Kunis] is not Ukrainian, she is a Yid. She is proud of it, so [the] Star of David be with her."
However, this was only the latest inflammatory incident involving the extreme right-wing party which espouses a virulently xenophobic, anti-Semitic, anti-gay, and anti-Russian agenda.
European and Israeli leaders expressed shock in October when Svoboda gained more than 10 percent of the electorate in parliamentary elections, entering the legislature for the first time ever. (In some western regions of Ukraine, Svoboda gained as much as 40 percent of the vote.).
As recently as the 2007 parliamentary elections, Svoboda only garnered 0.76 percent of the total vote.
In the parliament, Svoboda now boasts 37 deputies – making it the fourth largest party in the 450-member body -- who are adamantly opposed to pro-Russian President Viktor Yanukovych.
Founded in 1991 as the Social-National Party of Ukraine, Svoboda has apparently appealed to hundreds of thousands of Ukrainians weary of economic woes and rampant corruption in government. Recent reports suggest that the party has derived significant support from the well-educated and the young.
"I'm for Svoboda," a supporter named Vadim Makarevych told BBC at a rally in Kiev. "We have to stop what is happening in our country. It's banditry and mafia."
Svoboda members have been in the middle of a number of violent brawls that have erupted in parliament since the election, solidifying its image as a rabble-rousing organization.
Andreas Umland, a German-born visiting Senior Lecturer in Political Science at the National University of Kyiv-Mohyla Academy who is an expert on extremist groups, told the Financial Times: "The surge in Svoboda's popularity is clearly a protest vote, a reaction to the policies of Yanukovich, who draws his support mostly from Russian-speaking eastern Ukraine and whose policies are seen by many voters as 'Ukrainaphobic'."
Umland added: "For many Ukrainians, Svoboda is viewed as a disciplined party that could put up the strongest of fights with Mr. Yanukovich and his oligarchs."
The party is linked to the Patriots of Ukraine, widely regarded as a neo-Nazi group, and is also informally allied with France's extreme right wing National Front.
Among other things, Svoboda (which means 'freedom') seeks to end all immigration and ensure that all civil servant jobs are filled by ethnic Ukrainians.
Anti-Semitism appears to hold a core position in Svoboda's party ideology. In 2004, the party's charismatic leader Oleh Tyahnybok delivered a speech in parliament in which he alleged that a "Muscovite-Jewish mafia" was controlling the Ukraine and threatened the country's very existence.
Tyahnybok also claimed that "organized Jewry" dominate Ukrainian media and government, have enriched themselves through criminal activities and plan to engineer a "genocide" upon the Christian Ukrainian population.
Another top Svoboda member, Yuriy Mykhalchyshyn, a deputy in parliament, often quotes former German Nazi propaganda minister Joseph Goebbels, as well as other Third Reich luminaries like Ernst Roehm and Gregor Strasser.
Tyahnybok has repeatedly sought inspiration from Ukrainian insurgents who fought in World War II.
"They did not fear, but took up their automatic rifles, going into the woods to fight Muscovites, Germans, Jewry and other filth which wanted to take away our Ukrainian nationhood. It's time to give Ukraine to the Ukrainians. Like them, you are most feared by the Moscow-Jewish mafia which today runs Ukraine," he said.
Responding to concerns about his party's anti-Semitism, Tiahnybok insisted Svoboda is pro-Ukrainian and not hostile to any other group.
"I respect the position of [Israel], which defends the interests of its citizens," he said after the parliamentary elections.
"I would like to ask Israelis to also respect our patriotic feelings. Probably each party in the [Israeli parliament] Knesset is nationalist. With God's help, let it be this way for us too."
Svoboda also assails non-whites.
In February, Yuriy Syrotiuk, a Svoboda spokesman, expressed his unhappiness over the appearance of Gaitana-Lurdes Essami, a half-Ukrainian, half-Congolese singer, who represented Ukraine in the Eurovision music contest, citing that she "is not an organic representative of the Ukrainian culture."
Svoboda also expresses extreme hostility towards homosexuals – party members recently attacked and sprayed tear gas at the participants of a gay rights rally in the capital Kiev.
"Thanks to the five nationalists, the Sabbath of 50 perverts was broken up," Svoboda stated, referring to the disturbance.
"They pulled out banners with perverted slogans, after which the protesters used teargas on them, but they received a decent rebuff."
Separately, the integrity and retention of Ukrainian language and culture also represents a pillar of Svoboda's ideology.
Alarmed by the expanding use of the Russian tongue in public and government, the party has advocated for the banning of the foreign language. Among other measures, Svoboda demands that all parliamentarians speak Ukrainian instead of Russian.
The Svoboda party has also opposed the renaming of streets in the country to Russian-friendly titles.
Indeed. Moscow appears to draw the most opprobrium from Svoboda, which alleges Russia is still suppressing the Ukraine and frustrating its integration with the EU.
Indeed, in refuting charges of anti-Semitism, Svoboda frequently notes that, like the Jews, Ukrainians also suffered a holocaust -- Joseph Stalin's induced famine in the 1930s which killed millions.
But Svoboda's longer-term viability remains doubtful. The Kyiv Post newspaper reported that if presidential elections were held now Tiahnybok would only receive 7.8 percent of the vote, far below the 25 percent that the incumbent Yanukovych would get. (The next actual election is not scheduled until 2015).
In the meantime, Ukraine's economy, which essentially collapsed in 2009, could prompt more voters to embrace extremist political parties.
© Copyright IBTimes 2023. All rights reserved.