Ukraine Detains 12 And Arrests Three Members Of Berkut Riot Police, Who It Claims Attacked Protesters In Kiev, On Suspicion Of Mass Murder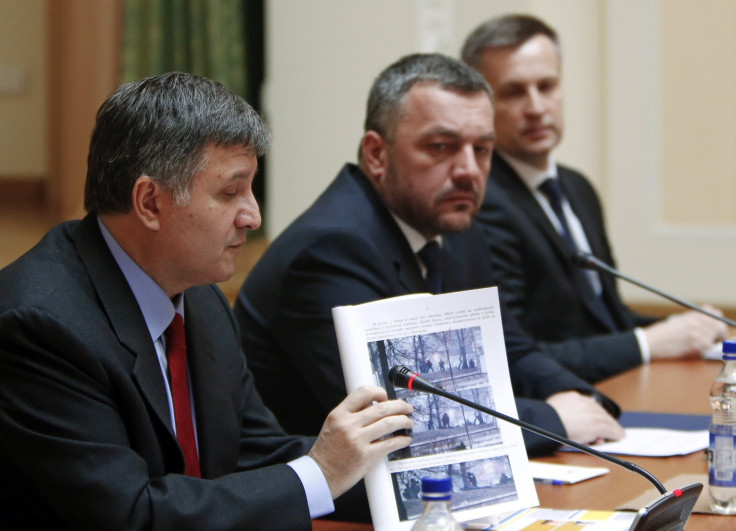 Ukraine arrested three members of its special riot police, Berkut, and detained 12 more, on suspicion of mass murder during the anti-government protests witnessed in the capital city of Kiev between Feb. 18 and Feb. 20, news reports said.
A top security official reportedly said that the interim Ukrainian government had also procured evidence that showed Russian security services assisted their counterparts in Ukraine to crush the anti-government protests, according to Associated Press, or AP, adding that there were indications that snipers, who were reportedly responsible for more than 100 deaths during the Kiev protests, were ordered into action by former Ukrainian President Viktor Yanukovych, a charge that he has denied.
"By this morning (Thursday) twelve people had been detained, all of them suspected of mass murder on Institutska Street," a spokesperson for the general prosecutor, reportedly told Reuters.
In an interview to AP on Wednesday, Yanukovych reportedly admitted that he "was wrong" to invite Russian troops to Crimea, which is now under Russian control.
Oleh Makhnitsky, Ukraine's acting prosecutor general, reportedly said Thursday that the chief of a specialized company called the "Black unit," which operated within the Berkut riot police, was also among those detained. The unit had reportedly handed out weapons for use against demonstrators, according to Interfax, a local news source.
"The police officers of this company were trained for special operations including the killing of people. They were overseen by the presidential administration," Makhnitsky said, according to Interfax.
While Ukraine's interior minister Arsen Avakov presented the initial findings of a government report, which is due Thursday, on the events that occurred in Kiev, Ukrainian Security Service chief Valentyn Nalyvaychenko said that the Russian Federal Security Service, or FSB, operatives had been involved in planning operations against the protesters. Nalyvaychenko added that the FSB had sent ton of explosives and weapons to Ukraine in a plane, BBC reported.
NATO, meanwhile, has also expressed concerns regarding the presence of 40,000 Russian troops along the Ukrainian border and has warned that Russia is capable of attacking Ukraine within 12 hours of taking a decision to do so.
© Copyright IBTimes 2023. All rights reserved.