Ukraine New Prime Minister Petition: Former Georgian President Mikheil Saakashvili Gets 26,000 Online Signatures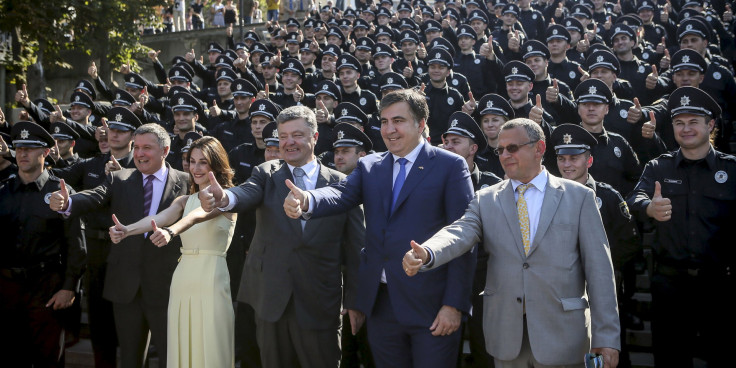 An online petition asking for former Georgian President Mikheil Saakashvili to be appointed prime minister of Ukraine has attracted more than 26,000 signatures and will be considered by President Petro Poroshenko. The petition, which first appeared in English on Monday on Poroshenko's website, asks for Saakashvili to replace current Ukrainian Prime Minister Arseniy Yatsenyuk, according to a report from the Russia news site Sputnik.
While Poroshenko has given no indication of whether he would replace Yatsenyuk, a feud has developed between Saakashvili and the prime minister in the past week over the state of the country's economy. Saakashvili has previously said that as much as $45 billion had been lost because the Prime Minister favored the interests of oligarchs over that of the country.
Responding to the allegations, Yatsenyuk said the claims were groundless and false.
It's the first time that an Internet petition in Ukraine has attracted more than the required amount of 25,000 signatures within three months of being posted. After considering the petition during its first three days, which is required, Poroshenko will either move the petition forward by introducing a bill to Kiev's parliament for consideration or he will reject it. Either way, Poroshenko's decision must be made public no later than 10 days after the petition was filed.
Saakashvili, who has previously said that he would not consider himself for the position of Ukraine's prime minister, said this week that he believed low morale among Ukraine's government could contribute to another coup in Kiev, according to an online report in Lenta, a Moscow-based newspaper.
"The weakness of the state apparatus and security forces creates a dangerous situation when some informal actors might one day decide that they're the real governing force in the country, not the government in the Verkhovna Rada," Saakashvili said, referring to the Ukraine parliament.
Ukraine's previous government was ousted during the Euromaidan riots between November 2013 and February 2014. President Viktor Yanukovych fled Ukraine in the aftermath.
© Copyright IBTimes 2023. All rights reserved.