Ukraine Russia Conflict: Russian Threat Will Last Decades, Ukrainian President Poroshenko Says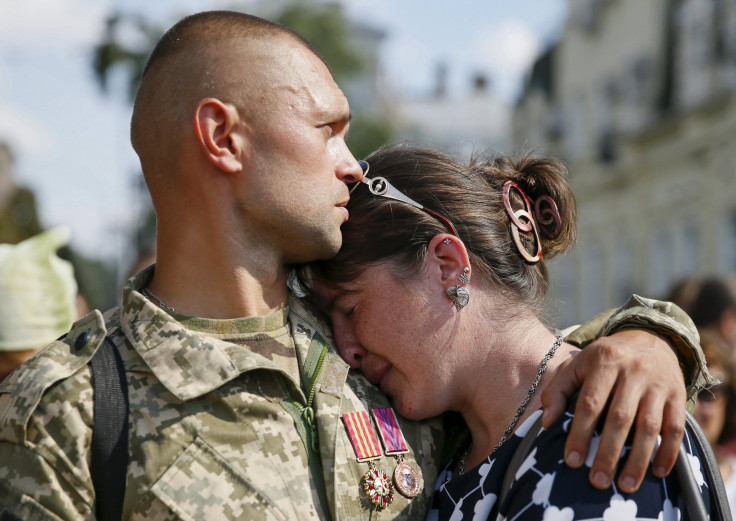 Russia will remain a threat to Ukraine for decades, Ukraine's president said Thursday, before adding that his country needed to increase the number of contract soldiers in its army, according to a presidential statement. Ukraine announced Wednesday its new military doctrine, which bluntly named its vast neighbor Russia as a direct military adversary and called for Ukraine to work toward NATO membership.
"Military threat from the East is a visible perspective for decades," Ukraine's President Petro Poroshenko said Thursday in a statement. "Each new generation must have a military experience, which can be gained only in a strict military school."
At a meeting Thursday with his National Security and Defense Council, Poroshenko said Ukraine would increase the number of contract soldiers in its armed forces, targeting areas that require special training and expertise. He also noted the country would continue its military draft. Ukraine failed to meet its callup goal of 25,000 soldiers in August and will have to continue conscription for several more waves.
Poroshenko said he felt confident Ukraine's army would meet NATO standards by 2020, part of the country's new goal of gaining NATO membership.
Violence rocked Ukraine's capital of Kiev Monday, leaving three people dead and more than 100 wounded, as the parliament, the Rada, voted on constitutional changes to increase autonomy for Ukraine's regions, including the areas of Donetsk and Luhansk that are currently controlled by Russian-backed separatists. Far-right nationalist parties viewed the vote as a capitulation to the separatists.
Poroshenko came out with a forceful statement Wednesday pointing to Russia as the country's main adversary.
"Unfortunately, all military threats and challenges are related to Russia. And all of them are of lasting nature," he said.
The conflict in Ukraine began in 2014 and has taken the lives of more than 6,700 people and displaced at least 1.4 million. A ceasefire agreement signed in Minsk, Belarus, in February has failed to stop the conflict. With both Poroshenko and Russian President Vladimir Putin expected to speak at the United Nations in late September, there is speculation about talks between the two leaders.
© Copyright IBTimes 2022. All rights reserved.
FOLLOW MORE IBT NEWS ON THE BELOW CHANNELS