Ukraine Receives Advanced Surface-To-Air Missile System From US
KEY POINTS
President Zelensky said Ukraine absolutely needs "the U.S. to show leadership" and give the air defense systems
Military assistance announced by the U.S. late last month included six NASAMS and munitions
Ukraine is also seeking a long-range army tactical missile system from the U.S.
In a first public acknowledgment, President Volodymyr Zelensky has confirmed that Ukraine will receive the sophisticated National Advanced Surface-to-Air Missile System (NASAMS) from the U.S., a system that Kyiv has been seeking for a long time.
"We absolutely need the United States to show leadership and give Ukraine the air defense systems. I want to thank President (Joe) Biden for a positive decision that has been already made," Zelensky is reported to have said in an interview broadcast Sunday.
The NASAMS procurement is part of the Ukraine Security Assistance Initiative announced on Aug. 24 by the U.S. Department of Defense. The assistance, valued at $2.98 billion, is the single-largest tranche provided by the U.S. to Ukraine since the Russian invasion of the country on Feb. 24.
Thanking the U.S. for HIMARS and other multiple rocket-launching systems that have enabled Ukraine to advance against occupying Russian forces, Zelensky said: "But believe me, it's not even nearly enough to cover the civilian infrastructure, schools, hospitals, universities, homes of Ukrainians."
The military assistance announced by the U.S. late last month included six NASAMS and munitions, more than 245,000 rounds of 155 mm artillery ammunition, 65,000 rounds of 120 mm mortar ammunition, 24 counter-artillery radars, Puma drones, and support equipment for ScanEagle drones. Reports say that the six NASAMS is in addition to the two that the U.S. had offered earlier.
Following the announcement, it was reported that the US Army had awarded a $182 million contract to Raytheon Missiles & Defense to supply NASAMS to Ukraine. Ukrainian forces will receive the necessary training to operate the system.
NASAMS is a medium-range, network-centric air defense system designed and developed jointly by Raytheon and Kongsberg Defence & Aerospace for Norway. It consists of the Sentinel radar, Advanced Medium Range Air-to-Air Missile, and KDA's Fire Distribution Center.
The advanced system provides a tailorable, state-of-the-art defense system that can be used to maximize the ability to identify, engage and destroy enemy aircraft, unmanned aerial vehicles and emerging cruise missile threats. The system design offers operational flexibility to protect air bases, seaports, and population centers.
Earlier this month, Ukraine staged a counter-offensive, freeing large swathes of its territory in the northeastern Kharkiv region from Russian occupation.
Meanwhile, amid news that Ukraine was also seeking a long-range army tactical missile system or ATACMS from the U.S., Russia warned saying Washington's decision to do so would mean crossing the "red line" making it "a party to the conflict" in Ukraine and that Moscow would be forced to react "appropriately."
As Russia's invasion of Ukraine — what it describes as a "special military operation" — entered its seventh month, President Vladimir Putin on Wednesday decreed a partial mobilization in the country warning that Moscow would use "all means necessary" to achieve its aims against Kyiv and the West.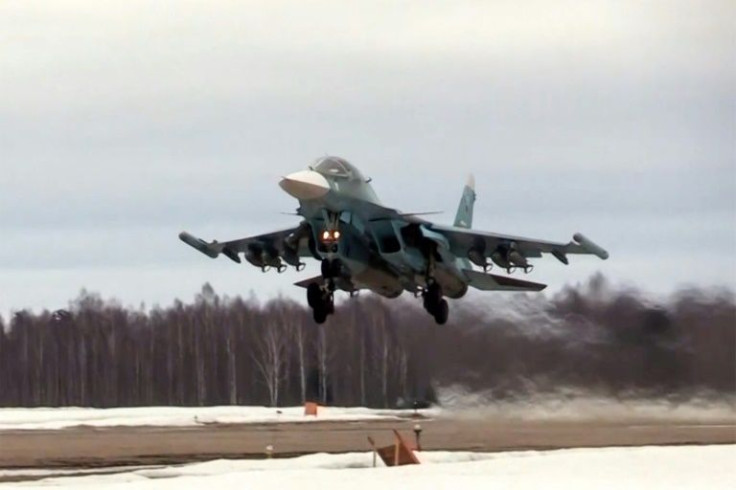 © Copyright IBTimes 2022. All rights reserved.
FOLLOW MORE IBT NEWS ON THE BELOW CHANNELS