Ukraine Rejects Cease-Fire Offer From Separatists As Troops Surround Donetsk
Ukrainian Government Says A Cease-Fire Would Make It Easier For Russia To Send In Troops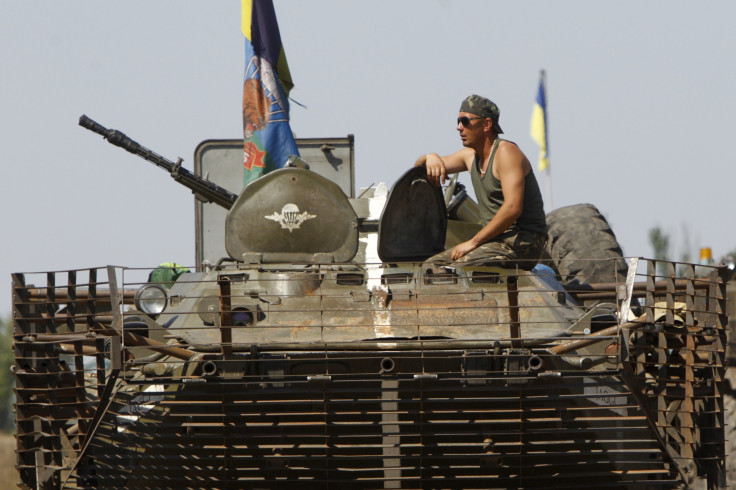 Pro-Russian separatists sought a humanitarian cease-fire to allow for food and water to reach citizens in Donetsk but Ukraine has refused the offer, saying it would only accept a truce after separatists surrender, reports Reuters. "If there is this initiative, it should be carried out by practical means and not by words -- by raising white flags and by putting down guns," said Ukrainian military spokesman Andriy Lysenko in response to a question regarding the proposed cease-fire.
While the separatists called for a cease-fire, fighting continued around the rebel stronghold of Donetsk as Ukraine continues to advance and surround the city, the Associated Press reported. Fighting Sunday killed one and injured 10 as nearly 300,000 residents of Donetsk have fled the city due to the recent clashes. In a statement Saturday, the separatists said they would not accept a cease-fire, "As long as the Ukrainian army is continuing military action."
Part of Ukraine's concern regarding a cease-fire is that it could serve as a way to bring Russian troops into Ukraine. Western governments and NATO have warned Russia not to interfere as the country has amassed 20,000 troops at the border to provide "humanitarian assistance." Ukraine said Saturday it stopped a column of Russian troops in a humanitarian convoy from entering the country although Russia has called those claims a "fairy tale."
Ukraine President Petro Poroshenko said he would accept humanitarian aid but it would have to be an international mission that passes through Ukrainian checkpoints, AP reported.
© Copyright IBTimes 2023. All rights reserved.
FOLLOW MORE IBT NEWS ON THE BELOW CHANNELS