Ukraine, Russia News: Putin Used Vacuum Bomb 'Prohibited' By Geneva Convention
KEY POINTS
The Geneva Convention bans the use of thermobaric weapons in combat
Russia used cluster munitions against two civilian targets, say Human Rights Watch and Amnesty International
One attack using cluster munitions is said to have hit a preschool in north-eastern Ukraine last Friday morning
Ukraine's ambassador to the United States on Monday said Russia was using vacuum bombs — a highly controversial weapon banned by a variety of international organizations — in its invasion of Ukraine.
Ossana Markarova, the Ukrainian ambassador to the U.S., made the claim after a meeting with White House lawmakers. However, she did not reveal where the bomb was used.
"They used the vacuum bomb today, which is actually prohibited by the Geneva convention," she said. "The devastation that Russia is trying to inflict on Ukraine is large."
A vacuum bomb, also known as a thermobaric weapon or aerosol bomb, works by drawing oxygen from the atmosphere to create a bigger explosion that lasts longer than a conventional explosive. The bomb is also capable of vaporizing human bodies. Under the Geneva Convention, thermobaric weapons are prohibited from being used in combat.
While a team of reporters from CNN spotted a TOS-1 or TOS-1A Multiple Rocket Launcher near the Ukrainian border early Saturday afternoon, there has yet to be evidence that vacuum bombs were used in the Russian invasion of Ukraine.
However, there is evidence that Moscow used cluster munitions, another controversial weaponry, against two civilian targets in Ukraine, according to international humanitarian organizations Human Rights Watch and Amnesty International.
One attack using cluster munitions is said to have hit a preschool in north-eastern Ukraine last Friday morning, hitting civilians sheltering inside. At least three people died in the attack, including a child.
"This attack bears all the hallmarks of Russia's use of this inherently indiscriminate and internationally-banned weapon, and shows flagrant disregard for civilian life," Agnes Callamard, Secretary-General of Amnesty International, said, noting that the attack may constitute a war crime.
Suspected cluster munitions also struck outside a hospital in the city of Vuhledar on Thursday last week. Four civilians died in the attack.
Once fired, cluster munitions open mid-air into dozens or hundreds of smaller submunitions. The size of the area could reach one or more football fields. Cluster munitions are notorious for being incredibly difficult to control. Additionally, a large portion of the smaller submunitions does not detonate on impact, leaving behind a trail of unexploded bombs that pose a threat to the community.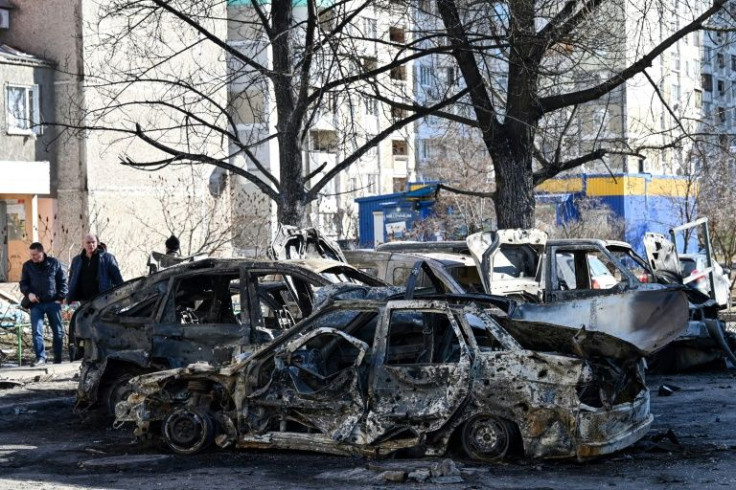 © Copyright IBTimes 2023. All rights reserved.