Trump Claims He Helped Strengthen Ukraine, NATO; History Shows Otherwise
KEY POINTS
Trump claims he pushed NATO members to increase their defense spending
The former president claimed that NATO would have ceased to exist if it was not for his administration
He also praised himself for supplying Ukraine with weapons
Former President Donald Trump on Monday falsely claimed he helped strengthen Ukraine and the North Atlantic Treaty Organization (NATO) by increasing the dues that allies pay, even if history shows he was not the first president to pressure other members to do so.
In a new statement released on his website, the former president claimed that NATO would have ceased to exist if it was not for his administration. He also praised himself for supplying Ukraine with weapons.
"I hope everyone is able to remember that it was me, as President of the United States, that got delinquent NATO members to start paying their dues, which amounted to hundreds of billions of dollars," Trump said.
"Also, it was me that got Ukraine the very effective anti-tank busters (Javelins) when the previous Administration was sending blankets. Let History so note!"
Trump is not the first U.S. president to have pressured NATO members to increase their spending. Both former Presidents Barack Obama and George W. Bush also pushed NATO members to pay more for defense.
"Since 2014, all Allies in Europe and Canada have increased defense spending every year. And they have, in total, added 270 billion extra for defense," NATO Secretary-General Jens Stoltenberg said in a speech earlier this month.
During his presidency, Trump also repeatedly slammed NATO and told aides he wanted to leave the alliance, claiming it was a "drain" on the U.S., senior administration officials told The New York Times in 2019. The reporting was later confirmed by former national security adviser John Bolton in a memoir he published in 2020.
While Trump's claim of sending Javelin anti-tank missiles to Ukraine is true, he was also found to have withheld roughly $400 million in military aid to the country in an attempt to pressure Ukrainian President Volodymyr Zelensky to investigate baseless corruption allegations against then-Democratic presidential candidate Joe Biden and his son, Hunter.
Trump is now portraying himself as Ukraine's ally. On Saturday, he also condemned Russia's invasion of Ukraine as "appalling." The former president's remark came days after he called the invasion and Russian President Vladimir Putin "pretty smart."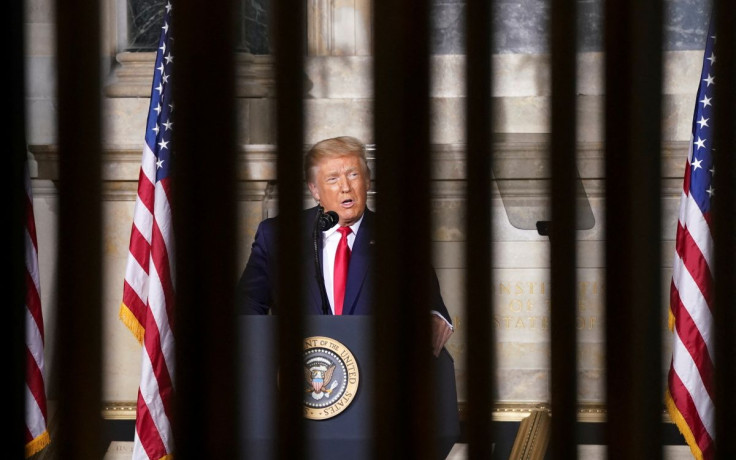 © Copyright IBTimes 2023. All rights reserved.