Ukraine Update 2014: Ukraine Used Cluster Munition, Says Watchdog, Military Denies Report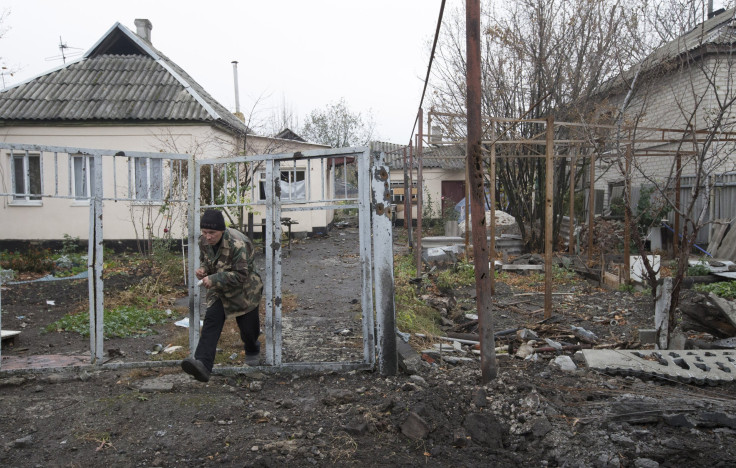 Ukraine allegedly used cluster munitions against pro-Russian separatists in eastern Ukraine, Human Rights Watch charged, but Ukrainian officials denied Tuesday using the weapons banned by more than 100 countries for their indiscriminate nature. Human Rights Watch also accused separatists of using the weapons, but to a lesser degree.
A Swiss Red Cross worker was killed in Donetsk Oct. 2 in an attack "that included the use of cluster munition rockets," according to the report. Some cluster munitions did not explode and were found in fields, posing an ongoing risk for locals, the New York Times said in a separate report. "While it was not possible to conclusively determine responsibility for many of the attacks, the evidence points to Ukrainian government forces' responsibility for several cluster munition attacks on Donetsk," the Human Rights Watch report said.
The use of cluster munitions is not technically illegal because Ukraine has not signed on to the Convention on Cluster Munitions, the 2008 treaty that bans them. China, Russia, the U.S., India and Israel also have not signed the treaty. The U.S. Department of Defense calls cluster munitions "legitimate weapons with clear military utility."
Cluster munitions are bombs made up of several smaller munitions that disperse themselves over a wide area, "sometimes the size of a football field," and then explode, devastating the entire area without discrimination, the HRW report said. While cluster bombs are legally allowed by the government of Ukraine, the accusation could complicate Ukraine's aspirations to become closer to the European Union. The European Parliament requires that each European Union member state sign on to the Convention on Cluster Munitions.
Valeriy Chaly, deputy chief of Ukrainian President Petro Poroshenko's administration, said he was "not ready" to respond to the accusations because he didn't "have the necessary information" while Andriy Lysenko, spokesman for Ukraine's National Security and Defense Council, denied the claim outright, mentioning the possibility of investigations but did not give a timetable.
The accusations came a day after Amnesty International released a report describing summary executions and war crimes committed by both sides in Ukraine. The report said Russian media inflated reports of abuses committed by Ukrainian forces. The two sides signed a ceasefire a month ago.
© Copyright IBTimes 2023. All rights reserved.