Ukraine War Forces A Nation To Talk About A Taboo: Post-Traumatic Stress Disorder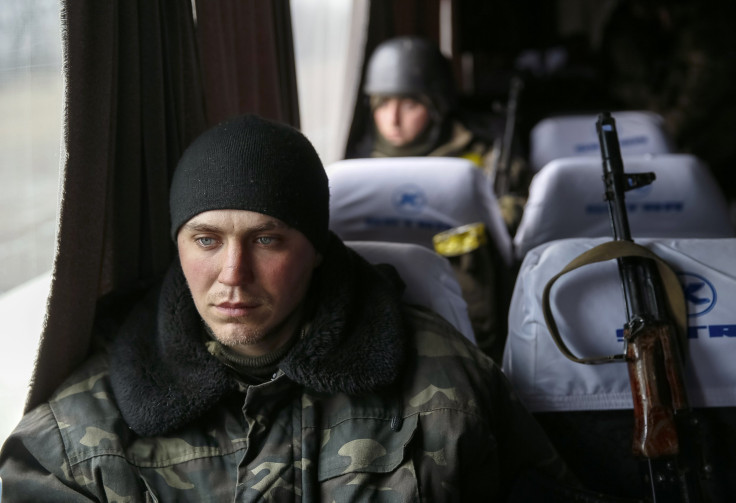 KIEV, Ukraine -- In mid-February, Fedir Kalenychenko, a Ukrainian army soldier, was retreating with his unit from the town of Debaltseve amid heavy fighting punctuated with shelling by pro-Russian rebels. He suffered a concussion, and now that the 24-year-old is back here in the capital, he has begun seeing psychologists to talk about his experiences as a soldier.
Kalenychenko did it at the urging of his wife, Tetiana. "My wife helped me. She knows how to convince me," he says. And seeing a psychologist "helps," he says. "It becomes a little easier."
That makes him an exception.
Many Ukrainians, including soldiers with post-traumatic stress disorder (PTSD) associated with a yearlong war that's killed more than 6,000 people, are leery of going to psychologists. There is still a large stigma attached to seeking psychological care. Some of the field's practitioners here see a connection to the legacy of Soviet medicine, which focused on treating external ailments, while psychology was frequently tied to political questions. A current fear among many soldiers is that psychologists will prevent them from serving in the army.
"It's a big problem," says Natalya Stepuk, a psychologist and member of the recently formed Ukrainian Society of Overcoming Consequences of Traumatic Events, a nongovernmental organization (NGO) with 200 members across the country. "There's a small percentage of people who turn to psychologists."
April 13 will mark a year since the Ukrainian government began what it calls an anti-terrorism operation (ATO) in the eastern Donbas region, aimed at pushing back Russian-supported separatists. Psychologists are now learning how to treat what has been dubbed "ATO syndrome," as soldiers and volunteers return from war on rotations.
And, in this deeply religious country, psychologists are teaming up with unlikely allies: priests. In Ukraine, four churches have major followings: the Ukrainian Greek Catholic Church, the Ukrainian Orthodox Church under the Moscow patriarchate, the Ukrainian Orthodox Church under the Kiev patriarchate and the Ukrainian Autocephalous Orthodox Church.
The Rev. Andriy Lohin, a Ukrainian Greek Catholic priest, realized the need for priests and psychologists to work together when he tended to the injured at Kiev's Independence Square during Ukraine's revolution last year.
"In our society, there is a strong lack of information about the work of psychologists," Lohin says. "For our society, this is something new. When people hear from the lips of a priest that our psyche needs educated help ... for a lot of people, it helps lower the barrier."
Priests need to understand the importance of PTSD, says the Rev. Sergiy Dmitriev, an archpriest of the Ukrainian Orthodox Church under the Kiev patriarchate. He is also head of the NGO Elios-Mylist, and has undergone both American and Israeli training sessions. However, he says, priests should not be expected to do the work of clinicians.
"Not everyone understands the function of a priest," Dmitriev says. "A lot of people think of priests as a substitute for a psychologist, but it's not a switch: We both have our functions."
Dmitriev is planning to open a rehabilitation center in Novohrad-Volynskyi, west of Kiev, where soldiers can be together and work on their rehabilitation and adaptation back to daily life.
The relationship between religious leaders and medical professionals has "pleasantly surprised" psychiatrist Mariia Bialaia. "It's interesting because we have a similar outlook -- we use different words for the same things," says Bialaia, who is also a member of the Ukrainian Society of Overcoming Consequences of Traumatic Events. "We do similar work, but treat it a bit differently."
Bialaia, Stepuk, Lohin, and Dmitriev all met last August at training run by the Department of Psychiatry at the Yale School of Medicine, which is pioneering an interdisciplinary approach to treating trauma by involving clergy, psychologists, psychiatrists, and social workers.
Priest Lohin has also attended seminars and training sessions to help him understand PTSD and how to treat and interact with soldiers and their families. In early March, he opened the Center for Psychological Health at the Metropolitan Andriy Sheptytsky hospital in the western city of Lviv, where he works as the hospital administrator.
The center provides free treatment for soldiers and their families, as well as volunteers who go into the field and people who participated in the Maidan protests. The center is taking a holistic approach to care with the philosophy that everyone linked to the ATO -- from the soldiers to their wives -- deserves free treatment.
Volodymyr Stanchyshyn, a psychologist at the center, previously worked at a private psychotherapy center. He readily admits that PTSD and war-related trauma are new fields for him and that psychologists across Ukraine are learning about them and how to treat patients.
"I believe that other psychologists must learn quickly, and they are learning quickly," Stanchyshyn says. "I really believe in this because right now there's no other way. No one was ready that a war would start." He has been studying American materials on how to treat PTSD.
Similarly, psychologist Stepuk in Kiev pulls out pamphlets she gives to wives and families affected by the ATO, translated into Ukrainian from American sources. On page one, in bold, capital letters, it reads, "You are not the only ones," and it goes on to describe what to expect when husbands and fathers return from war.
Since June, Stepuk has been traveling to the ATO zone and training psychologists working with army battalions. There's a problem, though: Soldiers criticize young, recent graduates assigned to battalions who have a hard time connecting with them and the experiences they've gone through. Overall, training and psychological care given to soldiers before and after they deploy is still uneven, with psychologists saying the government lacks the necessary resources as volunteers attempt to plug the gaps.
"The overall problem is that in reality the army does not have psychologists," says the soldier Kalenychenko, speaking of his personal experience. "There is one person per battalion, but the person usually isn't qualified, and they need to see a psychologist themselves after everything."
Many of the men Kalenychenko served with are not going to see psychologists, he says, and problems such as aggressive behavior can surface months later. Many soldiers fighting in the ongoing conflict have little to no prior combat experience.
Kalenychenko's wife, Tetiana, works as an assistant to the archpriest Dmitriev. Sitting in an office within the complex that houses the historic golden-domed St. Michael's monastery in the heart of Kiev, she explains how she quickly understood the need for psychological care, especially targeting the wives of soldiers. Wednesday nights, free group-therapy sessions are run for the families of soldiers, and she says wives mainly attend it.
"To this day, there are still problems of getting men to turn to psychologists. There are still stigmas that it's not needed," she says, noting it's mostly wives who are asking for help on how to deal with their husbands.
In addition to treating soldiers and their families, priests and psychologists are also dealing with Ukraine's 1.1 million internally displaced people, as well as those suffering trauma from events related to the revolution, when scores were killed at demonstrations as the conflict between protesters and police turned violent. But psychiatrist Bialaia says she is seeing a subtle shift in the way Ukrainians view both her peers and psychologists.
"It is changing a bit," she says. "A little more trust is appearing."
© Copyright IBTimes 2022. All rights reserved.
FOLLOW MORE IBT NEWS ON THE BELOW CHANNELS