With Broken Economy And Scarce Jobs, Ukraine's Displaced People Depend On Volunteers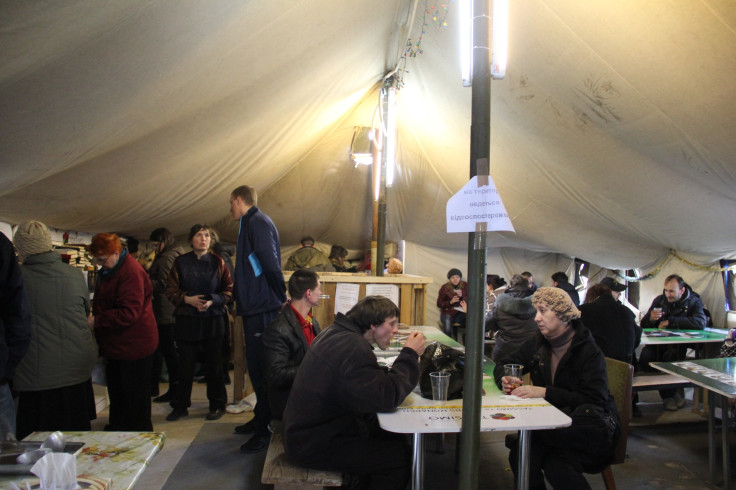 KIEV, Ukraine -- A year ago Larissa Bilotserkovets, 61, stood in Donetsk with a Ukrainian flag wrapped around her shoulders. As people around her waved Russian flags and shouted "Russia!" she, standing alone, argued Ukraine should turn westward and enter the European Union.
But that did not happen. Donetsk and nearby Luhansk became instead self-proclaimed "People's Republics," led by pro-Russian rebels who want to turn eastern Ukraine the other way, toward Moscow. Their war with the Ukrainian government has killed more than 6,000 people and displaced more than 1.5 million. Today Bilotserkovets is one of the latter, an internally displaced person. During the winter of 2013, she traveled to Kiev to participate in the demonstrations that ousted pro-Russian President Viktor Yanukovych: Today she's back in the capital as a displaced person who had to reinvent her life.
The separatists arrested her last year when she started inquiring about tanks and weapons appearing in her hometown of Makiivka. Released after falling ill in captivity, she moved to Kiev with help from volunteers with an aid organization. Internally displaced people (IDP) like her now number 1.17 million, statistics from the Ministry of Social Policy indicate. Additionally, the U.N. High Commissioner for Refugees estimates more than 500,000 people left Ukraine for Russia and more than 80,000 went to Belarus due to the conflict in the eastern Donbas region.
Many of those 1.17 million IDPs would not have been able to make ends meet without help from thousands of volunteers. In Kiev, the arrival of thousands of displaced people has created a huge need for jobs, a major strain in an economy among the poorest in Europe.
When people first arrive in Kiev, "they need everything," said Dmytro Klochko, a volunteer from the Order of Malta at an aid center on Frolivska Street in Kiev's hip Podil neighborhood.
Volunteers from Kiev, Donetsk, Luhansk and even Spain sort donations that fill a drop-off room to the ceiling, including items ranging from food and hygiene supplies to clothing and dishware. The center's tent kitchen has been cooking 100 liters (30 gallons) of soup six days a week since November.
The volunteer initiative helps people for 45 days so they can get back on their feet, center coordinator Lesya Litvinova said, explaining it has assisted around 30,000 families. But 45 days are not always enough.
"The main problems are housing and jobs," said Varvara Zhluktenko, a communications and outreach officer at the International Organization for Migration's Kiev office. "The situation with finding jobs is not straightforward."
People from the Donbas region worked mainly in factories, mines and metallurgy, industries that do not exist at all in Ukraine's capital. In Kiev, there's a need for people with IT skills, as well as sales, hotel and restaurant experience, said Iryna Koval, co-founder and coordinator of the Free People Employment Center, who has been working with volunteers across Ukraine to help people find jobs and acquire new skills. Things are a little better for displaced persons from Crimea, who frequently worked in the tourism industry.
In addition to a website where people can ask for help and post resumes, the Center offers courses, master classes, and training, all free of charge. Koval has recently launched a pilot program aimed at soldiers returning from war who will need to find jobs. To date, the center has helped more than 3,800 people find work or add to their skill sets.
Bilotserkovets is one of its success stories. After she left eastern Ukraine, aid organization Donbas SOS helped her find housing, and volunteers referred her to the Center. She now works as a cleaner at Juniper, a hipster bar in the Podil neighborhood. She is thankful for the job and smiles as she describes the bar's clientele as "so young."
For many Ukrainians more than 40 years of age, making a career switch would be unusual enough without the added burden of being displaced. One of those helping ease that transition is Sergey Marchenko, the development director at work.ua, Ukraine's largest jobs website.
The company, headquartered in the eastern city of Dnipropetrovsk, took a corporate social responsibility approach to Ukraine's internally displaced crisis by asking employers who post vacancies on the site if they would be willing to hire IDPs. More than 80 percent said they would, so the company created a handshake logo in blue and yellow, the national colors, designating businesses ready to hire resettlers.
"We have a war, but it's very insidious. Putin is fighting with us and not fighting with us," Marchenko said, referring to the Russian president's denial he is supporting the rebels even as advanced Russian weapons are photographed in the hands of the separatists. "In some Ukrainian towns someone could think everything is normal," he added. "When we made these symbols we thought people would once again be reminded that we have a war and there are people who need help."
Koval and Marchenko admit some tensions still exist with employers or housing owners unwilling to hire or rent to people from Donbas because of fears they will not remain for long or because of prejudices associated with the conflict. Both, however, say the majority of people with whom they've worked have been willing to do what they can to help.
Some displaced persons, like Inna Chegoleva, aren't going back. A doctor from the eastern town of Stakhanov with 17 years of experience, she now makes just $80 a month, too little even to rent her own place. But she is looking for more work and laying down new roots with the mindset that her life from now on will be in Kiev.
"I have never had one thought about returning there," she said. "My only worry is that my parents are still there."
She lives with a friend also from Stakhanov, a town in the Luhansk region named after the legendary Soviet miner who was upheld by Stalin for surpassing his labor quota. The friend, Elena Namochenko, ran a successful shop selling clothing and cosmetics from Belarus. When her son John, 19, was called a fascist by classmates for wearing a traditional Ukrainian embroidered shirt to school, she knew something had dramatically changed. And after her husband Vyachyslav participated in a pro-Ukrainian rally in April, he was warned rebels had added his name to a list. Feeling targeted, the family left eastern Ukraine in June for Belarus before heading to Kiev in September. They fled without having a home or anyone to turn to elsewhere in Ukraine.
Her husband, an auto technician, posted on an online automobile forum that they needed to find a place to live in the capital to be near their son who had started attending university. A stranger replied, offering an old apartment. The Namochenkos renovated the place and worked out a payment plan with the owner. The husband was able to find work quickly because of his hands-on technical skills.
"Kievans really nicely welcomed us when we arrived," she said. Namochenko has started over, by turning to former business partners who were able to give her goods to set up another clothing shop. She opened in October, and is working to build up a client base.
Once Namochenko was settled, she urged Chegoleva to join her in Kiev. She arrived after the new year, and settled in the small apartment. "I have my corner," Chegoleva said, with a smile and laugh. Like Namochenko's son, her daughter, Daria, 17, has started university in the capital.
"Finding work in Kiev is really hard because there are a lot of people like me here," she said. She eventually found employment as a doctor, but has to commute to a city outside the capital.
Like many who were forced to leave their homes, the women from Stakhanov still think about how the conflict emerged and how lifelong neighbors suddenly turned on one another. They all point to Russian propaganda as one of the causes. Namochenko now wonders if perhaps things have worked out they way they were supposed to, sending them to a place where, unlike in Donbas, they now feel welcome.
Correction: A previous version of this story incorrectly identified Inna Chegoleva as Irina Chegoleva. The story has been amended.
© Copyright IBTimes 2023. All rights reserved.