Ukraine's Femen Activists' Nude Protest Against Putin: Offenders Could be Barred from Entering Russia (PHOTOS)
The activists of Ukrainian group Femen, who protested naked at a polling station in Moscow where Russian Prime Minister Vladimir Putin cast his vote Sunday, could be barred from entering Russia.
A local court Monday sentenced the Femen activists up to 12 days of administrative arrests, RT reported.
The Russian Federal Migration Service decided that it was undesirable for the Ukrainian women to stay in the Russian Federation. This decision will make them to leave our country and can be a reason for banning the entry to Russia, Itar-Tass news reported a press service from Russia's Interior Ministry as stating.
Three topless activists barged into the polling booth chanting anti-government slogans just after Putin had cast his vote.
The offenders painted their chest and back with uncouth quotes that read Kremlin Rats, I steal for Putin and Thief number 3, and pounced to the ballot box with an intention to tamper and filch the device.
Check out the photos of the protest here.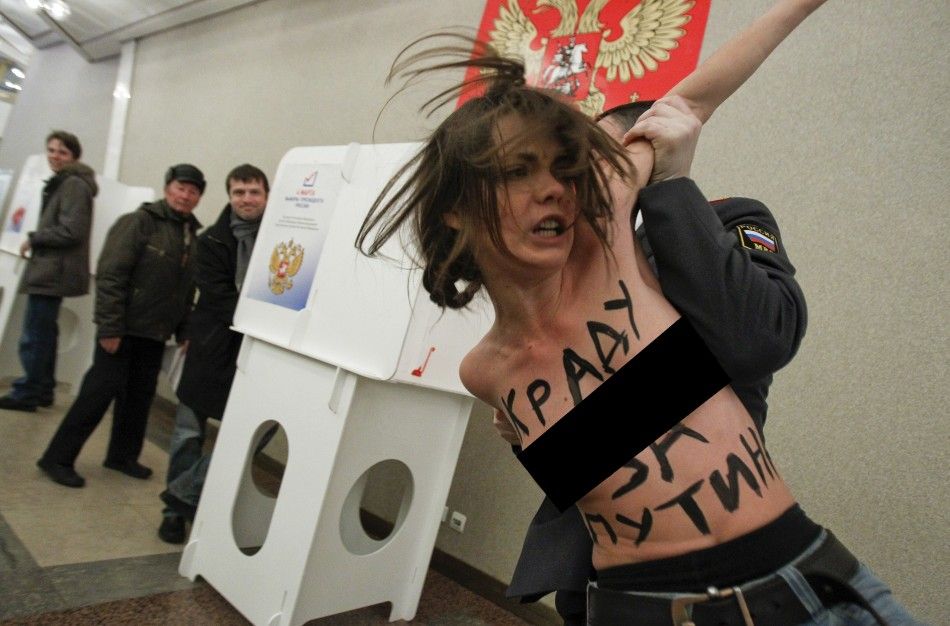 © Copyright IBTimes 2023. All rights reserved.