Ukraine's President-Elect Poroshenko Says Insurgency Will End In Few Hours While Donetsk Separatists Continue Fighting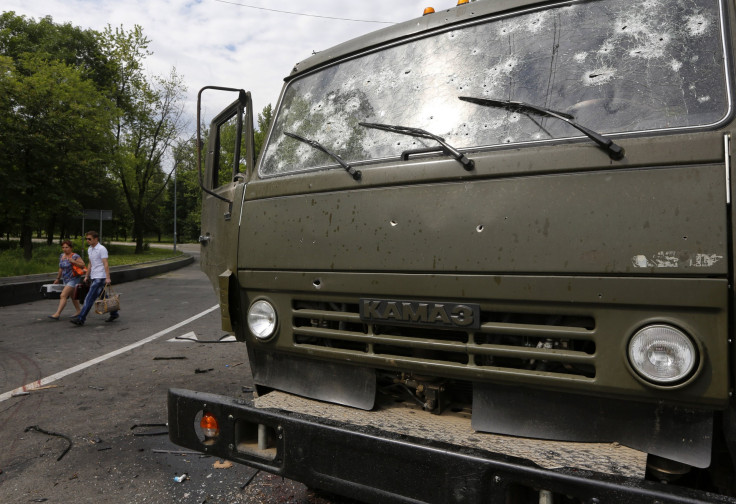 Update as of 7:27 a.m. EDT: The number of pro-Moscow rebels killed in an offensive by Ukraine's government has climbed to 50, Reuters reported Tuesday, as fighting between the separatists, who had earlier taken over a local airport and have demanded to secede from Ukraine.
"From our side, there are more than 50 (dead)," Alexander Borodai, prime minister of the self-declared Donetsk People's Republic, told Reuters, while the government has claimed it has not lost any lives on its side in the clashes. Russian President Vladimir Putin has called for an immediate end to the violence while Moscow ruled out inviting Ukraine's president-elect Petro Poroshenko for talks, the report added.
Update as of 4:25 a.m. EDT: At least 40 people have been killed in Donetsk in eastern Ukraine after government troops used significant force, including air strikes and a paratroop assault, to fight back pro-Russian rebels, who have demanded a split from Ukraine, according to media reports.
According to a representative for separatist forces in the region, more than 30 rebels have been killed in the fighting that started Monday. Fighting in Donetsk continued into Tuesday even as the rebels, who had first taken over Donetsk airport, were now pushed out of the complex, according to Reuters.
"The airport is completely under control," Arsen Avakov, Ukraine's interior minister said, in Kiev, according to Reuters, adding: "The adversary suffered heavy losses. We have no losses."
Ukraine's president-elect Petro Poroshenko said Monday that he would soon end the ongoing battle between pro-Moscow separatists, who took control of the airport in the eastern Ukrainian city of Donetsk and government forces, which retaliated with air strikes to drive them out.
Negotiations that began Monday eventually failed even as several separatists were arrested by the Ukrainian military following a standoff. One civilian was reportedly killed in the crossfire while shops and other outlets were evacuated as the fighting moved toward the city's railway station. Pro-Russian separatists have said they are willing to negotiate with Poroshenko's new administration only under the condition that Russia acts as a mediator between the two, according to the Guardian.
Poroshenko said he would end the armed insurgency in the country's east within "hours," the Guardian reported.
Ukrainians went to the polls Monday, but violent protests from pro-Russian rebels demanding that the eastern part of the country be allowed to join Russia through a referendum, limited voter turnout and ensured less than a fifth of all voting booths opened in Donetsk and Luhansk in eastern Ukraine.
Poroshenko, a pro-European billionaire businessman nicknamed "chocolate king," is seen to be coasting to a conclusive victory, having so far won 54 percent of the votes.
"The anti-terrorist operation should not last two or three months. It should last for a matter of hours," Poroshenko said earlier on Monday, according to Reuters, adding: "They (pro-Russian separatists) want to preserve a bandit state which is held in place by force of arms. These are simply bandits. Nobody in any civilized state will hold negotiations with terrorists."
© Copyright IBTimes 2023. All rights reserved.
FOLLOW MORE IBT NEWS ON THE BELOW CHANNELS