Ukrainian Troops Quell Large Tank Offensive By Pro-Russian Forces As Donbas Conflict Worsens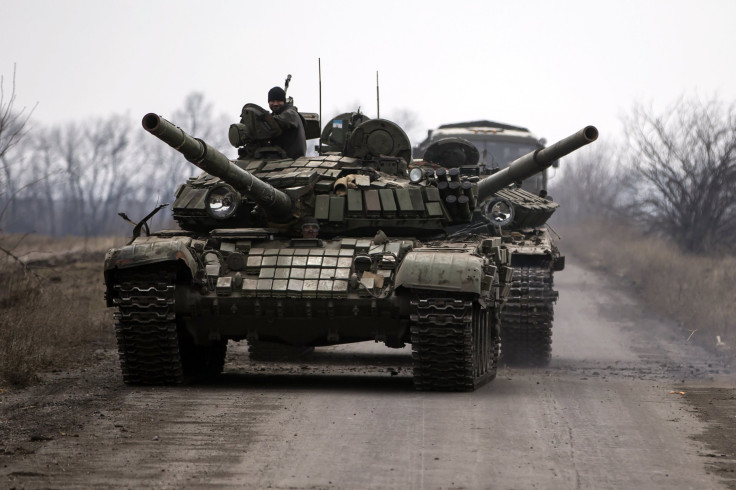 Ukrainian forces thwarted a surprise pro-Russian rebel tank attack Monday that once again showed the fragility of the 16-month ceasefire in East Ukraine, according to an Agence France-Presse report. "200 insurgents used tanks to storm" the village of Novolaspa, which lies between the de facto rebel capital of Donetsk and the strategic port town of Mariupol on Ukraine's southern coast, Ukrainian President Petro Poroshenko said.
"Ignoring the truce agreements, our enemies are continuing to stage provocations that are meant to escalate the conflict," the defense ministry said in a statement, also noting that Ukrainian forces were able to repel the attacks. However, according to AFP, a second attack was launched soon after. The outcome was not immediately clear.
Ukrainian and pro-Russian rebel officials have regularly accused one another of breaking February's Minsk II ceasefire, often sending out conflicting battle reports. In the case of the so-called tank attacks Monday, a pro-Russian rebel spokesperson said that "the armed forces of Ukraine simply put the village under a heavy shelling attack" and that "Novolaspa remains under the control of the People's Republic of Donetsk."
Adding to that, rebel leader Alexander Zakharchenko said that his soldiers "are on constant alert for a possible new wave of military activities."
Ukrainian Armed Forces Over Time | FindTheData
While the conflict goes through quiet periods, there have been few days since the ceasefire went into effect that didn't involve reports of fighting, death and casualties. Over 7,000 people have died in the conflict since fighting began, in April 2014. Last week the ceasefire was breached more than 140 times in 24 hours, resulting in the death of four Ukrainian soldiers.
Both parties say they want an end to hostilities, yet there has been no solution to the political deadlock over the past six months. Pro-Russian rebels want an autonomous state without interference from Kiev, while Ukrainian leaders want to retain administrative control over the entire area and allow rebels some element of self-rule. Neither side has been willing to budge on its demands.
Former U.S. ambassador to Ukraine Steven Pifer told IBTimes last week that Kiev's offer of partial autonomy will not bring peace to the region. "If you look at the leaders of the rebels, they're saying already that they would never allow Kiev to reestablish political sovereignty to the territory there," said Pifer.
© Copyright IBTimes 2023. All rights reserved.