UN Climate Change Conference: World Leaders Call For Price On CO2 Emissions Despite Uphill Battle At Paris Summit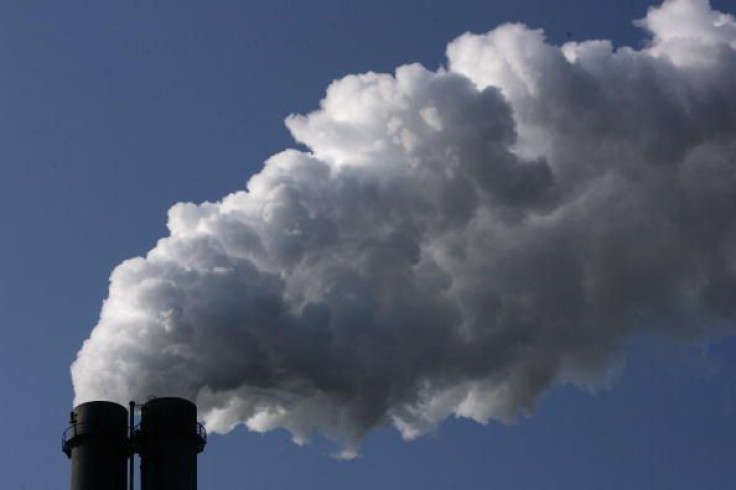 Seven world leaders and major global economic groups are urging diplomats gathering in Paris to adopt a price on carbon dioxide emissions. The coalition said Monday that the controversial policy would give much-needed teeth to a United Nations-led climate change agreement, which nearly 200 countries are negotiating over the next two weeks.
"We've come together in the shadow of an undeniable truth: We simply cannot afford to continue polluting the planet at the current pace," Jim Yong Kim, president of World Bank Group, said Monday at a media event in Paris. "We have an opportunity for the first time to truly put the world on a path toward low carbon and more resilience in the future."
The group is facing an uphill battle. Despite broad support from climate policy experts, and even though dozens of carbon-pricing schemes exist worldwide, the topic of putting a price on carbon isn't on the official agenda of the U.N. climate summit, French President François Hollande told the national media last week.
Global CO2 Emissions by Country | FindTheBest
Brice Lalonde, a former French environment minister and U.N. special adviser, said the omission "illustrates perfectly the rather abstract side of the negotiations and the world inhabited by diplomats as compared to the world's economic reality," he recently told the French magazine L'Express. He suggested that major oil-producing and coal-producing nations have prevented such discussions, as a carbon price will make it costlier to extract and burn fossil fuels.
Hollande was among the heads of state who called Monday for a carbon price, which he said would "encourage better behavior" by companies and governments and drive greater investments in lower-carbon technologies, including solar and wind power and electric vehicles. "Carbon pricing cannot be avoided," he added.
Other leaders at the Monday event included German Chancellor Angela Merkel, Canadian Prime Minister Justin Trudeau, Chilean President Michelle Bachelet, Ethiopian Prime Minister Hailemariam Desalegn, Philippines President Benigno Aquino III and Mexican President Enrique Peña Nieto. The officials are part of the newly launched Carbon Pricing Leadership Coalition, a group of 20 national and subnational governments and dozens of private companies, including oil-and-gas giant Royal Dutch Shell and Indian conglomerate Tata Group.
Proponents of a carbon price say the tool is the most effective way to steer companies and investors away from high-carbon energy sources and toward cleaner alternatives. They argue the policy tool also helps account for the damages caused by excessive emissions of greenhouse gases, including sea level rise, more intense weather events and vanishing harvests.
"Carbon without a price is not carbon without cost," Philippe Joubert, a French Brazilian businessman and former executive at the rail transport company Alstom, told International Business Times. "The only difference is you're sending the bill for the next generation." He added that "as long as nature is considered free and unlimited, you cannot have change. Because market forces will work in the direction where we put them."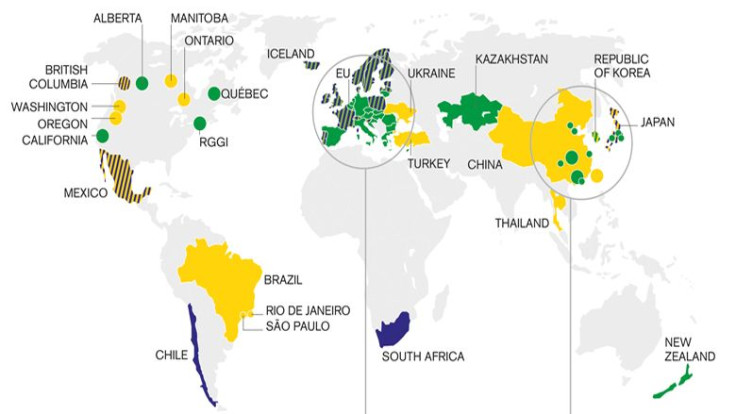 Worldwide, about 40 nations and 23 cities, states and regions have adopted or are starting to adopt a price on carbon emissions, either via a direct tax on emissions or through a cap-and-trade system. In the United States, California and nine East Coast states have cap-and-trade markets in place. While U.S. lawmakers have repeatedly rejected attempts to start a nationwide carbon market in recent years, more states could start adopting their own individual or regional strategies under the Obama administration's Clean Power Plan. The policy, finalized in August, will require states to reduce overall carbon emissions to 32 percent below 2005 levels by 2030.
Critics of carbon pricing, including many Republicans in Congress, argue the policy would unfairly punish U.S. businesses and raise costs for average American consumers, all while having a minimal effect on overall greenhouse gas emissions. Even supporters of putting a price on carbon disagree about the best approach. Hollande and other leaders called Monday for a diverse array of pricing strategies, but Angel Gurria, the secretary general of the Organization for Economic Cooperation and Development, said only a direct carbon tax could make a meaningful dent in global emissions.
Gurria pointed to Europe's Emissions Trading System, under which power plant operators, industrial firms and other heavy polluters must purchase allowances to offset their excessive carbon emissions. For a mix of reasons -- the recent recession, free allocations to companies and rapid clean-energy deployment -- the European market is stuck with a surplus of billions of carbon allowances. The supply-demand imbalance is pushing down allowance prices, making the system too weak to penalize polluters. By contrast, a 2008 carbon tax in British Columbia, Canada, has found more success. The province's fuel use, for instance, dropped by 16 percent in the first five years of the tax, while fuel use across Canada rose 3 percent over the same period, a University of Ottawa analysis found in April.
"Politically, people don't like to talk about taxes," Gurria said Monday at the Carbon Pricing Leadership event. But "if it works better and it bites and it changes conduct, then perhaps that should be the choice."
© Copyright IBTimes 2023. All rights reserved.