Guatemala's Vanishing Harvests
As diplomats and elected officials around the world debate the best way to confront climate change, Guatemalans are already struggling to adapt to frequent droughts, brutal cold snaps and shrinking harvests.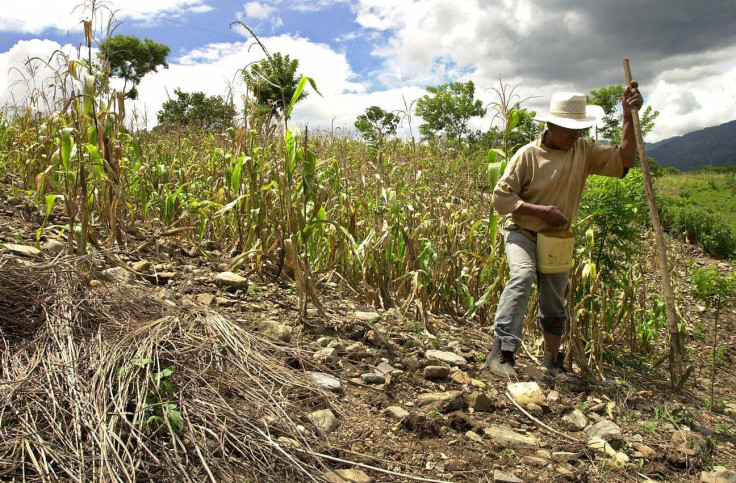 PETÉN Guatemala -- Every few days, Nevy Banegas slips on thick rubber boots and heads into the dense tropical forest to gather xate, a bright green palm so glossy it looks like plastic. Hunching over the short plants, he deftly slices stems with a machete, then hauls his load to an unadorned, one-room building in the center of this tiny village in the Maya Biosphere Reserve. Here, residents sort, stack and roll the xate (pronounced "shat-ay") into brown paper bundles. In a few weeks' time, the fronds will garnish floral arrangements in U.S. churches and event halls.
Banegas, 37, is one of dozens of local xateros who derive much of their income from cutting the leaves. For every 30 gruesas of unblemished xate he delivers -- about 2,100 palms -- the village cooperative pays him around 125 quetzales ($16). In a good month, he can earn more than $400 gathering xate, about 20 percent more than Guatemala's monthly minimum wage. But Banegas says his income is starting to dwindle.Xate plants are shriveling and shrinking amid years of irregular rainfall. On many of his recent treks, Banegas says he left the forest empty-handed.
"We can adapt, we can migrate, or we can die."
Guatemala's climate is divided in two periods: the rainy season, from May to October, and the dry season, from November to April. But in recent years, those divisions have begun to blur. Steady rains are becoming scarce, and when rains do arrive, the storms can bring torrential flooding, drowning crops and washing away soil. Banegas says he sees this in the forest. Xate plants that once took four months to regrow their leaves now take the better part of a year to regenerate. In the past he could hike to one patch of land to find his haul; now he walks across longer stretches, searching for a burst of glossy leaves.
"When there's less rain, you earn less money," Banegas explains from the packing area, where a woman flips through piles of shiny leaves, tying their skinny stems together with twine. Banegas, a slender man with a pencil-thin mustache and worn brown cap tugged over his head, says he needs to work to support his wife and young son. "But there's not as much xate production. It's not growing as much," he says.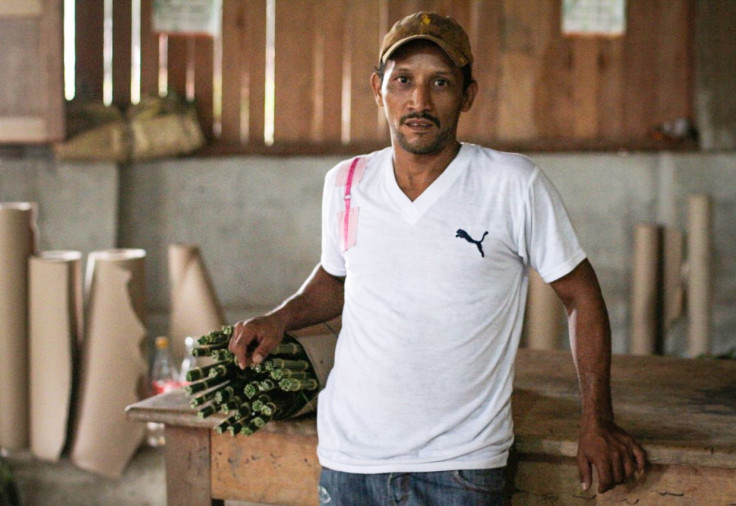 The recent variations in rainfall mark a perceptible shift in the region's long-standing climate patterns. In Carmelita, a village of about 350 people, the start of rainy season once came like clockwork. Every May 3, families placed Christian crosses near their doors to welcome the first droplets. This year, however, steady rains didn't arrive until early November. Climate scientists say the recent delays are due in part to global warming. As greenhouse gas emissions rise, boosting the planet's average temperatures, precipitation is growing less reliable, particularly in tropical climes.
Diplomats from nearly 200 nations will gather in Paris next week to discuss climate change and hammer out a global plan for curbing emissions. But halfway around the world, Banegas and millions of Guatemalan families are experiencing firsthand the threats of a warming planet. Guatemala is among the world's 10 most vulnerable nations when it comes to climate change, owing to its unique geography and extreme social inequality, according to the Climate Risk Index. Sandwiched between two oceans and straddling three tectonic plates, the country faces threats from hurricanes, torrential floods, enduring droughts, brutal cold snaps and earthquakes.
At least eight severe storms have sacked the country since 1998, racking up around $3.5 billion in economic losses and property damage -- a sum equal to roughly 6 percent of Guatemala's $58.7 billion gross domestic product in 2014. Most recently, a tropical storm in early October triggered a massive mudslide outside Guatemala City, killing 271 people and leaving dozens missing.
Beyond one-off extremes, progressive changes in temperature and rainfall are altering the agricultural landscape that the poorest of Guatemala's 15.5 million residents depend on to earn a living and feed their families.
In the arid southern states, known locally as departments, family plots of corn and beans this year shrunk by as much as 80 percent in some areas amid unrelenting drought, fueled by one of the strongest El Niño weather events on record. Coffee "rust," a vicious fungus spurred by hotter temperatures, is destroying millions of sacks of coffee beans each year. In Petén, the low-lying, northernmost state, production of xate, lumber and hearty ramón seeds is slipping, putting a strain on rural workers like Banegas.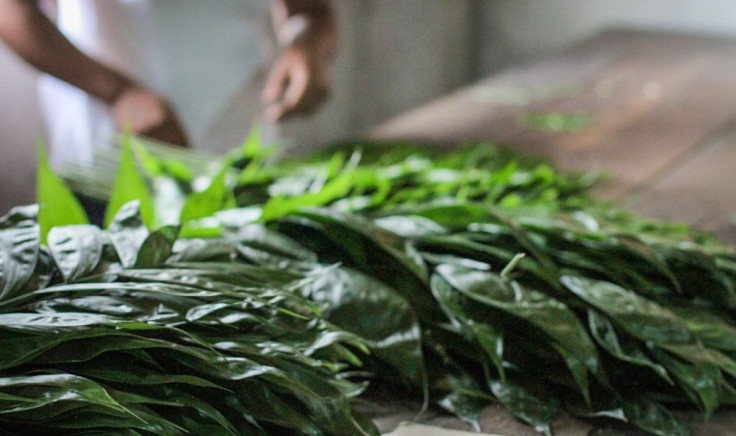 All told, climate variability costs Guatemala as much as $2.2 billion a year, or nearly 4 percent of its annual gross domestic product, in damaged properties, emergency response costs and interrupted business activity, government officials estimate.
Guatemala may represent an extreme example of climate change's economic toll. But climate scientists warn it points to the broader risks many nations will soon face if greenhouse gas emissions continue unabated. At the U.N. climate conference in Paris, which starts Nov. 30, countries will debate a plan that aims to keep the planet's temperatures from rising 2 degrees Celsius (3.6 degrees Fahrenheit) above the 19th-century average -- a benchmark governments hope will prevent the most catastrophic effects of global warming.
Scientists say the window is rapidly closing. Global temperatures this year are on track to rise by 1 degree Celsius (1.8 degrees Fahrenheit) above the 19th-century average, putting the planet more than halfway to the threshold for dangerous climate change, Britain's Met Office reported in early November. For vulnerable countries, the situation bears a certain irony: Most of the world's existing emissions come from the smokestacks and tailpipes of a handful of wealthy nations, including the United States. Developing economies contribute to only a fraction of historic emissions, yet they're least prepared to adapt to a more hostile environment.
Guatemala is responsible for less than 0.1 percent of the world's overall emissions, which totaled more than 46 billion metric tons of carbon dioxide equivalent in 2012.
A Missing Harvest
In Ixlu, Péten, a small community on the eastern shore of the Péten Itzá Lake, residents here talk less about the surge in carbon emissions and more about the region's shrinking ramón harvest. The marble-sized seeds drop from soaring brosimum alicastrum trees, which families collect and sell to Alimentos Nutrinaturales, a women's cooperative that processes ramón and exports products to the U.S. and Japan.
"Normally, we'd be in the middle of the harvest, drying ramón. But there wasn't any [harvest] this year," says Benedicta Dionicio, the cooperative's president. She settles into a blue plastic chair in the open-air building that serves as the warehouse, factory floor and office space for Alimentos Nutrinaturales. A large red toasting machine sits idly in the corner of the room. Out in the yard, rows of raised mesh drying beds are empty.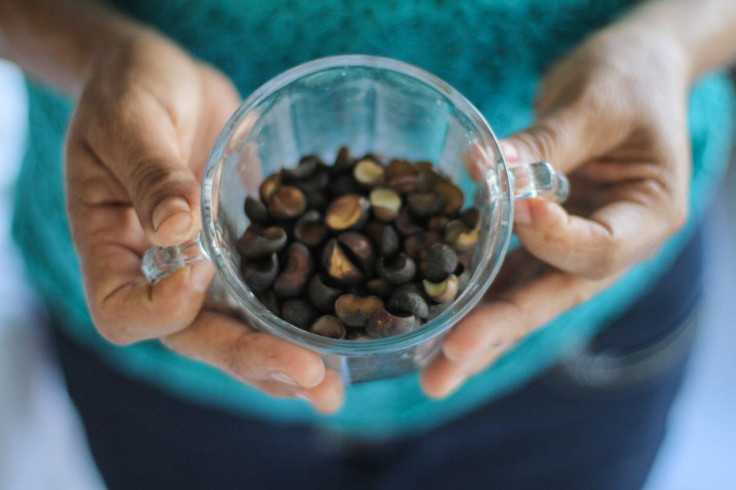 Dionicio, 47, explains that, in a typical year, ramón seeds have two harvest periods: from March to May, and from September to November. As recently as 2010, the harvests were so bountiful a visitor could slip on all the seeds blanketing the ground. But lately, with the lack of rain, the trees are sprouting fewer seeds. This year in the nearby Uaxachtún community, the two harvests never arrived, eroding the incomes of neighboring families and straining the raw supplies that Dionicio's cooperative needs to meet its orders.
Packed with nutrients, ramón seeds can be toasted and salted for a snack, ground into flour to make cookies and bread, or mixed with water for a sweet drink, like a nuttier version of chocolate milk. Dionicio helped launch the cooperative in 2006, when the harvests were bountiful and she could gather ramón in her own front yard. On a visit in early November, Dionicio points around her at the toaster, drying racks and a half-empty storage room. "If there was ramón this season, we wouldn't even have space to sit here right now," she says. More than a dozen women would be working on nine-hour shifts to turn raw green seeds into toasted sweets.
The women's cooperative has mostly survived the dwindling ramón harvest by cobbling together reserves from other suppliers in Petén. The organization pays its far-flung providers about 300 quetzales for a 100-pound bag of raw ramón, about double the amount the cooperative pays its local network of 180 gatherers. The price hike affects the cooperative's profits, but the collectors themselves feel the most economic pain, Dionicio says. "They can't earn right now," she adds. "I tell them it's because it hasn't rained."
---
Carmelita, Péten in Guatemala
---
About five years ago, before the dry spell, a government agency estimated that ramón trees near Uaxachtún could produce nearly 840 million pounds of seeds per year across nearly 2 million acres. Alimentos Nutrinaturales and other producers used that number to determine how many processed treats they could deliver to local and foreign customers. "Now, we can't say to a market in the U.S. that we have a certain amount of ramón. Because we can't guarantee that we'll have it," says Julio Javier Madrid, who oversees non-timber activities for the Association of Forest Communities of Petén (ACOFOP).
The nonprofit represents 30 communities in or around the Maya Biosphere Reserve. The federal government owns most of this region's land and awards parcels out to cooperatives for sustainable forestry management, including ramón and xate collection and limited woodcutting. ACOFOP estimated non-timber activity in 2014 generated nearly $385,000 in sales while creating tens of thousands of days' worth of work for area families. The numbers are a tiny sliver compared to Guatemala's broader agricultural sector, which exported $10.8 billion in grains, citrus, coffee, sugar and livestock last year. But the tiny earnings in Petén represent the only source of income for many families in this rural rainforest region.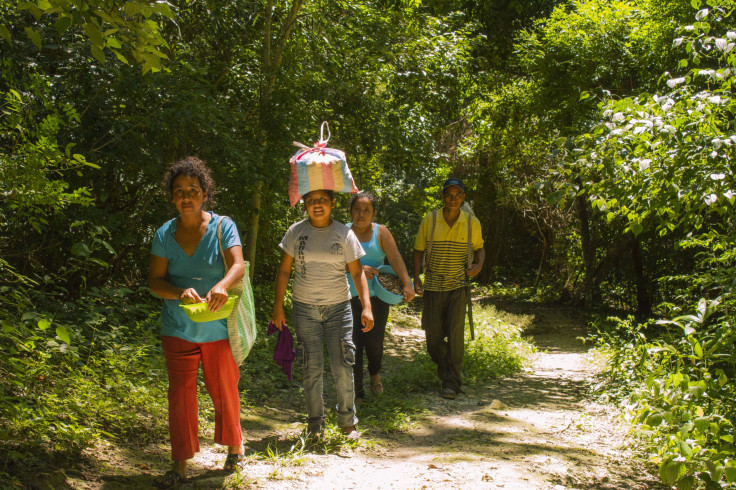 'A Critical Moment'
South of Petén, where the tropical lowlands surge into tumbling mountain highlands, the changing climate is squeezing more than the local economy. Rates of malnutrition and acute hunger are rising as the drought is sucking crops dry and leaving families without a dependable food source. The effects are most severe in the so-called dry corridor, which spans at least seven states in southern Guatemala and is most vulnerable to El Niño events.
A government survey of about 750,000 families in the corridor found subsistence farmers lost up to 70 percent of corn and bean crops for personal consumption in 2012. Declines continued in 2013 and 2014, falling to 77 and 80 percent, respectively, in certain areas, according to official estimates. This year could be even worse for subsistence farmers, says Iván Aguilar, who heads Oxfam International's program in Guatemala.
"We're in a critical moment right now," he says. "The situation is deteriorating in the corridor."
Oxfam in October surveyed 1,800 families in Chiquimula, a tiny state on the southeastern border with Honduras. Many families here get over half their daily calories from their own crops. The rest they buy with the money they earn working seasonal jobs on coffee plantations. In both cases, less rain and hotter weather means less food on the table. Oxfam found 75 percent of families are suffering chronic malnutrition, a rise of about 13 percent compared rates of 61.8 percent in 2008-2009. Nationwide, about half of Guatemalans suffer chronic malnutrition and live below the poverty line, government data show.
---
Guatemalan Families Affected By Food Insecurity Due To Climate Change
---
After several years of drought, Guatemalans in the dry corridor need more than replenishing rainfall to bounce back. Every year that they lose crops means less money to invest in better irrigation techniques, nutrient-packed fertilizer or other tools to restore their crops. It means fewer stores of food supplies to tap in case of emergency.
Federal and regional government agencies are doing little to fill the gaps, despite the fact that Guatemala's economy is experiencing relatively steady growth. The economy grew by 4.2 percent from 2013 to 2014 and is on track to grow 3.6 percent this year, according to World Bank data. Even with high rates of poverty, the growing upper and middle classes are spending more on goods and services. Industrial and agricultural exports are also rising, as large-scale producers have more tools and geographic diversity to help them weather climate effects, at least for now.
Yet Aguilar says Guatemala's healthcare and social safety nets all but "collapsed" under the previous presidential administration, which is mired in allegations of corruption. Former President Otto Perez Molina and ex-Vice President Roxana Baldetti are both in jail, facing charges related to a $3.8 million bribery ring that allegedly diverted public dollars into politicians' pockets. At the San Benito Hospital near Flores, Petén, doctors and labor advocates told a reporter this month of losing funding for critical supplies, including antivenom treatment for farmers and proper anesthetics for surgeries.
"Climate change is exacerbating an already precarious situation in the country," Aguilar says. "The impact is very visible. It's getting worse."
---
Where Climate Change Will Affect Guatemala
In 2009, Universidad Rafael Landívar conducted a study on the effects of climate change in Guatemala. The study found that about 75 percent of Guatemalans live in an area where there's a risk of either increased drought, flooding, landslide and/or frost conditions due to climate change. Below you can switch to see what areas the study found to be at risk with which condition.
Source: Universidad Rafael Landívar
---
Troubles In The Forest
Up in Petén's sprawling forests, residents aren't suffering from the same food crises as families in the dry corridor. Even as xate plants shrivel and ramón trees drop fewer seeds, people here can usually scrape together an income. Nevy Banegas, the "xatero" in Carmelita, says when he can't earn anything cutting xate leaves, he'll try to pick up a shift at the local sawmill, which is run by the village cooperative and certified as sustainable by the Forest Stewardship Council. If there's no work there, he might spend a few days guiding tourists to El Mirador, a pre-Columbian Mayan archaeological site that takes two days to reach by mule.
"I have to support my family somehow," Banegas says from inside the one-room building in Carmelita.
Still, even Guatemala's more resilient industries are feeling the strains of climate change.
Local timber cooperatives say their costs are rising and production times shrinking as Petén's rain patterns grow irregular. Loggers typically depend on a stretch of dry months between November and April to haul in equipment, vehicles and manpower to cut a selected number of trees. (The rainy season normally lasts from about May to October.) But in recent years, torrential downpours during the once-dependably dry stretch have forced producers to pack up and ship out well before reaching their quota.
"We've had to leave trees behind on a few recent occasions. We figure we lose an amount equal to 10 percent of our costs," says Carlos Maldonado, who oversees the forestry management plan for Arbol Verde, a community cooperative that operates on about 158,000 acres in Petén. In an attempt the dodge sudden showers, the woodcutters are operating on accelerated timelines, an expensive adjustment that requires renting more equipment and hiring more hands.
If they're still forced to abandon trees, the squeeze ripples down the supply chain. Arbol Verde estimates it creates up to 16,000 days' worth of work at its industrial sawmill and processing facility in a typical year. "If we can't get enough wood to the plant, we can't give people jobs either," Maldonado says. If residents can't pick up odd jobs, like Banegas does, "A lot of people have to leave the area to find other work."
The pressure on Petén's small yet crucial economic sectors adds to the broader challenges threatening the region. Deforestation is surging in the federally protected areas, boosting Guatemala's carbon dioxide emissions with every tree or field that's burned. Businessmen, village leaders and drug smugglers are illegally clearing the lands to expand their industrial-scale cattle farms, African palm plantations and unsanctioned logging operations. Of the 12 federal forestry concessions the Guatemalan government awarded to community groups, three were recently revoked due to such practices.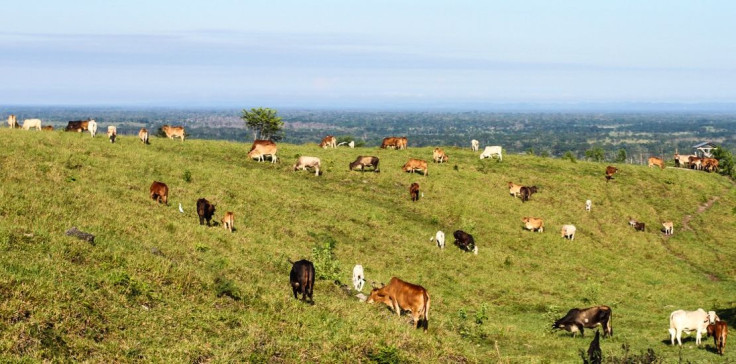 Yet solutions may be underfoot in Guatemala's forests. Environmental experts say they're preparing to launch an initiative that could both stem the spread of deforestation and compensate communities for some of their climate-related economic losses.
The project, known as GuateCarbon, would function as a marketplace for carbon "offsets." Companies, groups and individuals worldwide could purchase credits -- equal to one ton of unburned carbon dioxide -- to cancel out their carbon footprints from traveling in petroleum-powered cars and airplanes or using electricity from coal-fired power plants. In exchange, GuateCarbon administrators would use the funds to deploy more guards across the 1.2-million acre swath, as well as invest in local projects to help residents adapt to the effects of climate change.
Sergio Guzman, who manages the GuateCarbon, says the initiative will start selling its first credits in January, following more than a decade of planning. The effort is backed by the Petén group ACOFOP and international organizations such as the Inter-American Development Bank and the Rainforest Alliance. Guzman says he and other organizers plan to present GuateCarbon at the Paris climate talks as a model for other countries facing similar threats. He says the initiative could bring in at least $87 million to the region over the 30-year life of the project, based on an estimated price of $4.70 per carbon credit.
GuateCarbon is part of the broader international effort to steer dollars from wealthier nations -- historically the largest climate polluters -- toward developing economies. Richer countries, including the United States, have so far pledged an initial $10 billion in financing for the U.N. Green Climate Fund, but that covers only a sliver of the money the U.N. says is needed to help vulnerable countries thrive. The organization aims to raise $100 billion per year in public and private climate financing for 2020 and beyond.
Adapt, Or Die
In Guatemala, the financial support is critical for helping agricultural producers survive a warming world -- especially the coffee farmers.
Along Guatemala's rolling central highlands, thousands of green leaf-and-red cherry plants are succumbing to the aggressive spread of "rust" fungus. Coffee industry experts say they expect the disease will become a permanent fixture in the region because of rising temperatures and erratic rain patterns. The fungus, known in Spanish as roya, could wipe out miles more crops unless local producers learn new growing techniques, plant different varieties or establish other ways to protect their fields, says Francisco Anzueto, a researcher with the National Coffee Association (ANACAFE) in Guatemala City.
"The fungus seems here to stay," he says.
Coffee rust first appeared in Central America several decades ago, but for the most part it remained a low-level threat, confined to crops at the lowest altitudes. Around five years ago, a rash of rust swiftly attacked the region's coffee plantations, infecting leaves with yellow-orange lesions and disrupting the process of photosynthesis, stalling the growth of coffee cherries. The fungus climbed to higher altitudes where, until recently, temperatures were too cool for the rust to thrive.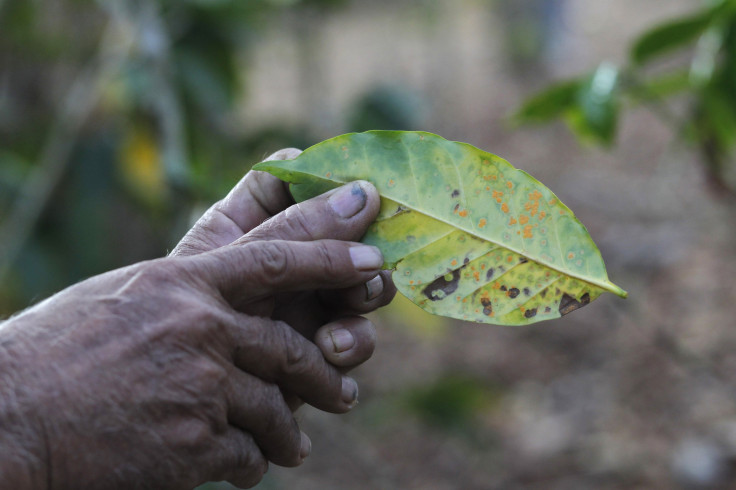 The outbreak coincided with a shift in Guatemala's temperatures and rain patterns. In 2012, one of the worst years, the minimum daily temperature rose 1.6 degrees Fahrenheit on average, while the maximum daily temperature sunk by 2.2 degrees Fahrenheit -- a not-too-hot, not-too-cold scenario ideal for coffee rust, according to a March research paper by regional coffee experts. Average rainfall that year dipped while sporadic bursts of high-intensity rains increased, another shift favorable for the fungus. In the coffee-growing regions, average high temperatures range in the mid-to-high 70s while lows average in the mid-to-high 50s.
As a result, Guatemala's coffee harvest slipped significantly. The industry has lost 250,000 -- or roughly half -- of its jobs over the last three years. Exports fell 12 percent in the 2013-2014 harvest to 4.08 million sacks of coffee beans, down from an average of 4.65 million sacks a year over the last decade, Anzueto says. (Each sack weighs just over 100 pounds). Exports slipped further to 3.82 million sacks in 2014-2015, and this year's harvest is expected to clock in around 4 million sacks. Coffee is Guatemala's third-largest export, behind textiles and sugar, and brought in roughly $668 million in export earnings in 2014, about 6 percent of the country's $10.8 billion in exports that year, Bank of Guatemala data show.
"Producers need to start investing in fighting the fungus," Anzueto says, noting that many of Guatemala's coffee plantations are small-scale operations. "The producer lives from what he harvests."
North of Guatemala's coffee crops, in the Petén state, local leaders are echoing calls for farmers to adapt. Luis Gongora, a founding member of the community group ACOFOP, says the men and women who depend on the fruits of the forest to survive must adjust to hotter days, shorter rainy periods and intense storms.
They have little choice but to do otherwise, he says. In Petén, "We can adapt, we can migrate, or we can die."
© Copyright IBTimes 2023. All rights reserved.