College Football Playoff National Championship 2016 Predictions: Why Nike Will Be The Real Winner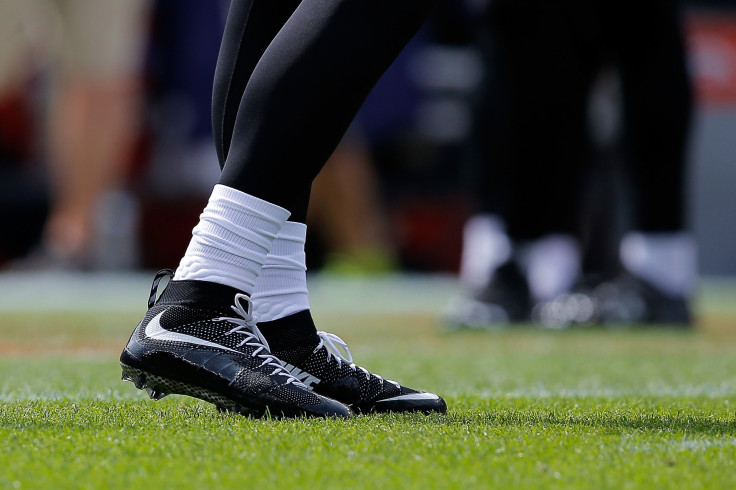 It must be all smiles in Beaverton, Oregon, the home of Nike. This weekend eight NFL teams will take to the gridiron in an attempt to advance past the first round of the playoffs. Soon after, Alabama and Clemson will battle Monday night in Glendale, Arizona, in the College Football Playoff championship game. But during perhaps the most exciting few days of the year for college football fans across the U.S., the biggest winner of the extended weekend might not be any of the teams on the field, but rather the athletic apparel behemoth.
Nike has an NFL sponsorship locked up through 2019 and sponsors all four teams that have appeared in the college playoffs: Alabama, Clemson, Oklahoma and Michigan State. The extended weekend — featuring Nike's famous swoosh logo at nearly every turn — solidifies the company's spot atop the football world. It also represents a precious slate of on-field advertising for the top brand as it works to fight off competitors, including surging Under Armour and wounded Adidas.
"Every time there's a picture, video or photograph you're going to see a Nike logo. The number of impressions is huge, " said Matt Powell, a sports industry analyst at the NPD Group, a market research company in New York City. "They're getting their money's worth out of this for sure."
Positive Reinforcement
All of the upcoming football games — the NFL matchups and the college title game — are expected to be extremely well-watched. While this year's semifinal college matchups saw a significant drop in TV ratings, due largely to the games being scheduled on New Year's Eve, last year's figures indicate the upcoming games should be ratings monsters. The 2015 championship game between Oregon and Ohio State averaged 33.4 million viewers. Out of four games last season, the lowest-rated NFL wild card matchup (Carolina Panthers vs. Arizona Cardinals) averaged 21.7 million viewers, while the highest-rated contest (Dallas Cowboys vs. Detroit Lions) averaged 42.3 million viewers. That's a lot of eyeballs glued to screens constantly dotted with Nike swooshes. For comparison's sake, the wildly popular TV show "The Walking Dead" averaged 14 million viewers for its recent finale.
Nike doesn't look to let up anytime soon, having sponsored about 60 percent of all teams in the end-of-year college bowl games, according to Footwear News. And it will continue to be the on-field apparel sponsor for all NFL contests through at least 2019.
In the immediate future, Nike's control over the massive football weekend is reinforcement of its position atop the sports world — it's reaffirming to consumers that, yes, of course, Nike sponsors the best teams and players in the world.
"You're blocking your competition from having this credibility," Powell said.
That kind of credibility is a play for the long term, attempting to lock in a lasting, positive impression among consumers, especially young sports fans who could settle into brand loyalty. To wit: 73 percent of high school football recruits in a 2015 survey by coaching network service FieldLevel chose Nike as their preferred brand over Under Armour (16 percent) and Adidas (7 percent).
Nike remains the biggest player in the apparel sector, pulling in more than $30 billion in revenues, dwarfing Under Armour's figure of $3-to-4 billion. But the Maryland company has surged past Adidas into second place in the sportswear market, along the way securing smart deals with key players like NBA MVP Steph Curry, NFL superstar Tom Brady and world No. 1 golfer Jordan Spieth.
The three days of football dominance is a victory for the swoosh against the growing brand.
"This weekend is a big win for perceptions," said Bob Dorfman, sports marketing expert at Baker Street Advertising in San Francisco. "When you're kind of going to dominate the weekend like Nike will, it's great. ... It solidifies [Nike's] reputation and makes them look smart in the choices that they've made."
Building Momentum
The weekend will do more for Nike than just keep up brand awareness and reinforce its pole position. While noting football isn't a huge "cash cow," Dorfman said Nike could expect a surge in merchandise purchases on jerseys, especially for the NCAA championship. ESPN reported in 2012, when Nike first made an NFL deal, that the brand would likely make more every year in jersey sales than the $220 million it was apparently paying to the league annually.
But merchandise aside, starting 2016 in the limelight offers Nike the chance to set the tone for the year, said Paul Swangard, former director of the University of Oregon's Warsaw Sports Marketing Center. It puts Nike at top of mind with casual fans and likely consumers, many of whom are perhaps looking for workout clothes to get back in shape for the new year or considering a purchase for the next sports season.
"We have the most powerful sport in the United States that captivates the sports culture in the month of January and [Nike has] the opportunity to kind of own that 30-day window," Swangard said. "It's a great momentum builder."
© Copyright IBTimes 2023. All rights reserved.