UPS Shipping, Delivery Delays Follow Huge Cyber Monday Sales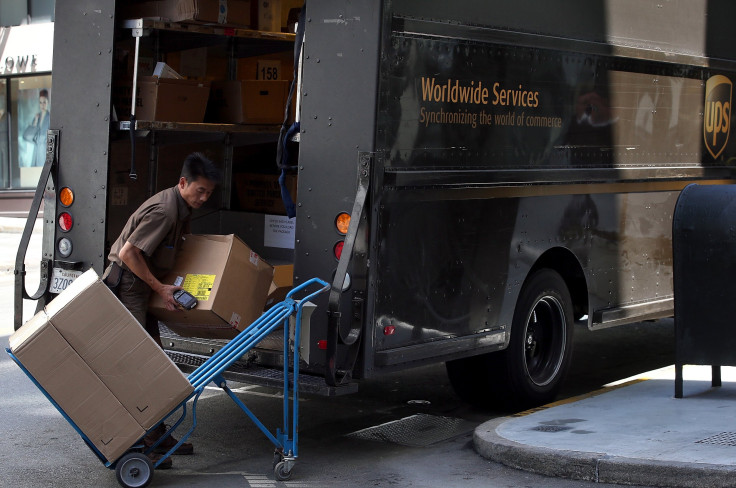 This year's successful Cyber Monday has pushed back UPS deliveries of some packages, a company spokesperson confirmed on Wednesday.
The UPS delivery delays, which were first reported by the Wall Street Journal, come after this year's Cyber Monday was labeled as the biggest online sales day ever, racking up $6.59 billion. The figure is about a 17 percent increase from last year's numbers, according to Adobe Analytics data.
UPS said the "unprecedented shipping volumes in certain markets during cyber week" has led to longer shipping waits for some packages, a company spokesperson told International Business Times. UPS said it is adding one or two days in transit time on some deliveries.
"The vast majority of the 750 million packages UPS ships during this holiday season will be delivered in accordance with the service commitments for the specified time-in-transit," UPS said. "UPS customers can be confident that UPS is taking the necessary steps to ensure the network operates with its customary dependable performance throughout the holiday season."
The company said it expects to double the normal average daily volume of more than 19 million packages and documents for the holiday season. UPS said this year's expected volume includes about 40 million more packages than last year's more than 712 million.
"We have shifted more employees and other resources to these markets to address this cyber week surge and expect to have the issue resolved by midweek, this week," UPS said.
The delay shows delivery services like UPS are struggling with busy shopping periods, like the recent Black Friday and Cyber Monday events that followed Thanksgiving. Amazon by itself saw its largest sale ever recently. The company said Cyber Monday was the single biggest shopping day in Amazon's history, surpassing this summer's Prime Day 2017. Amazon, which uses UPS to deliver its packages, said this year's Cyber Monday saw a 30 percent increase in sales compared to 2016's numbers. eBay, which also uses UPS to deliver items, also saw its biggest sales day in the company's history on this year's Cyber Monday.
To deal with the busy holiday season, UPS notified employees at more than 100 package-delivery facilities where demand is highest that it may increase the number of hours workers are on the clock to 70 hours over an eight day period. The extension is up from 60 hours over seven days. The company's move was met with backlash by the union leaders that represent UPS workers, saying that delivery drivers are putting themselves at risk physically and that the longer hours keep them away from their families during the holiday season.
In an open letter to UPS CEO David Abney, Teamsters President James P. Hoffa said:
"I fail to understand how the Company neglected to take the steps necessary to ensure that it had a sufficient number of trained workers available to meet the demand generated by the digital economy. This is, after all, the third consecutive year in which cyber Monday purchases have overwhelmed the Company's capacity to deliver packages for the holidays."
However, UPS said the move follows federal requirements and that employees are paid time-and-a-half for over eight hours a day.
© Copyright IBTimes 2023. All rights reserved.