Uruguay, With The Most Liberal Abortion Laws In Latin America, Will Not Hold A Referendum Against It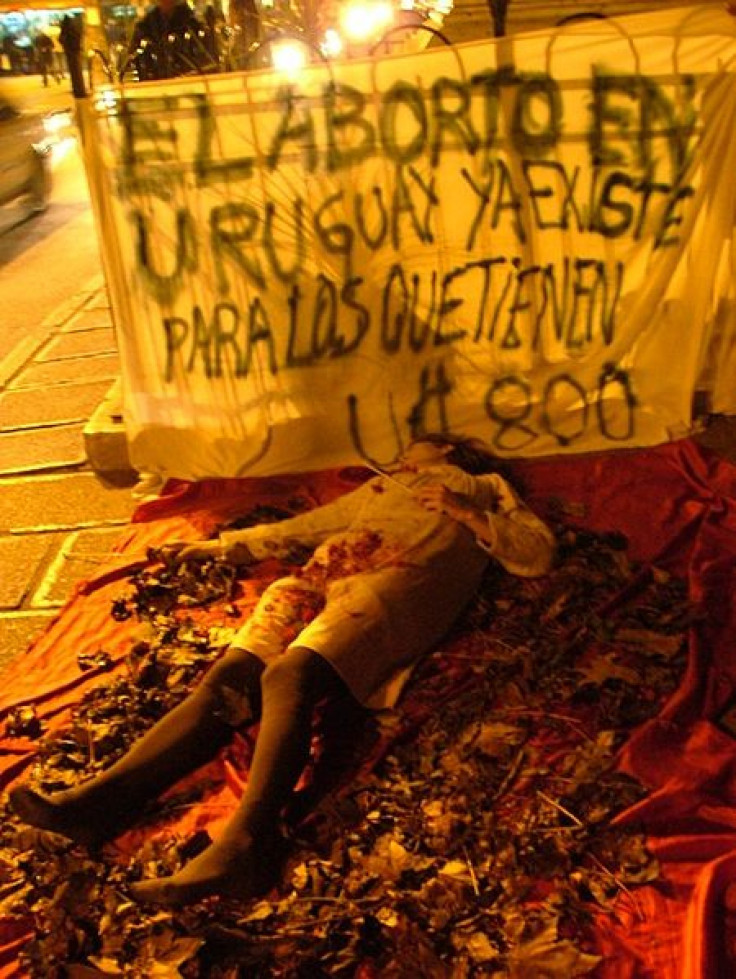 Anti-abortion advocates in Uruguay suffered a big blow on Sunday when they did not muster enough support to hold a referendum about the law that decriminalizes abortion. The regulation, which was approved in 2012 and made Uruguay a pioneer in Latin America in women's health, generated a lot of debate and divided a usually united society.
In order to be able to call the referendum, which would have taken place in October, the anti-abortion coalition would have had to gain 25 percent of support among the 2 million inhabitants of the country, meaning 655,000 votes in favor. But they only got a little under 240,000, or 9 percent.
Pablo Abdala, congressman for the Partido Nacional (National Party), which opposed the law, took the results with "respect" and "calm," according to Spanish newspaper El País. "It was not a matter of winning or losing, it was a participation process," he said.
"The merit was in asking for this consultation, and having started the debate on abortion, which is a complex issue," he added. He told Uruguayan newspaper El Observador that opponents do not think it possible to reach the number of signatures required, so they will be "closing this era."
The proponents of the law showed their satisfaction with the result. "This unarguable win shows that we are doing something right," said Frente Amplio (Broad Front) party president Mónica Xavier. Ministry of Health Deputy Secretary Leonel Briozzo said that "sexual and reproductive rights are not contested, they are respected."
Uruguay was the fourth country in Latin America to pass a law on abortion, after Cuba, Colombia and Mexico. Uruguay neared legalization in 2008, when a similar regulation was passed by Congress but then-President Tabaré Vázquez, a leftist but a devout Catholic, vetoed it.
The current legislation was proposed in 2011, after years of demonstrations by abortion rights groups, by the ruling Frente Amplio and approved a year later. The law legalizes abortion within the first 12 weeks, provided it is discussed with a panel of doctors and social workers, who will advise on the risks and possible effects. The woman will then have five days to ponder her options, and the last word will be hers. The procedure and recuperation are fully covered by Uruguay's universal health care.
In the first six months of the law, Uruguay registered around 400 abortions per month, as reported by El Observador. Physicians can object to performing the procedure, citing conscience conflicts, at any time. Minors are not allowed to terminate their pregnancies, except if expressly advised to do so by a doctor and with the approval of a judge.
The abortion law puts Uruguay at the forefront of progressive governments in Latin America, after becoming the second country in the region to legalize same-sex marriages last year -- a decision that will come into effect in August. Neighboring Argentina legalized gay unions in 2010.
Uruguayan newspaper El País reported that a group of anti-abortion lobbyists are planning to present a case against abortion to the Inter-American Commission of Human Rights. "Since there will be no national referendum," said Partido Nacional congressman Gerardo Amarilla, "we have no other option but to bring it to an international court."
Follow me on Twitter: @PReyMallen
FOLLOW MORE IBT NEWS ON THE BELOW CHANNELS