US Anti-ISIS Airstrikes In Syria: A-10 Warplanes Target Islamic State Group's Crude Oil Trucks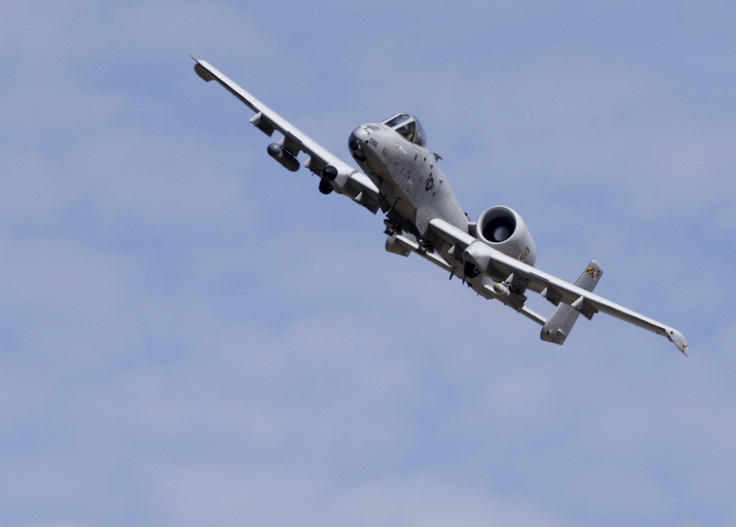 For the first time since the war against the Islamic State militant group began more than one year ago, U.S. warplanes launched strategic strikes on trucks carrying crude oil in Syria Monday, cutting off an important source of income for the terror group. The airstrikes were carried out by two AC-130 gunships and four low-flying A-10 Thunderbolt attack aircraft, and hit an estimated 116 trucks in Deir al-Zour in eastern Syria, according to a New York Times report.
Plans for the attack were formed before the terror group killed 129 people in attacks on Paris on Friday evening and early Saturday morning, according to officials.
"This part of Tidal Wave II is designed to attack the distribution component of ISIL's oil smuggling operation and degrade their capacity to fund their military operations," said Col. Steven H. Warren, a Baghdad-based spokesman for the American-led coalition, using an alternate name for the extremist group. The Pentagon mission is named for World War II's Operation Tidal Wave, a military strategy aimed at shutting down Adolph Hitler's oil fields in Romania.
U.S. Airstrikes On ISIS in Iraq and Syria | FindTheBest
The U.S. had refrained from conducting raids on the estimated 1,000-truck fleet until Monday, fearing large civilian casualties in the region. To prevent that possibility, F-15 jets dropped thousands of leaflets around an hour before the attacks took place warning vehicle owners to abandon the trucks. The U.S. Air Force also conducted practice runs to ensure that civilians were aware of what was about to happen.
Reconnaissance drones observed as many as 295 trucks in the area Monday, U.S. officials said to the Times. The A-10 attack planes, which were first built in the 1970s and are currently under danger from Air Force cuts, dropped two dozen 500-pound bombs and conducted low altitude Gatling-gun fire, which fires large depleted uranium rounds at up to 4,200 rounds a minute. The AC-130s also used Gatling guns in the attack.

Pilots observed truck drivers fleeing into a nearby tent but did not attack. There have been no reports of any civilian casualties, according to Col. Warren.
The U.S. attacks come just a day after French jets hit two targets in the terror group's de facto capital in Raqqa, Syria, dropping 20 bombs on a training camp and on the group's headquarters.
© Copyright IBTimes 2023. All rights reserved.
FOLLOW MORE IBT NEWS ON THE BELOW CHANNELS