US Begins Military Drills With The Philippines Amid Its Maritime Dispute With China Over Areas In The South China Sea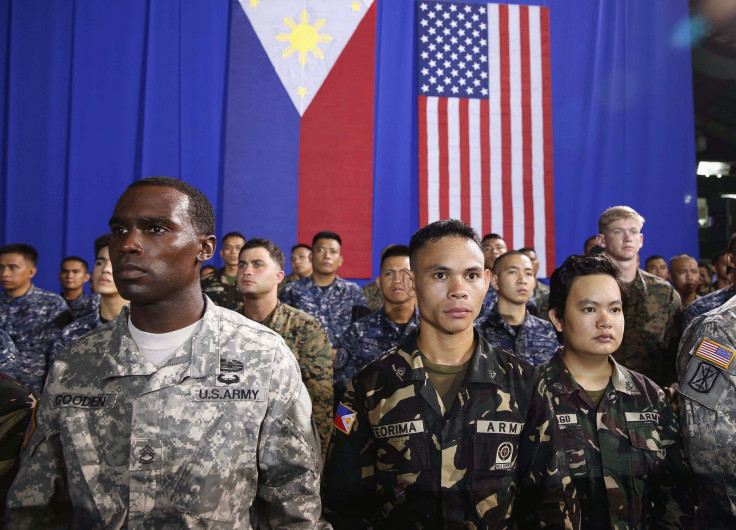 The U.S. and the Philippines have begun joint military exercises, a week after President Barack Obama's visit to the Philippines, amid tensions between Manila and China.
About 5,500 troops from both nations have begun drills, called Balikatan (shoulder-to-shoulder) drills, which will occur each year. The 10-day drills include live fire and maritime surveillance exercises, the Philippines' military said, according to BBC. Military personnel from both countries will also offer medical, dental and veterinary aid in areas including Legazpi City, the capital of Alpay province.
"Tensions in the Asia-Pacific region have increased due to excessive and expansive maritime and territorial claims, undermining the rule of law," Albert del Rosario, the Philippines secretary of foreign affairs, said at the opening ceremony of Balikatan at the main army base in Manila, according to Reuters, adding, "The aggressive patterns of behavior aimed at changing the status quo threaten peace and stability in the region. Balikatan 2014, with its focus on maritime security, strongly supports our capabilities to address these challenges."
During Obama's visit, the Enhanced Defense Cooperation Agreement (EDCA) was signed between the U.S. and the Philippines. The agreement allows the U.S. to have better access to local bases and to construct facilities to store equipment and supplies.
The pact will also provide increased maritime security and humanitarian assistance to the Philippines. Obama said that the agreement was a proof of Washington's "pivot" to Asia and that it was "ironclad" on wanting to defend the Philippines.
Both China and the Philippines have been attempting to establish supremacy over a number of islands and shoals in the South China Sea, including the Second Thomas Shoal and Scarborough Shoal. The Philippines has requested that a United Nations board intervene on the issue.
Over the weekend, China sent more ships to Second Thomas Shoal in the South China Sea, which is rich in energy deposits and carries ship-borne trade worth $5 billion every year, local news reports said.
© Copyright IBTimes 2023. All rights reserved.