US Coalition Airstrikes Target Kurdish Border Town, ISIS Headquarters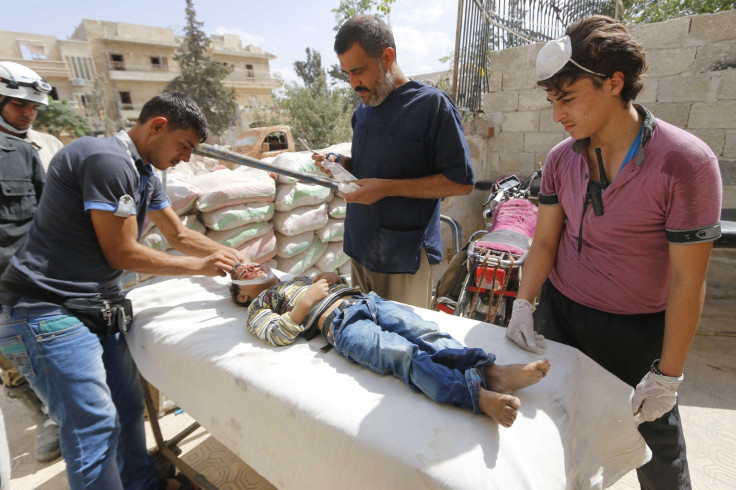 Jordan, Saudi Arabia and the United Arab Emirates joined the U.S. in continued airstrikes on Islamic State group strongholds in Syria Friday night. For the first time since the bombing campaign began, the U.S. and its allies in the region targeted the militant group formerly known as both ISIL and ISIS at its members advanced on the Syrian border town of Kobani, aka Ayn Arab, the U.S. Central Command confirmed via Twitter:
Kobani is a mostly Kurdish town in northern Syria just miles from the Turkish border. Islamic State group militants had been advancing toward the border town throughout the week, forcing thousands of people to flee across the border. Clashes between Kurdish fighters and Islamic State militants reached a boiling point Friday as the militants threatened to seize Kobani.
Kurds had been hoping for coalition bombing around Kobani for days as militants encircled the town. Previously, the Islamic State group captured dozens of Kurdish villages on the main road toward Kobani, forcing at least 140,000 people to flee across the Turkish border. Thousands of Syrian Kurds remain at the now-closed Turkish border, hoping the Islamic State militants do not succeed in seizing the city. Social-media reports Friday showed some Kobani residents forcibly breaking down Turkish border barriers and walking into Turkey.
The U.S. and its allies carried out seven strikes across Syria Friday night, according to the Pentagon. Islamic State buildings and vehicles were destroyed in Al-Hasakah, as was its command and control center near Manbij in the Aleppo governorate.
In the Syrian city of Raqqa, the de facto Islamic State headquarters, coalition airstrikes damaged "an ISIL held airfield, an ISIL garrison and an ISIL training camp," the Pentagon said in a statement.
Coalition airstrikes hit the Tabqah airbase and Al Kareen Barrarcks in western Raqqa, according to "Raqqa Is Being Slaughtered Silently," an anti-militant activist organization on the ground in Raqqa. A representative of the group also claimed strikes hit an agricultural research building and a checkpoint at the entrance of Raqqa, among other targets.
Bombings caused a power outage for civilians in Raqqa, the representative of the group, Abu Ibrahim Raqqawi, told the International Business Times Friday night.
© Copyright IBTimes 2023. All rights reserved.