ISIS Militants In Syria Were Ready For US Airstrikes On Islamic State Targets In Raqqa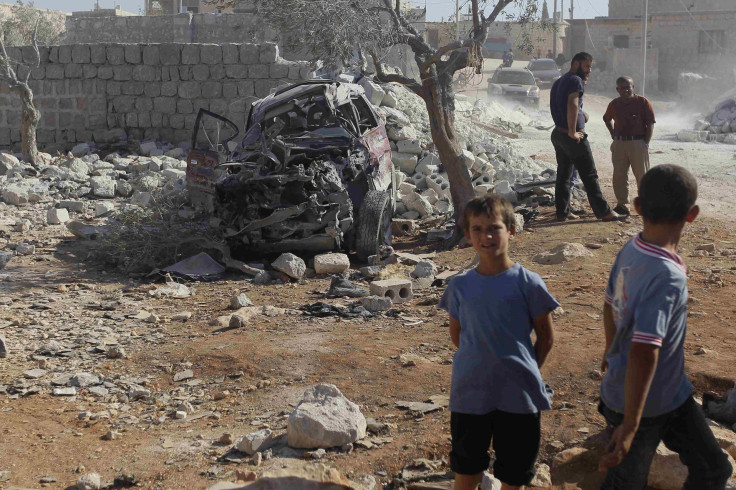 The Islamic State knew the U.S. would strike their stronghold in Raqqa, Syria, and prepared for the attack. The militants reportedly moved their wives and children to safer suburban areas, avoided going out during the day and blacked out the windows of their vehicles after President Barack Obama announced the U.S. would expand its campaign against the militants earlier this month, according to Raqqa is Being Slaughtered Silently, an anti-militant activist group in the war-torn city. U.S. drones reportedly began flying over Raqqa earlier this month, signaling to the militant group, also known as ISIS and ISIL, they were being watched.
"ISIS fighters painted cars with mud. They moved their families weeks ago," said Abu Ibrahim Raqqawi, a spokesman for the group who fled the city two weeks ago because of repeated ISIS death threats. "You can't see them in the morning, their buildings are closed. But not at night. You can see them do everything."
The U.S. and its regional allies launched an air campaign on the militant stronghold Monday, hitting at least 18 targets in Raqqa. Seven of the first strikes were aimed at the Mayer Building, the militants main headquarter. The Equestrian building, a homeland security building and the al-Tabqa air base were among other targets hit. A communications tower was destroyed and ISIS was reportedly unable to use its radio stations to communicate. Later, Raqqawi said strikes hit the National Hospital, which was used to treat injured ISIS militants.
"There was a big fire in the main building," Raqqawi said. "There is big damage." Raqqawi added the city had already seen heavy bombing by the Assad regime during the course of the civil war, but the collateral damage from the U.S. attacks was significant.
Before the U.S. announced its air campaign, Raqqa had a population of about a million, which included an average of 8,000 ISIS fighters. If there was a battle going on elsewhere, that number would fall to about 4,000, Raqqawi said.
Civilians have also been preparing for the strikes. They began fleeing the city by the hundreds after Obama's announcement Sept. 10. That number could increase to the thousands if strikes continue into Wednesday, Raqqawi said. As of Tuesday afternoon, no civilians were hurt in Raqqa.
International Business Times was not able to verify independently the activist group's claims. Raqqawi is one of at least 13 members of the anti-militant group that documents "crimes of ISIS" on its website and through social media. Twelve members of the group are still in Raqqa, he said. For safety reasons, they are not allowed to speak to the press or use their real names. Since the airstrikes began, they have communicated with the spokesman "every second," Raqqawi said.
"My family is still there. I got out two weeks ago because they wanted me for execution," said Raqqawi, adding ISIS militants led at least three Friday prayers calling for his capture and killing. "I never imagined my city would be the capital of the terrorist organization. I can't even kill a bird."
Those civilians who did remain in the city are very fearful of ongoing airstrikes, but Raqqawi doesn't think the same can be said for ISIS militants, who have released at least two videos in the last week aiming to pull the U.S. into a ground war in Syria.
"ISIS wants this," Raqqawi said. "A lot of people joined ISIS for that."
© Copyright IBTimes 2022. All rights reserved.
FOLLOW MORE IBT NEWS ON THE BELOW CHANNELS