US Compares Nicaragua To Syria, Warns Of Potential Regional Crisis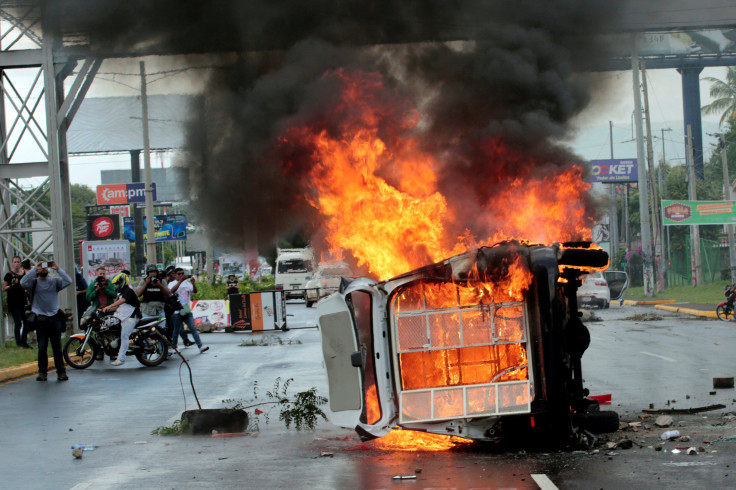 The United States on Wednesday declared Nicaragua's civil unrest a threat to the region's security, saying government repression of protests risked creating an overwhelming displacement of people akin to Venezuela or Syria.
More than 300 people have been killed and 2,000 injured in crackdowns by Nicaraguan police and armed groups in protests that began in April over an abortive plan by leftist President Daniel Ortega's government to reduce welfare benefits.
The protests soon escalated into broader opposition against Ortega, who has been in office since 2007. He also served a term as president during the 1980s when he was a notable Cold War antagonist of the United States during Nicaragua's civil war.
In a speech before the United Nations Security Council, U.S. Ambassador Nikki Haley said that if the situation in Nicaragua continued to worsen, it could cause a spike in migrants fleeing into neighboring countries.
"When human rights are denied, the violence and instability that follow spill over borders," she said, comparing Nicaragua to Venezuela, which has seen more than 1.6 million people leave since 2015, according to the U.N. refugee agency UNHCR.
"With each passing day, Nicaragua travels further down a familiar path," Haley said. "It is a path that Syria has taken. It is a path that Venezuela has taken."
At the Security Council meeting, Nicaragua's government rejected Haley's contention. Later in the day Ortega reminded a cheering crowd of supporters that the United States had an "expansionist" history in the Central American country.
"What do we say to the United States? That if they want to help the people of Nicaragua, if they want to contribute to peace, the best thing they can do, and should do, is not interfere inNicaragua, and respect Nicaragua," Ortega said in the capital Managua.
At the U.N. meeting, the representative for neighboring Costa Rica said that the country had seen a "significant increase" in requests for asylum from Nicaraguans since the protests began: a total of 12,830 in the first eight months of the year.
That pales in comparison with war-ravaged Syria's estimated 5.5 million refugees, a number almost equivalent to the entire population of Nicaragua.
"There is consensus in this (Council) that Nicaragua does not represent a threat to international peace and security," said Nicaragua's foreign minister Denis Moncada.
The U.N. Security Council is charged with maintaining international peace and security.
Representatives from Russia, Bolivia and Venezuela backed the Nicaraguan government in arguing that the situation in the country was not undermining the region's stability.
Moncada called Nicaragua a model of security in the region in the battle against organized crime, and said that its inclusion on the agenda was a breach of international law.
Last week, the U.N. human rights delegation released a report documenting human rights violations in recent months, including the disproportionate use of force and extrajudicial killings by the Nicaraguan police, disappearances, arbitrary detentions and instances of torture and sexual violence.
Shortly afterwards, Nicaragua's government ordered the expulsion of the delegation.
© Copyright Thomson Reuters 2023. All rights reserved.