US Congress Unveils Fiscal Deal To Avoid Shutdown, End Oil Export Ban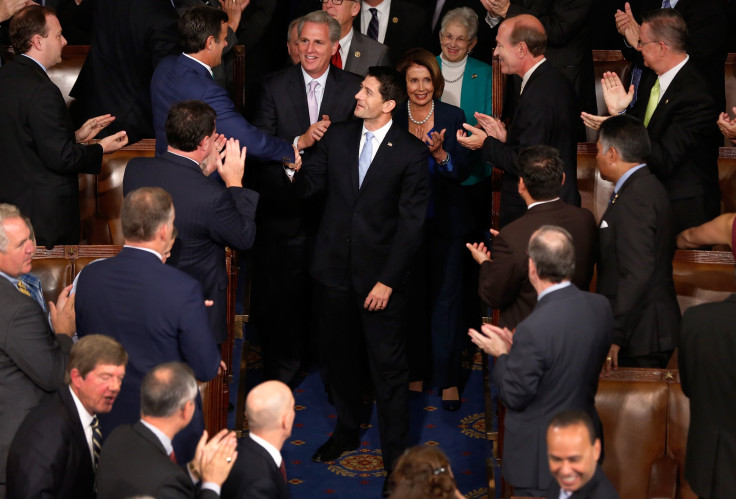 U.S. congressional leaders have agreed on the government's fiscal plan through 2016 and lifted a 40-year-old ban on crude oil exports, U.S. House of Representatives' Speaker Paul Ryan told Republican Party members late Tuesday. The house reportedly plans to vote on the $1.1 trillion government spending bill and a separate tax reform measure Thursday.
Lawmakers have scrambled to put together a budget deal for the past two weeks. The government's current funding, already extended by an interim measure last week, is set to run out by midnight Wednesday. And, yet another short-term funding extension will reportedly take place ahead of Thursday's vote.
Republicans and Democrats have been negotiating over many policy riders as add-ons to the fiscal plan, amid the looming deadline.
"This is divided government," Rep. John Kline, R-Minn., reportedly said coming out of the closed-door meeting. "If you're going to move forward and follow Speaker Ryan's notion that we move onto offense next year ... Let's put 2015 behind us and move onto 2016."
The plan, which keeps U.S. federal agencies funded through 2016, also contains a separate measure to revive a series of expired tax breaks, including crude oil exports, clean energy initiatives, pension funds and healthcare.
Eleventh-hour negotiations concluded late Tuesday, removing a four-decade ban on U.S. oil exports -- a long-standing Republican demand -- as Democrats got a five-year extension on tax breaks for solar and other alternative energy sources.
Republican Representative Ann Wagner of Missouri told Bloomberg that the proposal to lift the crude oil export ban "is huge" and would have a "much bigger" effect than building the Keystone XL pipeline.
The deal -- Congress' last piece of legislature for the year -- would see lower funding for President Barack Obama's Affordable Healthcare Act as well as the Environmental Protection Agency. The final package also looks to scale back on a program that allows visa-free travel to about 38 countries, including France and Belgium.
While Republican members of the Senate are keen to avoid a shutdown like the one in 2013, Democratic aides have reportedly cautioned that the final language of the bill was still being reviewed.
"In negotiations like this you win some, you lose some," Ryan, R-Wis., reportedly said earlier in the day. "Democrats won some, they lost some. We won some, we lost some."
© Copyright IBTimes 2023. All rights reserved.