Government Shutdown 2015: Will The Federal Government Shut Down Again?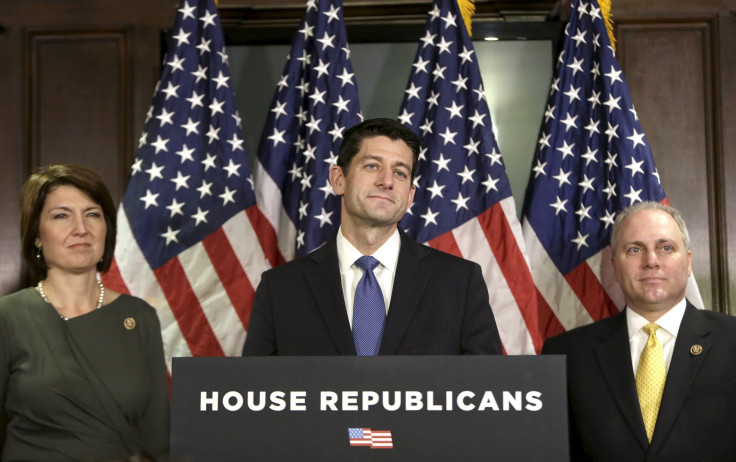 UPDATE: 3:30 p.m. EST -- The U.S. House of Representatives passed a temporary funding measure Friday that avoids a midnight government shutdown as lawmakers continue to negotiate a deal on a $1.15 trillion spending bill and separate tax legislation, Bloomberg Politics reported.
The House passed the bill, which will keep the government running through Wednesday, by voice vote and will send it to President Barack Obama's desk for him to sign close to the deadline that would have resulted in a shutdown.
"Negotiations are at a snail's pace. Glacial, in fact," House Appropriations Committee Chairman Hal Rogers, a Kentucky Republican, told reporters Friday. Lawmakers are hoping they can reach an agreement before Congress adjourns for the year at the end of next week.
Original Story:
The U.S. House of Representatives was expected Friday to pass a measure that would keep the government open for five more days and avoid a federal shutdown. Lawmakers have been scrambling for the past few weeks to put together a budget deal as the government's current funding was set to run out by 12:01 a.m. EST Saturday.
Amid the looming deadline, Congress has been debating spending priorities and policy measures that would be attached to a $1.15 trillion spending bill for the 2016 fiscal year. Some Republicans and Democrats have made an effort to compromise, but issues such as whether to repeal a 40-year-old oil export ban and concerns over President Barack Obama's environmental rules remained unresolved. Leaders also still were deciding whether to include legislation extending temporary tax breaks or make them permanent, the Wall Street Journal reported.
The Senate voted without debate Thursday to extend the deadline through Wednesday to allow for more discussion. House Speaker Paul Ryan indicated the House might need even more time to make sure the "negotiations are done well and done right," the Associated Press reported.
However, the Obama administration said this week it would not allow lawmakers an extension of more than a few days. "Republicans and Democrats in Congress have had ample time to negotiate this agreement," White House press secretary Josh Earnest said Wednesday. "The president is not going to sign a continuing resolution that gives them additional weeks or months to negotiate an agreement."
Government Spending and Revenue | InsideGov
Most people in Washington have said they are confident Congress will avoid a government shutdown before the body adjourns for the year Dec. 18. Lawmakers agreed to the spending bill's overall funding level when they struck a two-part budget deal in October.
Rogers said in a statement the short-term funding resolution "will keep the lights on in government and maintain current operations for a few days so Congress can complete and pass an agreement," Reuters reported.
As the House debated the continuing resolution on temporary government funding Friday morning, representatives seemed optimistic and said they hoped they could all work together to pass an agreement.
"Not every piece of legislation we're going to agree on every part of it. But i think the underlying legislation we present today is a product of bipartisan cooperation and compromise and give and take," Rep. Tom Cole of Oklahoma said Friday.
Many lawmakers are watching Ryan to see how he does in his first major spending fight since becoming speaker. Republicans are likely hoping to compare his leadership to former Speaker John Boehner, who angered right-wing lawmakers with his willingness to compromise.
Ryan said earlier in the week he wasn't "going to put a deadline on it," the AP reported. "I want to make sure that these negotiations are done well and done right, and not by some arbitrary deadline."
© Copyright IBTimes 2023. All rights reserved.
FOLLOW MORE IBT NEWS ON THE BELOW CHANNELS