CNN Gets Its Cage Match: Trump vs. Jeb, Cruz vs. Rubio, And A GOP Debate Heckler To Boot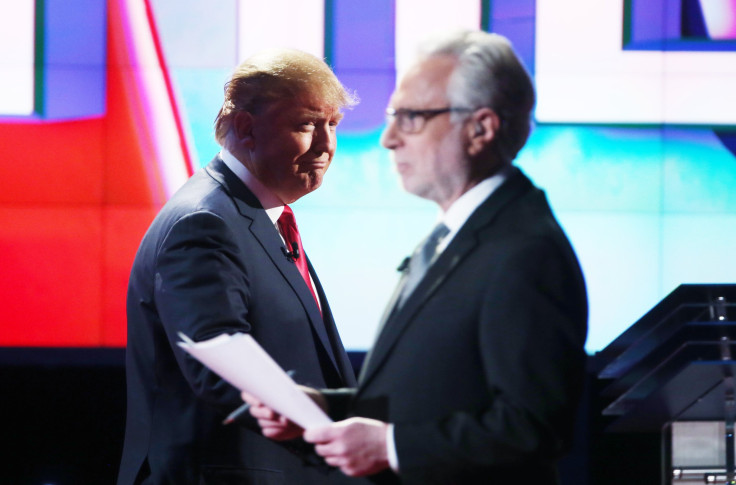 Jeb Bush came to the final Republican Party debate of the year armed with zingers. Sen. Marco Rubio of Florida came armed with broadsides on rival Sen. Ted Cruz of Texas, having already launched attack ads via his super PAC. And GOP front-runner Donald Trump came armed with another assortment of bemused faces.
The first spat in what was until then a fairly monotonous debate broke out when Trump knocked Bush for criticizng a blanket ban on Muslims entering the U.S. Trump, in one of his favorite refrains, called Bush a well-meaning fellow, but said he didn't possess the ruthlessness required to be commander-in-chief.
"Jeb is a very nice person, but we need tough people," Trump said, going on to attack Bush's position on immigration.
But Bush was ready to cut in, and brought up what he called Trump's various flip-flopping on whether the Islamic State group posed a real national security threat.
Trump didn't take it well. "Am I talking or are you talking, Jeb?"
"I'm talking right now," Jeb shot back. "A little bit of your own medicine there."
"I know you're trying to build up you energy, Jeb, but it's not working very well," Trump said without making eye contact.
Later, Trump and Bush clashed again, this time over Trump's suggestion that America bomb the family members of the Islamic State group, or ISIS, in order to both punish them for associating and terrify others from joining up. Bush condemned Trump, prompting the mogul to complain about the questions offered by CNN.
"I think it's very sad that CNN leads Jeb Bush down a road, by starting off virtually all the questions, 'Mr. Trump this, Mr. Trump that,'" he said, "in order to get ratings."
But Bush was on another roll. "Donald, if you think this is tough, getting questions ... "
"This isn't tough," Trump exploded. "I wish it was always this easy! Yeah, you're a tough guy, Jeb."
"You're never gonna be president insulting your way to the presidency," Bush said with a smile.
"Well I'm at 42 [percent] and you're at 3 [percent]. So far I'm doing better," Trump snapped, leaning over his lectern. "You know you started over here [next to me], Jeb -- you're moving over further and further, pretty soon you're gonna be off the end."
The auditorium was once again full of hoots and hollering.
"This doesn't do a thing to solve the problem," Carly Fiorina said underneath her fellow candidates, shaking her head. All the way at the end of the stage, the low-polling and more genteel John Kasich seized his moment and commandered the conversation.
"We don't have to fight all the time," he said, condemning the boisterous nature of the debate, repeating an anecdote on the shoddy state of politics he offered at the beginning of the debate.
Meanwhile, Cruz and Rubio, both Cuban-Americans with outspoken views on immigration, traded blows even after Cruz tweeted days before that he would not stoop to deliver a "cage match." "Marco is for amensty," he said, before associating Rubio's policy with "criminal, illegal aliens." Rubio waited his turn before earning massive applause by beating back the attacks from Cruz.
Finally, for good measure, there was a heckler who stood up and railed against Donald Trump as a threat to democracy.
VIDEO: Kai Newkirk of "99 Rise" protesting "billionaire politicians" at #GOPDebate >> pic.twitter.com/p7c7dMfu3M

— Dylan Byers (@DylanByers) December 16, 2015
Tuesday's Republican debate, co-presented by Facebook, was the fifth of the 2016 election season. Each telecast has been heavily hyped as a must-see TV event, and each, for the most part, has earned strong ratings for its host network.
© Copyright IBTimes 2023. All rights reserved.
FOLLOW MORE IBT NEWS ON THE BELOW CHANNELS