US Cuba Relations: At Havana Embassy, John Kerry Promotes 'Genuine Democracy,' Lifted Embargo Before Flag-Raising Ceremony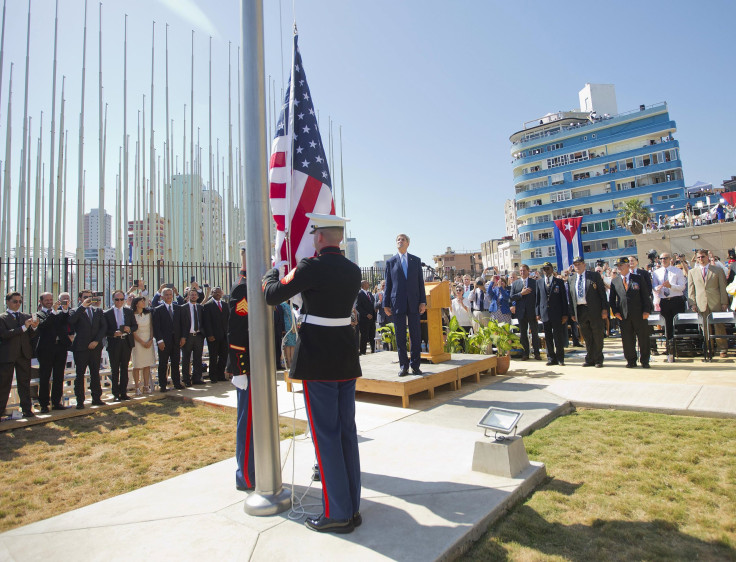 Speaking in Havana on Friday morning, U.S. Secretary of State John Kerry praised the restoration of diplomatic relations between the U.S. and Cuba and relayed his high hopes for the future. On what he called a "truly a memorable occasion," Kerry addressed a sizable crowd for about 30 minutes before watching a group of Marines raise the American flag over the nearby U.S. Embassy. It was the first time the star-spangled banner would fly there since Jan. 3, 1961.
"It doesn't take a GPS to realize that the road of mutual isolation and estrangement that the United States and Cuba have been traveling is not the right one," Kerry said. "The time has come for us to move in a more promising direction."
Kerry's stop in Cuba was the first visit by a sitting U.S. secretary of state in about 70 years. The two countries severed ties more than five decades ago due to the rise of the Castro regime and the Cold War, but President Barack Obama moved to re-establish relations in December. His administration has since loosened some trade and travel restrictions.
Kerry noted Friday that the general trade embargo remained in place but said he hoped Congress would eventually lift it. Times have changed since the Cold War, and the countries must work to "stop being prisoners of history and to focus on the opportunities of today and tomorrow," he added.
But that doesn't mean the U.S. will compromise its values. "We remain convinced the people of Cuba would be best served by a genuine democracy where people are free to choose their leaders, express their ideas [and] practice their faith," Kerry said, adding that the Cuban people must shape their own future. "Having normal relations makes it easier for us to talk, and talk can deepen understanding, even when we know full well we will not see eye-to-eye on everything."
Much of his speech centered on the three retired Marines who had taken the American flag down from the embassy years ago. At the time, the men vowed they'd return to put it back up, and they did. The trio attended the ceremony Friday in Havana. "Promise made, promise kept," Kerry said.
© Copyright IBTimes 2023. All rights reserved.
FOLLOW MORE IBT NEWS ON THE BELOW CHANNELS