US-Cuba Relations Will Be Main Attraction At Summit Of The Americas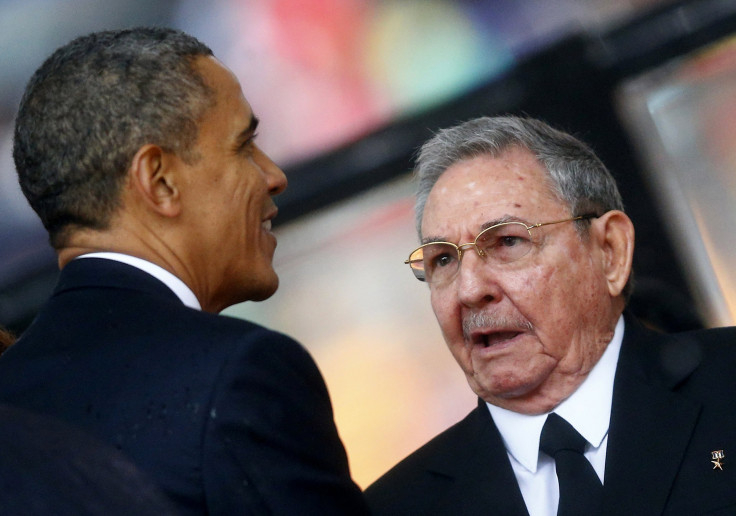 The historic thaw between the United States and Cuba will take center stage at the much-anticipated Summit of the Americas, which takes place Friday and Saturday in Panama. U.S. President Barack Obama and Cuban President Raúl Castro will meet face-to-face for the first time since December's breakthrough announcement on normalizing ties, showcasing hopes for a new era in their relationship in front of more than 30 Latin American heads of state.
Cuba will participate in the summit for the first time. Since the summits began convening in 1994, member countries excluded Cuba to emphasize their commitment to democratic values. But leaders agreed in 2012 to let Cuba return, underscoring the region's readiness to leave behind the animosities of the past.
There aren't any formal meetings scheduled between Obama and Castro, but any overtures on U.S.-Cuba relations made during the two-day summit will be symbolic complements to the more difficult discussions U.S. and Cuban officials have been holding on the normalization process. Representatives have held three rounds of talks this year, ironing out details on reopening embassies, structuring human rights discussions and migration policy.
Officials on both sides have repeatedly emphasized that restoring diplomatic ties won't be an easy process. Obama initially expressed hope that the U.S. Embassy in Havana would reopen before this weekend's summit, which now seems less likely. And Cuban political dissidents are reportedly planning to make an appearance at the summit to air out grievances about human rights on the island.
But the administration still seems eager to demonstrate its commitment to normalization, particularly in the runup to the summit: This week the State Department recommended Obama take Cuba off its list of state sponsors of terrorism, which has been a major roadblock in the negotiations. Obama told NPR this week that he would be "in a position to act on it" once he receives the recommendation.
But Washington's soured relationship with Venezuela still looms over the meeting, threatening to sour the tone. Venezuelan President Nicolás Maduro has been rallying support to denounce the sanctions Obama issued March 9 on seven Venezuelan officials, collecting more than 9 million signatures demanding its repeal. Analysts say that Maduro, looking to divert attention from a flailing economy, sporadic protests and alarm over his government's political crackdown, might stir a backlash against the U.S. during the summit. Since the sanctions order was announced, Venezuelan allies Ecuador, Nicaragua, Bolivia and Cuba all joined in to denounce them.
But the Obama administration has been trying to smooth things over with Caracas, too, even though it won't likely take back the executive order. In recent days, U.S. officials clarified that the language included in the sanctions bill describing Venezuela as an "extraordinary and unusual threat" to U.S. national security was not a menacing gesture, and the State Department sent a representative, Thomas Shannon, to Caracas ahead of the summit to talk with Maduro.
But Venezuela's economic and political uncertainties are still prompting concern from governments across Latin America. The wives of two Venezuelan political prisoners -- Leopoldo Lopez, who was jailed last year for his role in leading mass anti-government protests, and Antonio Ledezma, the mayor of Caracas, arrested on conspiracy charges earlier this year – are reportedly planning to attend the summit to highlight human rights abuses in Venezuela, which may stir hostilities with Maduro.
But if Venezuela concerns don't dominate the meetings, this year's summit could also be Washington's opportunity to reset ties with the rest of Latin America. "The president has a clear legacy that he is aiming to build in the hemisphere that is focused on moving beyond some of the past divisiveness within the Americas," said Ricardo Zuñiga, senior director for Western Hemisphere affairs for the National Security Council, during a press call Tuesday.
The Obama administration has made a series of moves in recent months that received enthusiastic responses from Latin American countries, despite previous criticism that the president had neglected the region during his first term. Mexico and Central American countries praised his November executive action on immigration, which extends deportation relief and work permits to up to 4 million undocumented immigrants in the U.S.
The administration has also pushed for a $1 billion aid package to Central American countries and named a special envoy to Colombia's peace talks with the FARC rebel group. Meanwhile, the White House is still trying to mend ties with Brazil's President Dilma Rousseff by extending another state visit invitation, after she canceled her 2013 trip over spying revelations.
Those recent moves have given Obama a position of strength as he comes to Friday's summit, said Michael Shifter, president of the Inter-American Dialogue, during a press event Monday. "The administration is trying to pursue a different, more conciliatory approach, something that's viewed pretty sympathetically by most of the Latin Americans at the summit," he said.
© Copyright IBTimes 2023. All rights reserved.
FOLLOW MORE IBT NEWS ON THE BELOW CHANNELS