Brazil's Rousseff May Reschedule US State Visit, But Surveillance Concerns Linger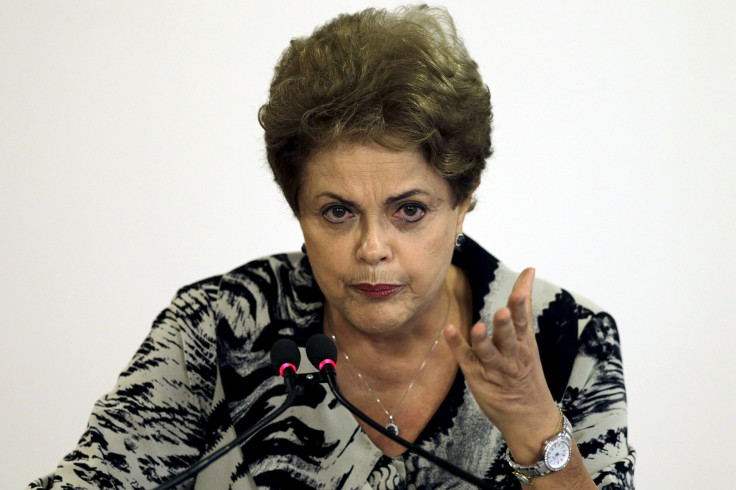 The United States is taking another stab at arranging a state visit for Brazil's president Dilma Rousseff, two years after she cancelled a trip to Washington over surveillance allegations. But Rousseff reportedly wants to ensure that the U.S. is no longer monitoring her communications before she makes the trip.
U.S. Vice President Joe Biden sent a new invitation to Rousseff earlier this month to schedule another state visit to Washington either later this year or in 2016. But Brazilian newspaper Folha de Sao Paulo, citing two unnamed sources familiar with the situation, reported that Rousseff is demanding a guarantee that her name is taken off the list of foreign leaders under surveillance by the U.S. National Security Agency (NSA). Only under that condition would she begin talks on scheduling a visit to the White House.
Rousseff was originally scheduled to visit to Washington in October 2013, which would have been the first-ever state visit by a Brazilian leader to the White House. It was a high-profile event that was supposed to solidify ties between the two largest economies in the Americas and herald Brazil's rising international stature. But the leaks of classified documents by former NSA contractor Edward Snowden revealed that the U.S. intelligence agency had monitored communications between Rousseff and her aides, prompting an incensed Rousseff to abruptly cancel the visit.
Brazil's government issued a statement at the time labeling the NSA's activities as "illegal," an "assault on national sovereignty and individual rights" and "incompatible with relations between friendly nations."
An NSA memo leaked in 2013 revealed that the agency had intercepted phone conversations of leaders in 35 countries. President Barack Obama announced last year that the U.S. would not monitor communications of "close friends and allies," although the administration has not specified which leaders that includes.
But there are still clear incentives on both sides for keeping the relationship strong. Trade between the two countries totaled $72 billion last year, and Brazil is seeking an export boost for its flagging economy; the U.S. is Brazil's second-largest export market after China. Brazil has also been pushing to be added to the U.S. Visa Waiver Program, which allows visa-free travel under certain conditions and has been heralded as a boon for the U.S. tourism industry. And Brazil's clout in Latin American politics would be a clear benefit to the U.S., particularly as Washington is still trying to hammer out its diplomatic rapprochement with Cuba.
And for Rousseff, who's going through some of the roughest months of her presidency -- beset by a widening kickback and bribery scandal with state energy company Petrobras, an economy threatening to veer into recession, a plummeting approval rate and even rumblings of impeachment -- it wouldn't hurt to have more friends.
Officials in both countries have put out strong signals in recent months that they intend to make repairing the U.S.-Brazil relationship a priority. Vice President Biden attended Rousseff's inauguration for her second term in January, and high-level trade officials from both sides have made visits to Washington and Brasilia in recent weeks. Obama and Rousseff will meet face-to-face at next week's Summit of the Americas, which takes place in Panama from April 10-11, where they are expected to further discuss details of Rousseff's visit on the sidelines of the meeting.
© Copyright IBTimes 2023. All rights reserved.