US Energy Independence: Tracking America's Energy Bill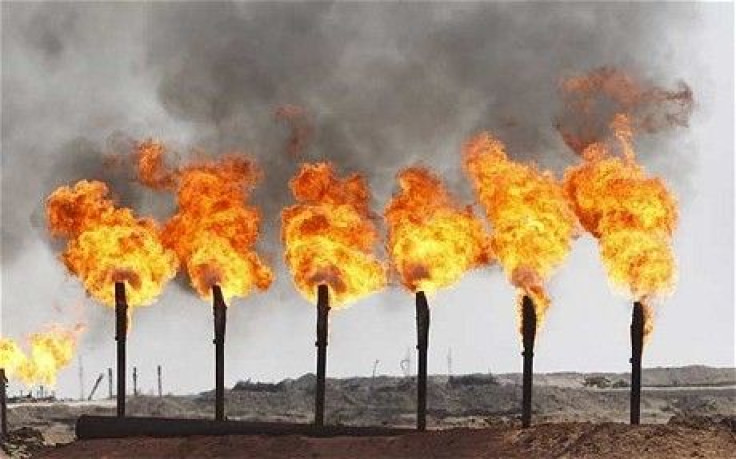 America's dependence on foreign oil has gone down every single year since 2007. In 2010, the U.S. imported less than 50 percent of the oil the country consumed -- the first time that's happened in 13 years -- and the trend continued in 2011.
The country's energy bill is also starting to fall.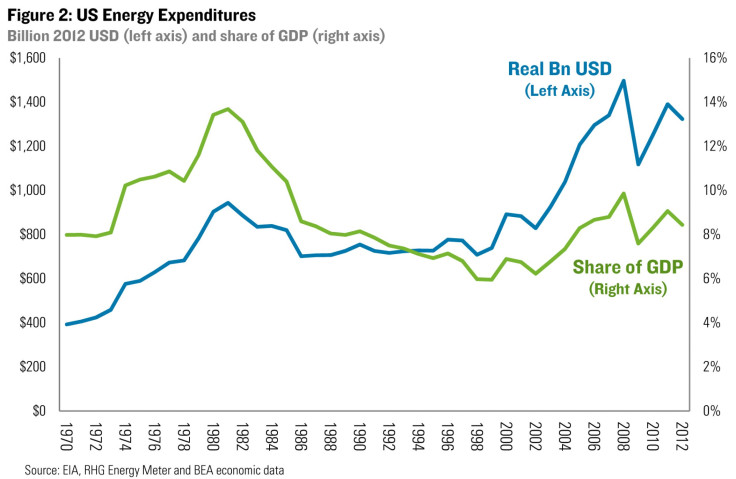 In 2010, the last year for which economy-wide energy expenditure data is available from the EIA, Americans spent $1,205 billion on electricity, natural gas, petroleum products, coal and biomass that year, a 12 percent inflation-adjusted increase from 2009, according to a recent report released by the Rhodium Group.
Trevor Houser, an energy specialist the Rhodium Group, estimates that energy costs increased by another 11 percent in 2011. With the exception of 2008, that's the most the U.S. has spent on energy in recorded history.
As a share of gross domestic product, it's significantly below levels seen in the 1970s and early 1980s, but still higher than any time between 1986 and 2008.
Last year, however, energy costs began to ease. Economy-wide energy expenditures fell 4.8 percent in real terms to $1,323 billion, or 8.4 percent of GDP.
While drop in overall energy expenditures last year was modest, more of that money stayed at home.
Americans spent $284 billion on energy imports in 2012, down 13.6 percent year-on-year. The energy trade deficit still remains far above historical levels in real terms and as a share of overall energy spending. But the energy trade deficit as a share of GDP has fallen by more than a third since 2008 and is now well below the worst levels experienced in the late 1970s and early 1980s.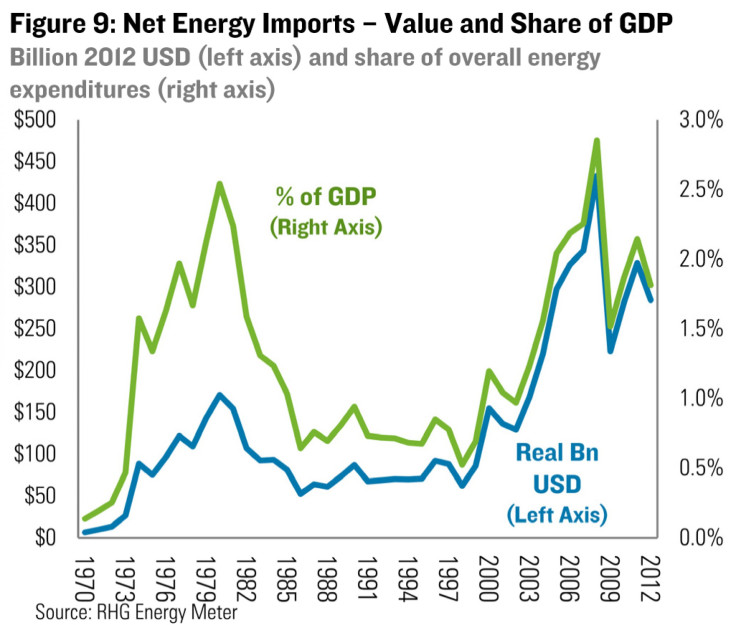 New extraction techniques -- most notably hydraulic fracturing, or fracking, and horizontal drilling -- have unlocked huge hydrocarbon resources previously thought unrecoverable. A shale gas boom will significantly increase domestic production of oil and gas in the coming years and help cut U.S. reliance on crude oil imported from the Organization of the Petroleum Exporting Countries.
Last year, U.S. oil production surged more than 800,000 barrels per day, the largest annual increase since the start of the petroleum era in the country more than 150 years ago.
The International Energy Agency projected in its latest annual World Energy Outlook that the U.S. will overtake Saudi Arabia as the world's leading oil producer by about 2017 and will become a net oil exporter by 2030.
"Domestic oil production will continue to grow this year, and the share of U.S. petroleum costs that leave the country will continue to fall," Houser said, adding that this will provide some economic protection should global oil prices move higher.
© Copyright IBTimes 2022. All rights reserved.
FOLLOW MORE IBT NEWS ON THE BELOW CHANNELS