US Has Been Offering $10M Bounty For Benghazi Attackers Since January, State Department Reveals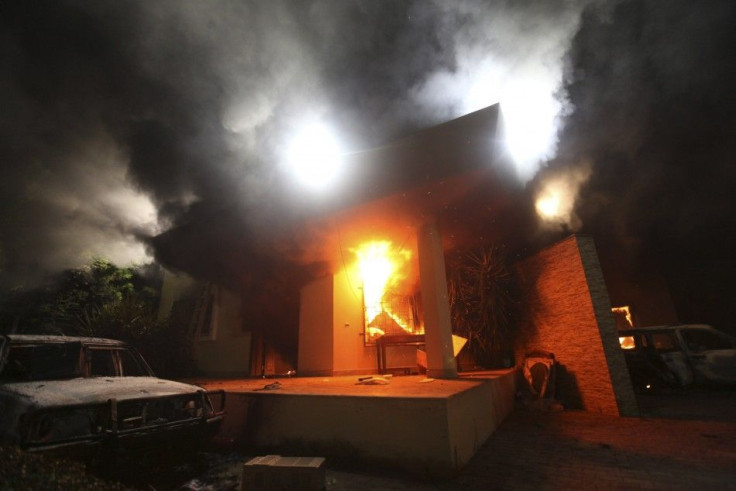 The United States has been offering up to $10 million since January for information leading to the arrest or conviction of perpetrators of the attacks on the U.S. Consulate in Benghazi on Sept. 11, 2012, that killed U.S. Ambassador to Libya Chris Stevens and three other Americans, the State Department revealed Friday.
In a letter to Rep. Michael McCaul, R-Texas, the department said the rewards were not publicized on its "Rewards for Justice" website, where bounty announcements for turning in information about militants are usually put up, since the incident is still under investigation.
"Due to security issues and sensitivities surrounding the investigation, the event-specific reward offer has not been publicly advertised on the RFJ website," the department said in a statement, according to Associated Press. "RFJ tools can be utilized in a variety of ways, without publicizing them on the website."
It's unusual to quietly announce rewards to capture suspects, but investigators have been making sure the bounty announcement is made known "as needed," according to a State Department official who spoke to AP on condition of anonymity.
The rewards were put in place on Jan. 7, when Hillary Rodham Clinton was still secretary of state, the official added.
McCaul, who chairs the House Homeland Security Committee, sent a letter, joined by 82 other lawmakers, on Oct. 30 to Secretary of State John F. Kerry demanding to know why there was no reward for information on the Benghazi attackers.
Congressional members have been questioning whether President Barack Obama's administration has been making use of all available means to capture the assailants, and the revelation is meant to address Republican critics, who accuse the administration of a coverup.
© Copyright IBTimes 2023. All rights reserved.
FOLLOW MORE IBT NEWS ON THE BELOW CHANNELS