US Mortgage Rates Hold Near Record Lows; Home Prices To Rise 5% In 2013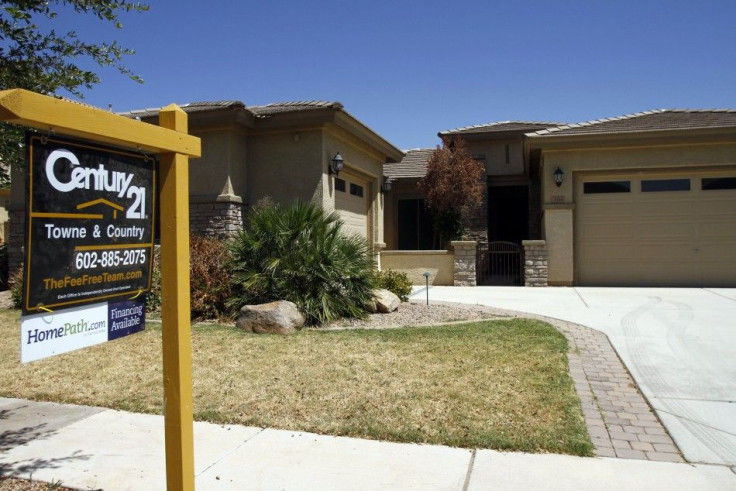 U.S. mortgage rates have been near record lows all year and have fallen even further since the Federal Reserve started buying mortgage bonds in September to encourage more borrowing and spending. Although rates ticked up slightly this week, they are still holding at levels seen as very attractive to consumers and helping to fuel a modest housing recovery.
Rates on 30-year fixed mortgages averaged 3.34 percent in the latest week, Freddie Mac said Thursday. That's up slightly from 3.32 percent last week but off the 3.99 percent last year at this time. Two weeks ago, the rate dipped to 3.31 percent, the lowest on record dating back to 1971.
Fifteen-year loans were at 2.67 percent, up from 2.64 percent last week but down from 3.27 percent a year ago. The rate declined to 2.63 percent two weeks ago, also a record low.
"Mortgage rates were little changed and near record lows this week amid indicators of stronger economic growth and signs of tame inflation," Freddie chief economist Frank Northaft said in a statement.
Lower rates are driving more people to take out loans. Last week, loan requests for new purchases hit a new high for the year, the Mortgage Bankers Association said Wednesday.
Households are becoming more willing and able to splash out on a new home. This is evident in the fact that new homes are being sold earlier in the construction timeline. From 43 percent two years ago, 65 percent of all new homes are now being sold either before construction has begun or before completion.
Encouraged by the positive signs in the housing market, builders' confidence rose for a seventh consecutive month in November to its highest point since May of 2006, the National Association of Home Builders/Wells Fargo Housing Market Index showed.
They are also responding by starting construction on more homes.
The most recent data for housing starts are certainly promising. Starts rose by a very strong 23 percent in the three months to October, and by 42 percent over the past year. At an 894,000 annual rate, starts are at a four-year high.
"The homebuilding recovery has accelerated sharply in recent months, and we expect housing starts to increase strongly in 2013 and 2014 as well," writes Paul Diggle of Capital Economics. "One driver of the improvement in housing starts is the sheer extent to which supply conditions in the new homes market have tightened. There were just 4.8 months' supply of unsold new homes on the market in October, relative to a long-run average of 6.2 months and a peak of 12.2 months in early 2009."
Diggle is forecasting a 5 percent increase in prices in 2013, and a 4 percent rise in 2014, with prices of existing homes rising more quickly than new home prices.
The Federal Reserve launched its latest round of quantitative easing -- known as QE3-- in September, in an attempt to drive down mortgage rates and create more demand for homes and more refinancing.
A "number" of Fed officials said at their policy meeting in October that additional monthly purchases of bonds may be warranted next year, according to the minutes of the Federal Open Market Committee's Oct. 23-24 gathering. Some economists think the Fed may adopt the approach as soon as its next meeting on Dec. 11-12, which would put further downward pressure on mortgage rates.
The housing market is actually aiding in this recovery.
Fixed residential investment added positive growth over the past six consecutive quarters and in the third quarter alone contributed 0.3 percentage points to real gross domestic product growth.
"Residential investment will continue to make a positive contribution to GDP," Diggle said. "Admittedly, the sector now makes up just 2.5 percent of the economy, compared to an average of 4.6 percent. So its recent contribution to growth has been relatively limited. But there's no reason why, as housing improves, it can't play an increasingly important role in the economic recovery."
© Copyright IBTimes 2023. All rights reserved.