US Must Prove It Is Reliable And Credible To Rejoin Nuclear Deal: Iran
KEY POINTS
In 2018, Trump pulled out of the Iran nuclear deal
Talks to revive the deal are stalled given differences between Iran and U.S.
Tehran claims its nuclear program is for peaceful purposes
Experts warn Iran has enough enriched uranium to build a nuclear bomb
Blaming the U.S. for unilaterally pulling out of the nuclear deal in 2018, Iran on Monday said that Washington has no right to claim credit and must now prove itself to be reliable and willing to abide by international norms, in order to rejoin the deal.
"The country, which unilaterally withdrew from the agreement signed in 2015, has hindered the achievement of an agreement based on joint interests... has imposed illegal, unilateral and irrational sanctions (on Iran), and has no right to be a claimant and take a creditor's pose," Iran's Foreign Ministry Spokesman Nassar Kanaani told reporters during his weekly press conference on Monday.
While speaking about reviving the nuclear deal, the Iranian foreign ministry spokesman said that Tehran was waiting for the U.S. to provide an answer.
Blaming Washington for the current situation, he said the onus was on the U.S. to prove itself to be trustworthy enough to rejoin the deal. "The U.S. government needs to take a constructive approach to reaching an agreement," Kanaani noted.
The landmark nuclear deal with Iran, known as the Joint Comprehensive Plan of Action (JCPOA), was reached by seven countries on July 14, 2015, after several years of grueling negotiations. It would have ensured the lifting of sanctions on Tehran in exchange for limits on Iran's uranium enrichment.
However, in 2018, President Trump pulled out of the Iran nuclear deal, calling it "a horrible one-sided deal that should have never, ever been made," claiming that the deal "didn't bring calm, it didn't bring peace, and it never will."
Trump's decision was criticized by European leaders who urged Washington not to pull out of the deal and lobbied hard to salvage it. Following Trump's decision, the U.S. reimposed stringent sanctions on Iran.
After President Biden took office, talks for the revival of the deal, started in April 2021 in Vienna but were suspended in March this year because of differences between Tehran and Washington.
The latest round of the nuclear talks was held in the Austrian capital in early August with indirect negotiations between the U.S. and Iranian officials. With Iran demanding stronger guarantees for the deal's revival, the U.S. said that Tehran's response pushed the negotiations a step back.
Israel has also been applying pressure to ensure that its reservations regarding the deal are heard, with some indicating that it is time to start discussing a new deal.
Although Iran says its nuclear program is for peaceful purposes, experts warn Tehran has enough enriched uranium to build a nuclear bomb. The tension between the U.S. and Iran escalated after the U.S. pull-out of the deal.
In an apparent show of force aimed at Iran, the U.S. military on Sunday flew a pair of nuclear-capable B-52 Stratofortresses long-distance bombers. It was a fourth such mission undertaken in the Middle East this year.
Earlier this year, the U.S. also launched a joint fleet of unmanned drones in the Middle East with allied nations. U.S. Navy is currently working with Israel, Saudi Arabia and other Middle Eastern nations to build a network of unmanned drones as it seeks to constrain Iran in the region.
The U.S. military had also recently launched retaliatory strikes on Iran-backed forces in Syria.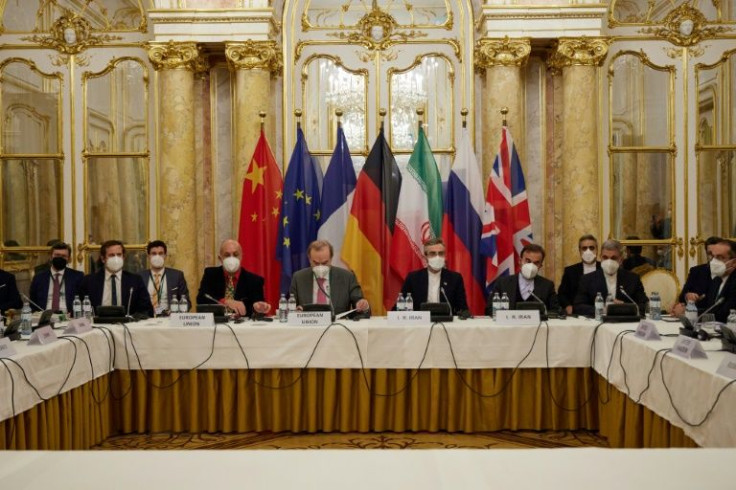 © Copyright IBTimes 2023. All rights reserved.