US Rejects Notion That Gulf Rulers Snubbing Obama Summit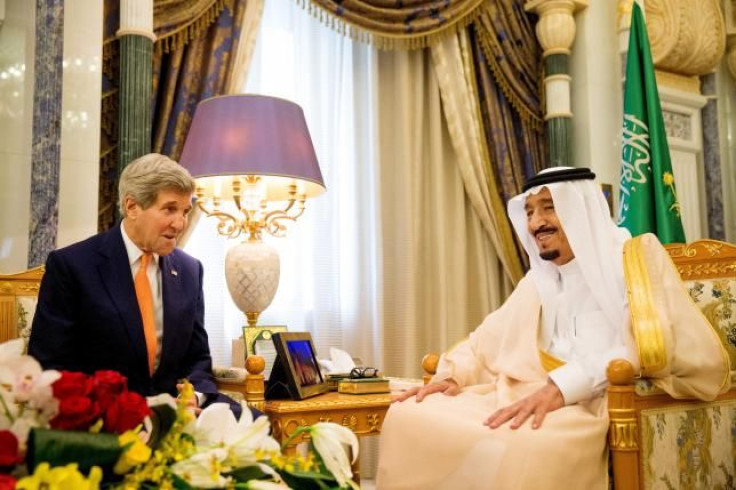 The White House scrambled on Monday to counter perceptions that the Saudi king's absence from a summit later this week could undermine U.S. efforts to assure Gulf states it remains committed to their security against Iran.
King Salman's abrupt decision to skip the U.S.-hosted regional talks shows how Gulf rulers, displeased by what they see as U.S. indifference to Iranian meddling in the Arab world, may hesitate to bless any final nuclear deal that President Barack Obama reaches with Tehran.
Some analysts and diplomats in the Middle East and Washington interpreted Salman's decision to stay away from the meeting at the Camp David presidential retreat as a diplomatic snub, despite denials from U.S. and Saudi officials.
Riyadh announced the monarch's no-show on Sunday, only two days after the White House had said he would attend the summit of Gulf Cooperation Council (GCC) states - some of which have long doubted Obama's commitment to confronting Iranian backing of Shi'ite Muslim militias across the region.
Crown Prince Mohammed bin Nayef, who has strong ties with the U.S. political and security establishment, will represent Saudi Arabia at the May 13-14 gathering along with Deputy Crown Prince Mohammed bin Salman, the king's son who serves as the defence minister. Since Salman took power in January, the pair have determined most aspects of Saudi policy.
Only two of the Gulf countries - Kuwait and Qatar - will be represented by their ruling monarchs, while the others are all sending lower-ranking officials.
U.S. officials quickly pushed back against the notion that Gulf Sunni Muslim allies downgraded their attendance to signal dissatisfaction with Obama's diplomacy with Shi'ite Iran ahead of an end-June deadline for a landmark nuclear deal.
The White House announced that Obama had spoken by phone to Salman on Monday, apparently trying to show that relations remained on a solid footing.
Ben Rhodes, Obama's deputy national security adviser, said the administration was convinced that the president would have "the right group of people around the table" at Camp David. "These are the people responsible for the security portfolios," he told reporters in a pre-summit briefing.
The leading Gulf Arab power has complained for years that Washington does not take its concerns seriously. It thinks a focus on settling the dispute over Tehran's nuclear program has distracted the United States from more urgent problems and raised questions about broader security commitments to the region.
SEEKING TO PLACATE ALLIES
Seeking to reassure the Gulf allies, White House officials said on Monday the summit would produce announcements on integrating ballistic missile defense systems and increasing joint military exercises.
They said there would also be a statement outlining both U.S. and Gulf states' commitments but were vague about whether that would entail the written U.S. assurances that some Gulf diplomats have sought. The U.S. officials said, however, that they told Gulf states they would not offer a defense treaty, which would face steep obstacles in Congress.
Washington is also poised to offer new weapons under a push for a joint region-wide missile defence system, senior U.S. officials said last week.
"The conspiracy theorists of old have been proven right. The U.S. creates threats for us and then offers us more weapons systems. That does not bode well for us," said Sami Alfaraj, a Kuwaiti security adviser to the six-nation GCC.
Riyadh believes Iranian support for militias in Lebanon, Syria, Iraq and Yemen is the biggest cause of regional instability, aggravating sectarian tensions, undermining strong government and boosting Sunni Muslim jihadists.
The Saudis fear Obama sees a settlement between world powers and Tehran as his legacy. Such a deal on the nuclear program - which the West believes may be aimed at building weapons despite Iranian denials - could lift international sanctions without taming the country's regional ambitions, they think.
Backing from the GCC - made up of Saudi Arabia, Kuwait, Qatar, Bahrain, the United Arab Emirates (UAE) and Oman - is important for Obama to show Congress that the Iran deal has broad regional support, despite Israeli opposition.
Salman expressed guarded support for a framework nuclear agreement reached last month, but insists any accord must be robust, verifiable and no threat to Tehran's neighbours.
Echoing White House denials, Saudi Foreign Minister Adel al-Jubeir told reporters in Washington that the notion of a snub by Salman was "really off-base," and he insisted the king's absence was not related to any disagreements between the two countries.
But others in the region cited reasons for Saudi disappointment.
"Their experience of six years from Obama is assurances, promises, nice words. But at the end of the day they got nothing in their hands," said Mustafa Alani, an Iraqi security analyst with close ties to the Saudi crown prince's Interior Ministry.
Some diplomats in the region believe the absence from Camp David of King Salman and close ally King Hamad of Bahrain, host of the U.S. Fifth Fleet, may backfire.
"Of course it (Salman's non-appearance) is a snub. But I don't think Obama is going to put up with this. He wants the nuclear deal. It is the number one priority," said a Western diplomat based in the region.
FOR FREE to continue reading
✔️ Unlock the full content of International Business Times UK for free
offer available for a limited time only
✔️ Easily manage your Newsletters subscriptions and save your favourite articles
✔️ No payment method required
Already have an account?
Log in
© Copyright IBTimes 2023. All rights reserved.