US Sanctions On Venezuela Are About To Pass, But Will They Bite?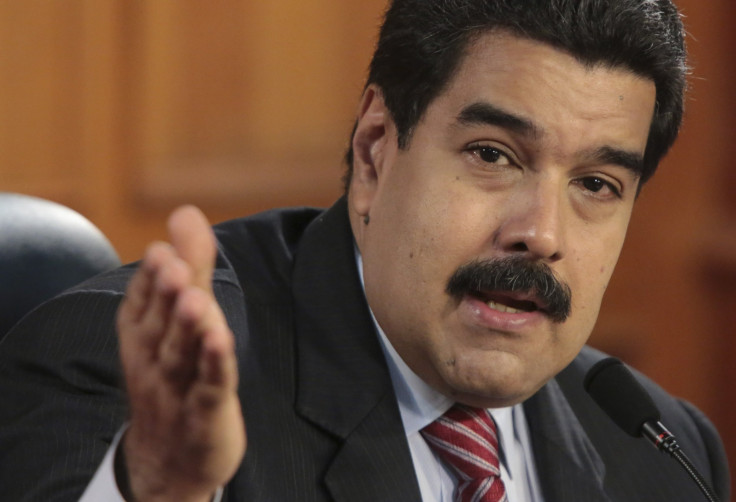 The United States is a step closer to imposing sanctions on Venezuelan officials for their role in a deadly crackdown on protesters during demonstrations that erupted this spring. After stalling for months, the U.S. Senate passed a bill on Monday co-sponsored by tea party-backed Florida Sen. Marco Rubio , with the House of Representatives likely to follow suit this week.
Republican lawmakers who support the U.S. embargo against Venezuela's closest ally, Cuba, greeted passage of the Senate bill enthusiastically. But, according to analysts, that may be a problem with sanctions on Venezuela: They will not bring down a government hostile to the U.S.; they may indeed make it more solid; and they are designed more to garner electoral consensus in the U.S. than to work in Venezuela.
The Senate debate over Venezuelan sanctions stalled over the past several months, mainly because Louisiana Sen. Mary Landrieu blocked the bill, citing concerns about the sanctions' potential impact on Venezuela's U.S.-based oil subsidiary Citgo. But Landrieu is no longer an obstacle after losing her re-election bid Saturday.
The Venezuela Defense of Human Rights and Civil Society Act of 2014 freezes U.S. assets and denies visas to a number of Venezuelan officials in President Nicolás Maduro's government who were involved in cracking down on the protests. Republican Sen. Rubio previously listed the names of 23 officials who could be targeted by the sanctions, but the actual number of people who could be affected is unclear.
The House of Representatives passed its own version of the bill in May, which will have to be reconciled with the Senate version this week before lawmakers adjourn their session. If the House doesn't pass the bill, the new Congress will have to revisit the issue in the next session.
Popular demonstrations against high crime rates and President Maduro's economic policies roiled Venezuela in February and March this year, resulting in 41 deaths. The government has also jailed opposition leader Leopoldo Lopez and last week charged another opposition leader, Maria Corina Machado, with conspiring to assassinate Maduro.
Republican lawmakers cheered the Senate's move this week. Rubio issued a statement saying the bill would "go after Maduro regime officials and thugs who have spent all of 2014 authorizing and carrying out assassinations, beatings, unjustified incarcerations, kangaroo court trials and absurd indictments of its political opponents and innocent Venezuelans demanding a better future."
Rep. Ileana Ros-Lehtinen, R-Fla., also commended the Senate in a statement Monday. "I would like to applaud the Senate for passing commonsense legislation which will punish the Maduro regime and its cronies for the rampant human rights abuses they have committed in Venezuela," she said.
But some say the sanctions are the wrong way to go about punishing Maduro's response to the protests. "I don't think this is a blow at all to the Maduro government," said David Smilde, senior fellow at the Washington Office on Latin America. "This is quite helpful to them because they're in a very serious situation right now, with declining popularity and a serious economic situation. The leading way to confront that is to say there's an international conspiracy."
"For a margin of the population, this is going to make the idea of an international economic conspiracy more plausible," he added.
Maduro's public approval rating is at an all-time low, at just 25.4 percent, but data released by Venezuelan polling firm Datanálisis this summer showed that around 72 percent of the population disagreed with U.S. sanctions.
While Landrieu's departure from the Senate may have been the immediate impetus for pushing the sanctions bill now, growing Venezuelan clout in Florida may also be playing a part in lawmakers' push to punish Maduro's government. While Florida has traditionally been known for its influential Cuban population that has helped keep the U.S. embargo against Cuba in place for the past half century, the state's Venezuelan population has also been rapidly growing. Around 117,000 of the Venezuelans living in the U.S. reside in Florida, a number that doubled from 2000 to 2012, according to the U.S. Census.
Sen. Rubio referenced Cuba when detailing the sanctions bill in March, saying Venezuela was "reminiscent of Cuba, for example, a country whose model this government follows."
"All of the main proponents of [the bill] come from South Florida or the anti-Castro coalition within the government," Smilde said. "Cuban sanctions arguably have kept the Castros in power for 50 years, and their plausibility is wearing a little bit thin. So this is a way of keeping going a winning strategy in terms of legislative elections in South Florida."
But Smilde also noted that Venezuelans in Florida are genuinely concerned about their homeland. "They want to do something," he said. "And this is a big something that expresses their distaste for chavismo, expresses their concern, but I think time has shown that this has been extraordinarily ineffective in Cuba."
© Copyright IBTimes 2022. All rights reserved.
FOLLOW MORE IBT NEWS ON THE BELOW CHANNELS