U.S. Stock Futures Point To Higher Open Reflecting Upbeat Investor Sentiment After US Fed's 'No Taper' Decision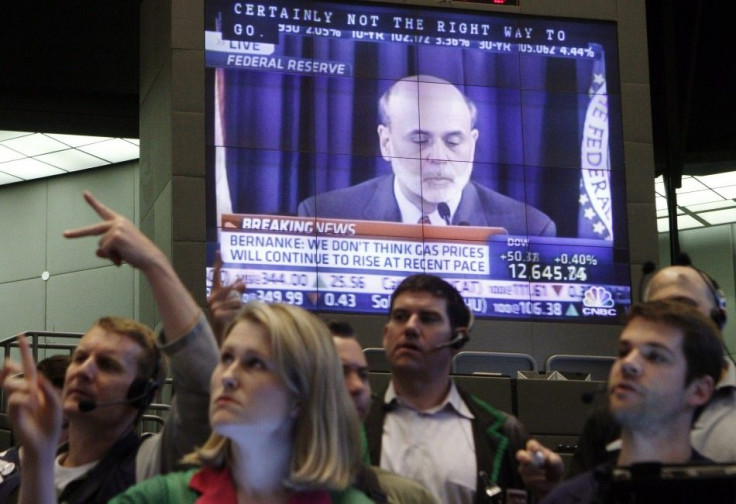 U.S. stock index futures suggest a higher opening to markets Thursday following record highs attained in the previous trading session, as investors await a host of economic data a day after the Federal Reserve's surprise decision to continue its $85 billion-a-month bond-buying program until stronger evidence emerges of a sustained improvement in the country's economy.
Futures on the Dow Jones Industrial Average were up 0.34 percent, while futures on the Standard & Poor's 500 Index were up 0.39 percent and those on the Nasdaq 100 Index were up 0.33 percent.
On Wednesday, the Federal Open Market Committee, or FOMC, decided to maintain its bond-buying program at its current strength by a 9-to-1 vote, in a move that surprised many who were near certain that the Fed would make a token reduction to its monetary stimulus program. The FOMC also decided to keep the target range for the federal funds rate between 0 to 0.25 percent, and noted that it "anticipates that this exceptionally low range for the federal funds rate will be appropriate at least as long as the unemployment rate remains above 6-1/2 percent," according to a Fed statement.
In addition to the Fed's surprise move, a raft of data released from the U.S. is also expected to influence investors on Thursday.
The National Association of Realtors' existing home sales report, which measures the change in the annualized number of existing homes sold during the previous month, will be released at 10 a.m. EDT. Economists expect that sales of previously-owned U.S. homes will decline to 5.26 million in August, from July's 5.39 million. Existing home sales in July jumped 6.5 percent to a 5.39 million annual rate after dropping 1.6 percent in the previous month.
"At least part of the 6.5 percent m/m rise in existing home sales in July was due to a rush of sales to avoid any further rise in mortgage rates… Alongside the decline in pending home sales and the fact that new home sales, which are measured earlier in the home-buying process, fell sharply in July, this points to a drop back in existing home sales in August," Paul Diggle, an economist with Capital Economics, wrote in a research note.
The initial jobless claims report, which measures the number of individuals who filed for unemployment insurance for the first time last week, is scheduled to be released by the Department of Labor at 8:30 a.m. EDT. Economists predict that claims are likely to increase to 341,000 for the week ended Sept. 14, up from 292,000 in the previous week.
Meanwhile, economists expect continuing jobless claims data, which measure the number of unemployed individuals who qualify for benefits under unemployment insurance, to increase to 2.9 million from the 2.87 million recorded in the previous week.
The Philadelphia Federal Reserve Manufacturing Index, which rates the relative level of general business conditions in Philadelphia, is scheduled to be released at 10:00 a.m. EDT. The index is expected to show a reading of 10 points for September, up from 9.3 points recorded in August. A reading above zero on the index indicates improving conditions while a reading under 10 indicates worsening conditions.
The Fed's decision was cheered by European and Asian markets, which witnessed volatile trade throughout the summer on concerns over the Fed's decision. The Stoxx Europe 600 index rose 0.93 percent, London's FTSE 100 was up 1.36 percent, Germany's DAX-30 was up 1.19 percent and France's CAC-40 was trading up 1.1 percent.
The MSCI All Country Asia index, excluding Japan, rose 2.21 percent to hit a four-month high on Thursday. Japan's Nikkei rose 1.8 percent, Australia's S&P ASX 200 rallied 1.1 percent, while the Philippine stock index, PSCi, surged 2.34 percent. Indonesia's JSX Composite, which soared more than 7 percent in early trade later retreated to trade up 4.65 percent.
Hong Kong's Hang Seng Index rallied 1.67 percent; the Shanghai Composite index and South Korea's KOSPI Composite index are closed until Monday due to public holidays in their countries. In India, the benchmark BSE Sensex stock index surged 3.87 in late-afternoon trade.
© Copyright IBTimes 2023. All rights reserved.