Venezuela Pledges More Arms Purchases Against 'Foreign Threats'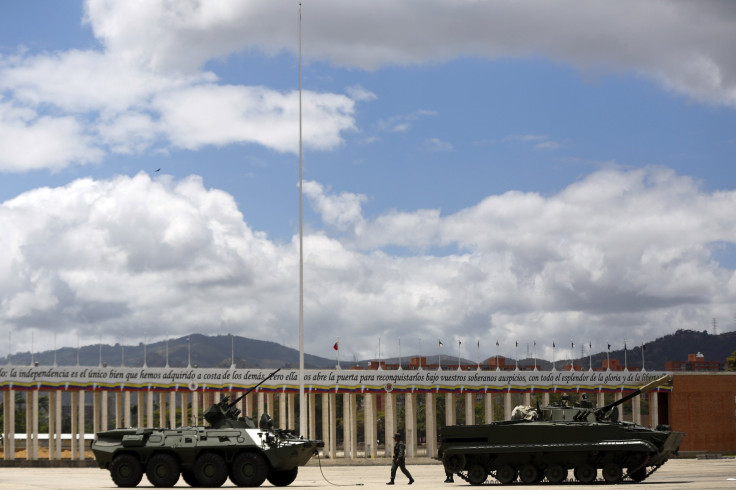 Venezuela President Nicolas Maduro, still bristling from the U.S.'s latest round of sanctions, plans to ramp up military purchases from China and Russia to bolster defenses against foreign threats. But while Venezuela's economy may be on shaky ground, its defense capabilities are not: The country remains the top arms importer in all of Latin America, buying more weapons than far larger nations.
Maduro announced Monday that Venezuela would continue buying military equipment from Russia and China under new agreements with both countries. The purchases would help the Venezuelan military protect the "waters and land of this country so that they are not touched by foreign imperialist boats," he said.
Venezuela has been flexing its military muscle more publicly in recent weeks after President Barack Obama issued a sanctions order on March 9 that labeled the country an "unusual and extraordinary threat" to U.S. national security. White House officials said the language was a legal requirement for the order, but the Maduro administration has reacted forcefully, launching 10 days of military exercises and loudly denouncing foreign interference in its affairs.
"We are a people of peace. We do not want violence or war," Maduro said Monday, while adding that Venezuela's military branches "need to stay alert."
Venezuela outranks both Mexico and Brazil as the second-largest arms importer in the Western Hemisphere after the United States, according to the Stockholm International Peace Research Institute (SIPRI). From 2011 to 2014 it spent around $2.6 billion on weaponry, the majority of it from Russia, according to SIPRI's Arms Transfers Database. Even Cuba's Fidel Castro has praised Venezuela's military, saying in a letter of support to Maduro in March that it had the "best equipped soldiers and officers in Latin America" that would be able to defend against any potential U.S. aggression.
Venezuela began outspending its South American neighbors on arms purchases in the mid-2000s under the presidency of Hugo Chavez. From 2002 to 2006, Venezuela only spent about $94 million on weaponry, a figure that ballooned to $2.6 billion in 2007 to 2010 and has stayed relatively constant since then.
In contrast, Brazil – whose roughly $2.2 trillion gross domestic product dwarfs that of Venezuela's, which in 2013 stood at around $438 billion – spent around $1.2 billion on weapons purchases over the last four years, about half that of Venezuela. Mexico spent even less, at $638 million, according to the SIPRI database.
According to SIPRI statistics, Brazil and Venezuela both spent less than 2 percent of their GDP on their militaries from 2010 to 2014 – 1.4 percent for Brazil and 1.2 percent for Venezuela. Mexico spent about 0.6 percent of its GDP on its military in the same period.
Some Venezuelans have reacted brusquely to Maduro's announcement this week, taking to social media to vent frustrations on continuing weapons purchases while shortages of basic goods, including toilet paper, cooking oil, diapers and condoms remain widespread. (On Tuesday, the tourism chief of the state of Merida told local media that the government was advising hotels to request guests to bring their own toilet paper and soap.)
"Nicolas Maduro buys more weapons, while in Venezuela there is no food, no meat, no chicken," tweeted one Twitter user, @EuridiceGuerra.
"Venezuela negotiates more weapons with China and Russia while the population works magic to get food, medicine, clothes, footwear and replacement parts," tweeted another user, @CarlosEscolar.
© Copyright IBTimes 2023. All rights reserved.