Venezuela's Constitution Requires Ailing Chavez To Be In Caracas By Thursday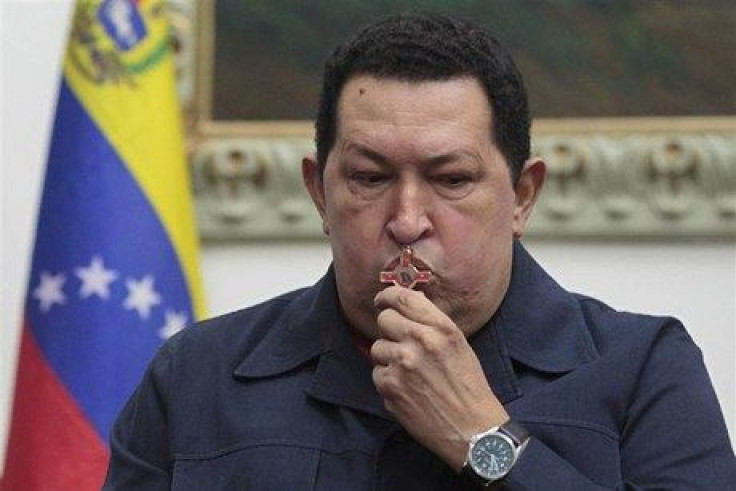 As Venezuelan President Hugo Chavez battles a lung infection that a government spokesman said late Thursday was "severe," top officials appear to be planning for the prospect that their president-elect might not be around for his Jan. 10 inauguration to an unprecedented fourth term.
But because the country's constitution requires the inauguration of a president-elect to take place on Venezuelan soil, even if Chavez, 58, pulls through there's the question of whether he would be well enough to travel from Havana, where he underwent a fourth surgical procedure for cancer on Dec. 11, to his homeland in order to take the oath next week.
Describing Chavez's condition as "respiratory insufficiency," Venezuelan Information Minister Ernesto Villegas suggested Chavez might not be breathing on his own. Dr. Elmer Huerta, the former president of the American Cancer Society, told CNN it's likely the president is on artificial respiration and taking high doses of antibiotics because his cancer-battered immune system can't fight off infection in its own.
Chavez won re-election Oct. 7 and is poised to begin a fourth term in office as the country's elected leader. The controversial Latin American leftist leader draws support from the country's urban and rural poor that has been strong enough to grant him powers that have included eliminating term limits.
But even as the country's spokesman was giving a grim description of Chavez's condition, Vice President Nicolás Maduro and a raft of top officials returned from Havana Thursday night apparently intent on quelling rumors that the leader was drawing his last breaths.
But the makeup of the delegation suggests that at the very least some contingency plans are in the works. Adán Chávez, the brother of the president and governor of Hugo's home state of Barinas, was part of the group that included National Assembly Speaker Diosdado Cabello, Minister of Energy and Mines Rafael Ramírez and Solicitor General of the Republic Cilia Flores.
Meanwhile, pressure has been mounting from opposition groups, such as the Democratic Unity coalition, to make more public the president's condition and to hurry up and name Maduro interim president in order to allay concerns of a power vacuum after Jan. 10.
"To attempt to make people think that the president is currently in control of his functions is an enormous irresponsibility because it's obvious and evident that he isn't," Democratic Unity Executive Secretary Ramon Guillermo Aveledo said this week on national television, according to Bloomberg.
The concerns are real.
The Venezuelan Constitution requires a president-elect to be sworn in on national soil. But what is publicly known about Chavez's current condition suggests a strong possibility that even if he pulls through he might not improve well enough to travel from Havana to Caracas to make his scheduled inauguration on Thursday.
This week Solicitor General Flores and head of the Supreme Court Luisa Estella Morales raised eyebrows when they suggested that Chavez's re-election is merely a continuation of his incumbency.
The subtext was not lost to critics, who suggested that this was a way to allow Chavez to remain as president without being sworn into office for a fourth term.
"Hugo Chávez, whether alive or dead, is no longer president of the Republic (as of Jan. 10) and the president-elect must be sworn in to become the new president," Lawyer laude Asdrúbal Aguiar told the local El Universal news agency. " What really matters is what the Constitution establishes: the seat of the national public powers is Caracas, unless Bolivarian interpreters (of the law) believe that Cuba is a state of Venezuela."
Ironically, the constitutional dilemma is partly Chavez's' own making.
In 1999, the president held an unprecedented national referendum to re-write the country's constitution. Packed with popular articles, such as stronger environmental protections, greater protection for native people and women and establishing the right to education, housing and food, Chavez won the referendum on the back of his popularity among the urban and rural poor.

The new constitution not only includes the aerticle that requires Chavez to be in Caracas next week or cease being president, it also gives the military power to act as police, grants the president greater powers, extends presidential terms and eliminats the presidential two-term limit.
In 2011 a national referendum was held in which 54 percent of the electorate supported eliminating term limits for all elected officials. At the time Chavez said he would like to be president beyond 2030. If he survives his battle with cancer and infection, and if he isn't blocked from being sworn into office next week because he's not in the country, Chavez will begin his 14th year as Venezuela's leader.
FOR FREE to continue reading
✔️ Unlock the full content of International Business Times UK for free
offer available for a limited time only
✔️ Easily manage your Newsletters subscriptions and save your favourite articles
✔️ No payment method required
Already have an account?
Log in
© Copyright IBTimes 2023. All rights reserved.