Venmo And Drugs: Money App Isn't Just For Splitting The Tab
Have you ever Venmo-ed your friend for picking up the tab at a bar? What about using the app to pay a drug dealer instead of running to the ATM? LendEDU, a student loan refinancing company, found in a survey of millennials this month that nearly one-third of respondents have used Venmo, the peer-to-peer payment app, to pay for drugs.
The survey was conducted by polling company Whatsgoodly and asked 1,217 college students, "Have you used Venmo to pay for drugs (ex. marijuana, Adderall, cocaine, etc.)?" The survey had a 2.81 percent margin of error.
Overall, Venmo cleared nearly $7 billion in transactions for the first quarter of 2017. The app debuted in 2009 and was acquired by PayPal in 2013.
"[I use it] pretty much every time I buy weed. My dealer is a friend of mine so they just let me use Venmo and it's an easy, casual system we have," Daniel Graf, 26, told International Business Times via email. "If I do have cash, I'd rather keep it for the bodega or the bar. If I can keep some extra 20's in my pocket and delay the inevitable $2.95 barroom ATM fee then great, let's use Venmo. There just aren't enough banks/my bank's ATMs in Brooklyn so I always end up paying a fee so I avoid it whenever I can."
Graf says he spends around $80 to $100 per month on weed.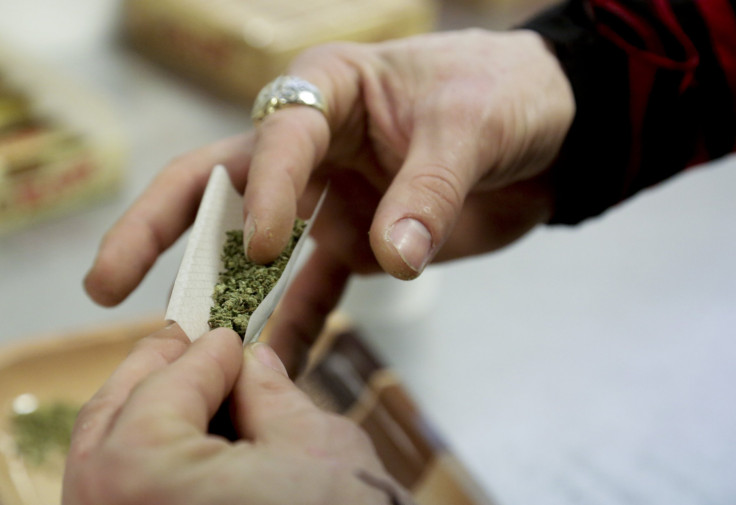 Asked by IBT about the illicit use of their service, Venmo responded with a statement.
"PayPal and Venmo take compliance with all applicable laws, rules and regulations seriously. As clearly outlined in the Venmo User Agreement, people are prohibited from using Venmo for gambling or payments that involve drugs. If there is ever a situation where evidence of gambling or other illegal activity is brought to our attention, Venmo works quickly to take appropriate action," the statement read.
When transferring money on Venmo, the app requires users to cite a reason for the payment. You can set the comment to private, but it defaults as public. Graf said he's not worried about a paper trail.
"It's not like my note is 'weed' or 'pot'— it's sometimes a Christmas tree or a cactus but usually it's something silly like 'clown noses,'" said Graf. " I think it'd be pretty difficult to prove what that payment was for in a court of law."
Mike Lacher and Chris Baker developed a website called Vicemo to display these public comments for illicit substances. An algorithm skims publicly available Venmo transactions for comments related to drugs, alcohol or sex. Lachler thinks the comments are mostly jokes.
"As we learned from Vicemo, the only thing millennials use Venmo for more than buying drugs is pretending that they're buying drugs," said Lacher. "We noticed a lot of our friends making public payments on Venmo and saying they were for drugs or sex. So we thought it would be funny to try to put together a feed of every public transaction that looked suspicious."
In 2015 a Columbia University student was arrested for drug dealing, sending a chill through the campus because the dealer mostly took payments through Venmo, Politico reported. The student, Michael Getzler, pled guilty to possession and intent to sell.
While a Venmo note doesn't mean much by itself, if a dealer is caught, an aggressive district attorney could use the notes to investigate further. In the Getzler case, the state went after the dealer only, according to the Office of the Special Narcotics Prosecutor in New York. But that doesn't mean police couldn't cast a wider net if they chose to.
"They could get a search warrant with that alone. They'd staple that to an affidavit explaining why they have probable cause that these people are possessing drugs and they can go and search using that," said Lou Shapiro, a criminal law attorney, and former Los Angeles public defender. "[If caught in possession] the buyer and seller are charged like any other drug transaction."
Still, Mariead Kelly, a Boston-based 25-year-old, apparently isn't worried enough to wait for Massachusetts to sort out its marijuana legalization. She has used Venmo a handful of times to buy weed.
"Legislators are still nailing down the specifics of the law, including how recreational cannabis will be taxed. Since I won't be able to buy weed in a store terribly soon ... I'm still buying from friends," said Kelly via email. "While I don't always have cash on me, I do have my phone."
© Copyright IBTimes 2023. All rights reserved.
FOLLOW MORE IBT NEWS ON THE BELOW CHANNELS