Verizon Strike 2011: Tension Rises in 45K Worker Strike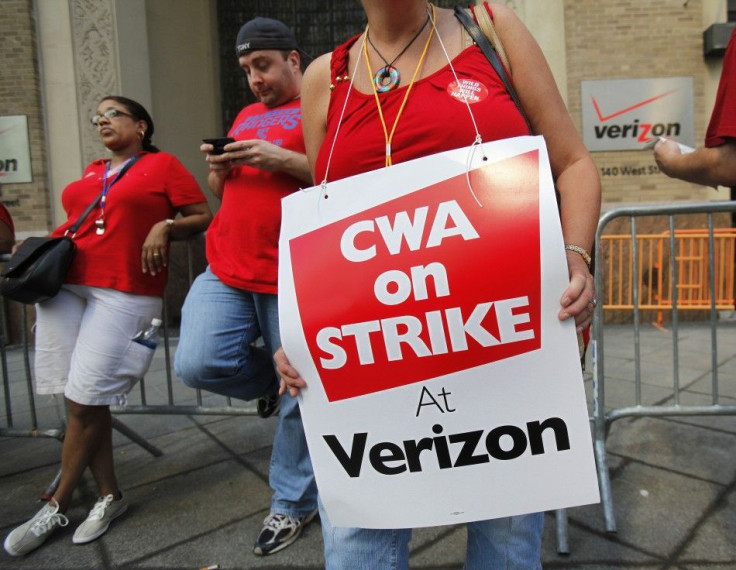 Verizon Communications (NYSE:VZ) claims all is going well with its landline operations, though has filed injunctions against striking employees for destruction of property.
According to the company, it has encountered more than 90 acts of sabotage since the strike began on Aug. 6, and is working with authorities to track down the sabotage culprits.
"Verizon urges strikers to express their views in peaceful fashion and in accordance with the law," said Verizon's Chief Security Officer Mike Mason in a statement. "Some are engaging in criminal intimidation of Verizon employees, and we will not tolerate that. It's a federal offense to damage or destroy critical communications equipment.
The strike's intensity recently went up a notch as striking employees have grown frustrated with Verizon's negotiation tactics.
Verizon has already gained injunctions in Delaware, New York, and Pennsylvania, and is in court on Thursday to gain injunctions in Massachusetts and New Jersey.
Various media outlets have reported examples of suspected intimidation efforts by striking Verizon workers towards non-striking persons. In one instance, six picketers were arrested for illegally blocking an entrance to a Verizon facility in Randallstown, Md.
The company claims that it has no issue with workers picketing, as long as they aren't preventing other employees from doing their work.
"We have no issue with striking workers picketing and protesting outside our facilities, but it's irresponsible and dangerous when they take the extra step of blocking our employees from entering or exiting," said Verizon spokesman Richard Young. "Our phones are lifelines for people who may need to make emergency calls."
But union workers claim it goes both ways.
According to NJ.com, non-union Verizon workers have drove company vehicles dangerously close to picket lines, and in one case actually hit a Verizon worker. The person was knocked unconscious and suffered a concussion from the hit, causing one union to attack Verizon for the incident.
"Our unions do not condone violence in any form," a statement from the Communications Workers of America said. "Safety is paramount, and that's why we're also calling on Verizon to make sure that our members on the picket lines aren't hurt by replacement workers and management while the strike continues."
The strike began when contract negotiations between Verizon and its 45,000 landline employees broke down. Verizon is asking for its employees to make concessions as its landline division has seen its profits drop, but employees don't think that burden should fall on them.
In 2010, the number of landline subscribers fell 8 percent to 26 million.
"The wireline guys sweated day by day to make the profits to create wireless," Union rep Greg Kohl told The New York Times. "And now they want to take away the middle-class life from the wireline employees who made the investment in wireless possible."
© Copyright IBTimes 2022. All rights reserved.
FOLLOW MORE IBT NEWS ON THE BELOW CHANNELS