Verizon Strike: Service Issues Appear; Tensions Rise
Analysis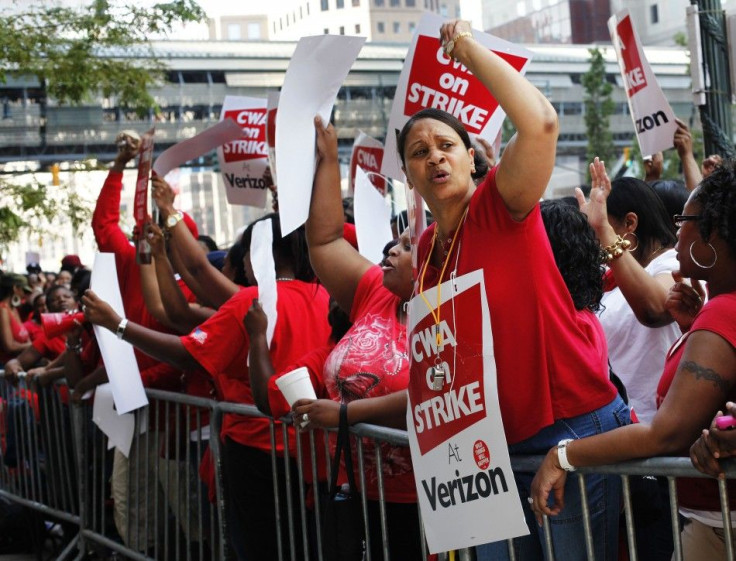 Verizon would like you to believe that its landline operations in the Northeast aren't impacted by the ongoing strike of 45,000 union workers.
The company even put out a press release to that effect Thursday, saying, "Verizon continues to provide solid service on day five of a strike by the Communications Workers of America."
But don't believe that for one minute.
Believe this instead: A report from The Baltimore Sun Thursday, detailing how residents at a senior living village in Ellicott City, Md. haven't had landline phone service in five days, since the strike began.
One resident at the village told the newspaper how difficult communication has been for her and other residents since most don't have cell phones. With landlines out, they've had to adjust.
"About half of us are on oxygen or have various physical disabilities," said Cynthia Bonora, 78. "Most of us don't have cell phones."
She said her daughter tried to call to see if she needed any medications or groceries and couldn't get through, so she had to drive over.
The 45,000 Verizon landline workers are members of the Communications Workers of America, representing employees in the Northeast, including New York and Maryland.
Negotiations between the company and labor have become tense, quickly. The company has successfully sought injunctions to limit the size of picket lines, while dealing with more than 90 acts of sabotage against network facilities.
The company also says it has received "numerous reports of union picketers intimidating drivers and illegally blocking garage and work center entrances used by regular and fill-in employees.
"These incidents have created dangerous and disruptive work environments both for employees attempting to provide support to Verizon customers and for the picketers themselves," the company said in a press release.
The company has obtained injunctions to "prevent intimidation and illegal blocking of facilities from Delaware to New York.
But the reason negotiations have become so tense is that Verizon's 45,000 union landline workers in the Northeast feel they are getting what could be be termed as a complete shaft from the company. When the strike began, the company tried to pose it as a disagreement primarily over health benefits.
Union workers interviewed from a picket line in Manhattan by the IBTimes have a different view, however. They say it's all about the company ultimately trying to kill the union, shifting many jobs to the South where workers aren't unionized.
"I've been with [Verizon] for 32 years," said Greg, a union worker who declined to give his last name, "and worked very hard and you take it personally. They are giving our jobs to somebody down South, taking our food right off our table."
This isn't the first time Verizon landline workers have been on strike. The last time was in 2000, when a strike for 18 days had a noticeable impact on the company's service. The company hoped to avoid service disruption this time, claiming Thursday that's been the case.
But now that the strike, which began late Sunday, nears one week old as talks continue, service issues like the one in Maryland are beginning to crop up. Candice Johnson, a spokeswoman for the CWA, told The Sun the repair delays may be caused by replacement workers.
"With other companies," said Johnson, "there have been instances where replacement workers, contract workers create more problems."
In other words, when a company like Verizon tries to fill the void caused by striking, experienced workers with less experienced and knowledgeable workers, problems can easily develop.
It makes complete sense. That's why rosy corporate speak that everything is going fine should be taken for what it is -- rosy corporate speak. When 45,000 experienced technicians strike at a communications company, service can't help but be disrupted.
© Copyright IBTimes 2022. All rights reserved.
FOLLOW MORE IBT NEWS ON THE BELOW CHANNELS