Verizon Strike: Union Workers Make a Good Case
Opinion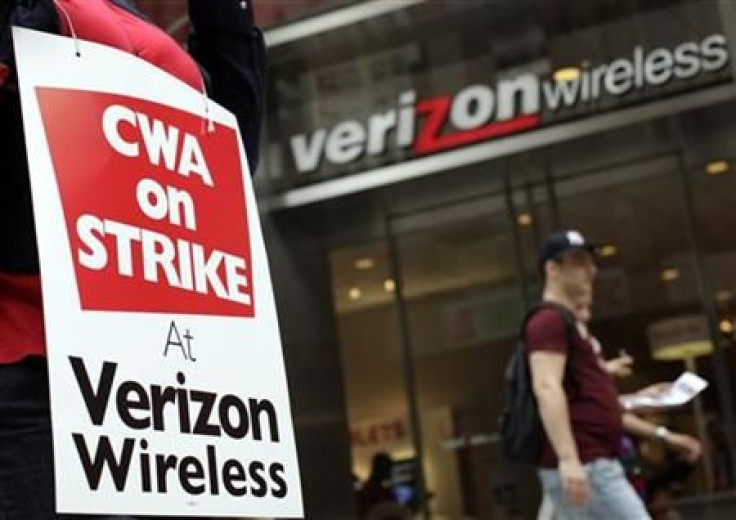 Considering the issues separating 45,000 striking landline workers and Verizon, I'd have to say at this point the workers have a strong stand. The company says the primary sticking point centers on health care benefits, but there's clearly more to it than that -- much more.
When a striking worker on the picket line tells me Verizon put a list of 100 demands in front of them, including sharing health care costs, the worker gets my attention.
When that worker points out the company is enjoying its best performance in several years, that also gets my attention.
"If the company was really suffering, and we all had to pitch in, this might be different," one worker told me.
And he's got a point.
Verizon said its revenue rose 2.8 percent, to $27.5 billion in the second quarter, mostly due to its wireless business. Ivan Seidenberg, the former chief executive who now serves as chairman, called it "one of Verizon's best quarters since the 2008 economic downturn."
Six days after Verizon reported its quarterly results, the workers went on strike.
The strike comes as Lowell McAdam just took the helm as CEO on Aug. 1. The company has argued that because of rising costs and a continuning drop in its landline business, workers should share some of the expense. While that may be true, I'll yield to the words of one striking worker: "We wouldn't be out here picketing," he said, if that's all there was to it.
Verizon's landline business has been shrinking for years as more consumers turn to mobile communications. During the quarter, the company said it had strong iPhone 4 sales, hitting 2.3 million. It is also experiencing growth in its Fios Internet and TV divisions and for cloud and "other strategic services," it said.
Still, as the company's landline business declines, it could be argued so apparently is its concern for union workers in that division.
Verizon would probably like to get out of both the strike and the landline business at this point -- considering how testy the strike has become. The landline workers have been striking in front of several Verizon wireless stores. That can't be good for business.
But the workers do have a point. They don't want a raise. They just don't want to have to sacrifice things like the jobs security.
Yet, management is responsible for acting in the best interests of shareholders, and no one can question that contract concessions will help Verizon save money going forward. Still, pushing for so many union concessions when the company is enjoying its best financial run in several years -- while publicly saying its all just about health care benefits -- strikes me as one up for the workers in this dispute.
If it's truly only about health benefits, as the company says, then Verizon should take 99 out of the 100 issues off the table -- and just deal with that one sticking point. Then, maybe this nasty dispute could finally be resolved as a win-win for all.
© Copyright IBTimes 2023. All rights reserved.