[VIDEO] Obama Promises Medvedev 'More Flexibility' After His Re-Election, And Other Candid Convos Caught On Mic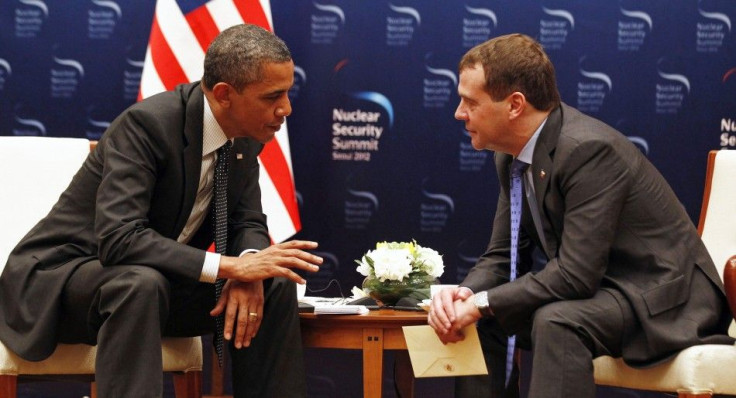 Every once in a while, the media gets a taste of off-the-cuff interactions between world leaders because a microphone is left on.
Such an interaction occurred when President Barack Obama told Russian President Dmitri Medvedev Monday that he would have more flexibility to deal with the sensitive issue of a European missile defense shield after his re-election.
ABC's Jake Tapper caught the blunt exchange at the end of Obama's 90-minute meeting as they were led into the room for remarks:
President Obama: On all these issues, but particularly missile defense, this, this can be solved but it's important for him to give me space.
President Medvedev: Yeah, I understand. I understand your message about space. Space for you...
President Obama: This is my last election. After my election I have more flexibility.
President Medvedev: I understand. I will transmit this information to Vladimir [Putin].
The conversation indicates that President Obama does not currently have a whole lot of leverage in dealing with the divisive foreign policy issue and is extremely confident he'll get re-elected. The White House explained the comments in a statement to ABC:
This is a political year in which the Russians just had an election, we're about to have a presidential and congressional elections -- this is not the kind of year in which we're going to resolve incredibly complicated issue like this. So there's an advantage to pulling back and letting the technical experts work on this as the president has been saying.
Medvedev and Obama were discussing a U.S.-back missile defense program in Europe. Medvedev threatened to target the system last November if Moscow could not reach an agreement with Washington and NATO about how it would be built and operated, the Washington Post reported. Pentagon and NATO have said the purpose of the shield is to protect Western nations from the growing nuclear threats from Iran and North Korea.
It's not the first time microphones made a seemingly private conversation go public.
At the G20 conference last November, French President Nicolas Sarkozy was caught trash-talking Israeli Prime Minister Benjamin Netanyahu to Obama. The French leader was heard saying I cannot stand him. He is a liar, according to a French article translated by Israeli news site YNet. Obama then reportedly responded: You're fed up with him, but I have to deal with him every day.
Vice President Joe Biden's infamously gaffe-prone tongue made headlines once again after reporters overheard him telling Obama Mr. President, this is a bing f---ing deal while congratulating him on the passage of his health care overhaul bill (which is currently being debated by the Supreme Court).
Here's the video:
--
© Copyright IBTimes 2023. All rights reserved.