Viewed With Suspicion In The US, Huawei Becomes Top Global Brand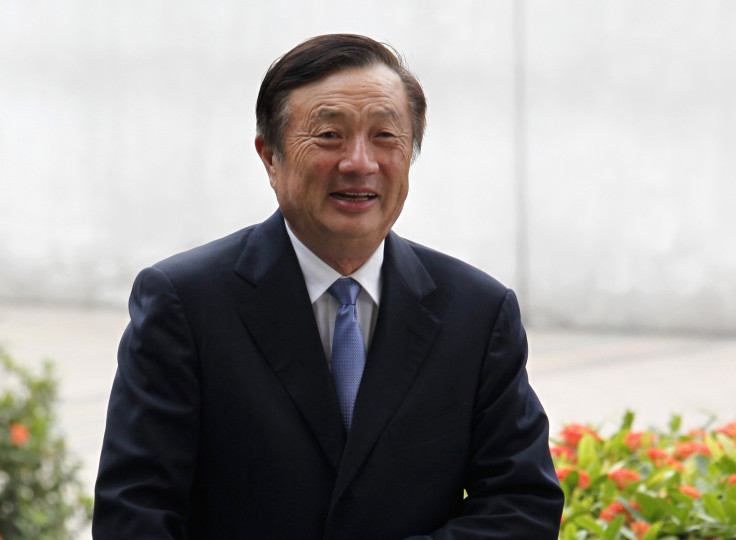 When Interbrand named Huawei on its annual Best Global Brands Report Thursday, it marked the first time a Chinese company had been included on the list. It's a milestone for a tech giant that has long been viewed with suspicion in the U.S. for its ties to Beijing and the Chinese military.
Founded in 1987, Huawei is now considered to be the 94th most valuable brand in the world and the third-largest smartphone maker behind Apple and Samsung. Sixty-five percent of the company's earnings come from outside China, with revenue growing throughout Europe, the Middle East and Africa. Numbers haven't climbed as sharply in the U.S., though, with difficulty posed by dominant competitors and uncertainty among top government officials.
"It continues to demonstrate its technological prowess in both its consumer products as well as in its enterprise solutions -- and it remains well positioned to meet the needs of customers in both emerging and developed markets," Interbrand's Global Chief Executive Officer Jez Frampton told International Business Times.
Huawei is careful to define itself not as a company but as a "collective," a distinction that experts have suggested makes it possible to skirt questions about its ties to Beijing. Founder Ren Zhengfei never speaks to the media and before starting Huawei served as a military technologist in China's People's Liberation Army. U.S. lawmakers have on multiple occasions taken issue with Huawei, recommending in 2012 that its products be "viewed with suspicion" while suggesting that murkiness around Huawei's leadership is not an accident.
High-ranking members of Huawei have consistently maintained they have no ties to the Chinese military, suggesting that American allegations are based in overblown national security rhetoric.
One of the most contentious issues was a 2012 House of Representatives Intelligence Committee investigative report that warned Huawei and fellow Chinese telecommunication company ZTE present a clear "threat to U.S. national security interests." Rather than providing substantive proof, though, the committee pointed to Huawei's failure to clearly answer questions about how its board of directors is selected.
"During the committee's meetings with Huawei executives … Huawei officials consistently denied having any connection to or influence by the Chinese government beyond that which is typical regulation," the intelligence report states, adding that the company answered by saying it has "no ties" to Beijing, something American lawmakers never asserted to being with. The report goes on to explain that the executives in question failed to provide any documents to back up their claims.
While the company remained silent rather than deliver potentially implicating answers, executives essentially said they couldn't a prove a negative fact.
"Huawei's failure to provide further detailed information explaining how it is formally regulated, controlled, or otherwise managed by the Chinese government undermines the company's assertions that it is not appropriately influenced by the Chinese government."
American officials, including Michael Hayden, former National Security Agency and CIA chief, have long doubted Huawei's claims of neutrality. That frustration grew again in 2011 when Western companies pulled out of Iran because of the government's crackdown on peaceful anti-government demonstrators -- only for Huawei to take advantage of the situation.
The Chinese company signed a contract with Tehran to provide and install technology for Iranian police. The telecommunication equipment made it possible for authorities to track protesters based on the locations of their cell phones, according to documents obtained at the time by the Wall Street Journal. Western law enforcement agencies already had similar equipment, though the timing of the sale to a known repressive, authoritarian regime certainly was seen as questionable, at best.
The idea that Huawei has facilitated Chinese espionage has perculated for years, with American intelligence officials and technology experts agreeing that it would be simple for a technology company (not to mention one affiliated with the PLA) to instill backdoor surveillance technology into products sold inside the U.S. It would also be nearly impossible for an individual without any intelligence training to determine they've been targeted, Cornell University cyber security professor Fred Schneider told MIT Technology Review in 2012.
"A switch sees all the traffic that passes," he said. "If you control the switch, you could set it up so that any time it handles data, it makes a copy and sends it someplace else, or you could change the data while en route -- a yes to a no."
Even the simplest form of attack could be devastating in an emergency, Schneider said, with agents capable of remotely activating a switch that disables communication routes. That would come in handy, he told MIT, "if you were waging some other kind of attack and you wanted to make it difficult for the adversary to communicate with their troops."
Despite these kinds of concerns, and the levels of rhetoric around them, American officials have not proved Huawei is a front for the PLA. It hasn't been for a lack of trying, as the National Security Agency has spied on Huawei's computers, including founder Zhengfei's device, since 2007. That surveillance mission, revealed for the first time in a New York Times report based on documents provided by former NSA contractor Edward Snowden, has only created more questions for officials.
"China does more in terms of cyberespionage than all other countries put together," James A. Lewis, a computer expert at the Center for Strategic and International Studies in Washington, told the Times in March. "The question is no longer which industries China is hacking into. It's which industries they aren't hacking into."
© Copyright IBTimes 2023. All rights reserved.