Virgin Galactic New SpaceShipTwo Reveal: Spaceflight Company Returns After Tragic 2014 Crash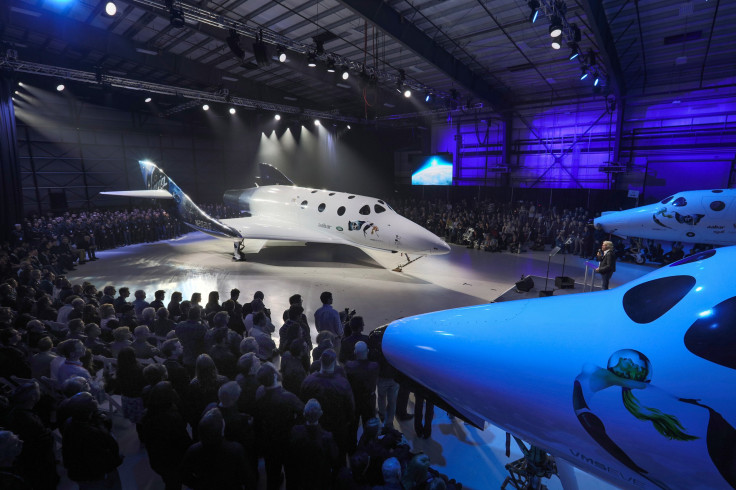 Virgin Galactic unveiled its new SpaceShipTwo at an event in the Mojave Desert Friday. The new spacecraft, named VSS Unity, marked the return of Virgin Galactic's space tourism venture following tragedy that struck the company on Oct. 31, 2014, when its SpaceShipTwo broke apart in-flight. Co-pilot Michael Alsbury was killed, while pilot Peter Siebold survived.
Ahead of Friday's unveil, Virgin Galactic pledged meticulous testing of new safety requirements for VSS Unity.
"Because our new vehicle is so similar to its predecessor, we benefit from incredibly useful data from 55 successful test flights as well as the brutal but important lessons from one tragic flight- test accident," Virgin Galactic said in a statement. The new SpaceShipTwo was given the name VSS Unity by famed theoretical physicist Stephen Hawking. VSS Unity was manufacted by the Spaceship Company, Virgin Galactic's manufacturing entity.
The new SpaceShipTwo will not fly passengers to space any time soon. "Our new vehicle will remain on the ground for a while after her unveiling, as we run her through full-vehicle tests of her electrical systems and all of her moving parts," Virgin Galactic wrote. The first test will be a captive-carry flight with the SpaceShipTwo attached to the WhiteKnightTwo as a proof of concept followed by a glide test. A rocket-powered flight test will take place after several glide tests.
Virgin Galactic was founded in 2004 by Sir Richard Branson with the goal of opening space tourism to everyone. Celebrities flocked to buy tickets to be among the first to fly into space. Justin Bieber, Brad Pitt, Angelina Jolie, Tom Hanks and Katy Perry are just a few celebrities who booked passage on Virgin Galactic. The trip would reach suborbital space where passengers would experience weightlessness. A ticket aboard a Virgin Galactic spaceship currently costs $250,000.
During the fatal test flight, Alsbury deployed the SpaceShip Two's tail prematurely, according to the National Transportation Safety Board's investigation of the crash. "The cause of the Oct. 31, 2014, in-flight breakup of SpaceShipTwo was Scaled Composite's failure to consider and protect against human error and the co-pilot's premature unlocking of the spaceship's feather system," the board wrote. Scaled Composite was the Virgin Galactic contractor responsible for the construction of SpaceShipTwo.
© Copyright IBTimes 2023. All rights reserved.