Volunteers Still Working Hard To Help Far Rockaway, NY - Hit Hard By Hurricane Sandy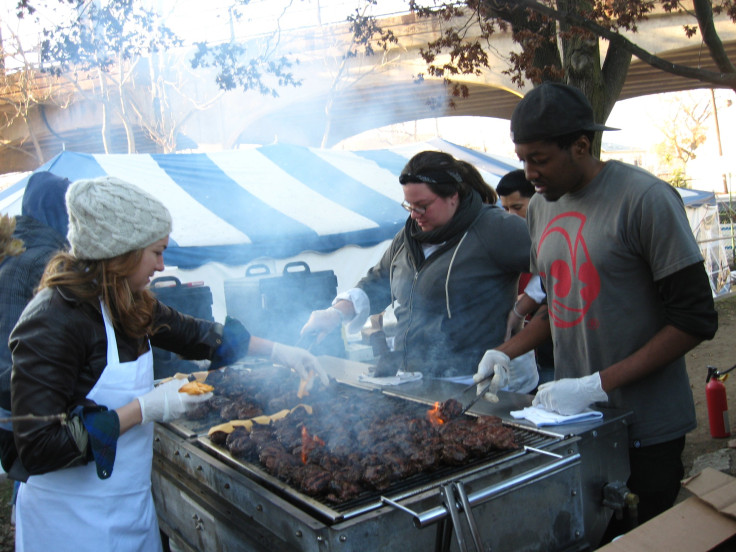 One month after the hurricane, vast swaths of New York City continue to struggle through the early stages of recovering from Sandy's destruction. And New Yorkers from all walks of life are coming together to help their neighbors in any way they can.
From teams of volunteers working in Staten Island to Red Cross food distribution stations in Coney Island, the city is coming together to help those who were hit the hardest by the storm.
One spontaneous source of help came the afternoon of Thanksgiving Eve in the form of a group of young restaurant workers from Williamsburg, Brooklyn, who made it their mission to bring food to the down-and-out people of Far Rockaway.
A crew of about a dozen young hipsters, waiters and dishwashers from Williamsburg's Dumont Burger, Dumont and Dressler restaurants banded together to make the schlep to the far-flung section of Queens and distribute burgers to hungry residents. The trip was organized by Joyce Brandes, the bespectacled chef at Dumont Burger, who said her eatery had donated large tubs of macaroni and cheese shortly after the storm hit Oct. 29, and that she had been wanting to do more.
"It kind of sucks that Thanksgiving is tomorrow and it's not going to be the same for a lot of people," she said while flipping burgers on the makeshift grill her team set up on a street corner. "So I can at least do something with what I'm good at to help out."
Brandes was able to get her meat suppliers, The Meat Guys and Schuster's Meats, to split the cost of donating 200 pounds of ground beef to the cause.
That much meat -- plus the cheese, fixings and buns, which were financed through other means -- turned into 840 thick slider cheeseburgers, which the workers had packed the night before into boxes, ready to cook and serve on the streets of Far Rock.
Upon approaching the designated spot near the intersection of Cornaga Street and Beach Channel Boulevard, a large, blue-and-white pop-up tent came into view, where dozens of weary people had lined up in hopes of obtaining whatever donated necessities of life awaited inside.
The tent was the brainchild of Luis Casco, a Far Rockaway resident who lost his bungalow home in the storm, and wanted to do something to help his neighbors in its wake. Casco's tent distributed canned goods, diapers, cleaning supplies, clothes and more to anyone who needed a hand in the wake of the disaster.
Casco enlisted some of his local friends to help him run the donation tent, including Gera Nunez, a 22-year-old who lost her job when the hurricane knocked down the restaurant where she worked. Nunez has since dedicated nearly every day to helping at the tent.
"For many of these people, it's cold, it's dirty, they have children a lot of the time, and some of them can't even drink the water yet. It's a lot of trouble here," Nunez said in front of the tent, while the Williamsburg crew got the grills going a few yards away. "We try to help everyone out and get help to the people that need it."
Desiree Cox, a woman on disability living in a storm-damaged home in Far Rockaway, waited in line for a box of canned goods and a few pieces of dry clothing. She said the situation is pretty desperate for her, her daughter, Encoya Pollard, and Pollard's eight-month-old son.
"We have a baby and we don't even have heat in the house, so you can guess what that's like. We hear him groaning at night and I say it's because it's cold. It's really hard. We don't have a Thanksgiving," Cox said.
But she said she is thankful that her family's situation isn't worse, and that any aid she and her neighbors can get from their fellow New Yorkers is of great help in this critical time.
"For me and my family, I thank God for saving my life. It could have been much worse," Cox said. "Food stuff is needed the most, and washing supplies for laundry and dishes, and toilet paper, diapers, the basic things. Whatever they can assist with is good."
© Copyright IBTimes 2023. All rights reserved.